Newsletter Sign Up
Stay updated on news, articles and information for the rail industry
Rail News Home
MOW
October 2016
Rail News: MOW
Concrete and composite tie suppliers' take on 2016 business activity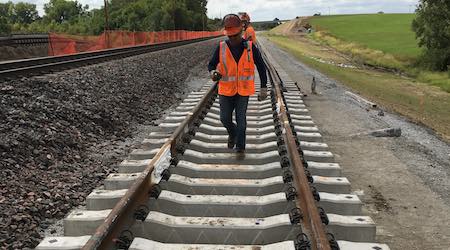 By Daniel Niepow, Associate Editor
For the most part, wood-tie suppliers haven't been affected as much by Class I capex cuts as other supply segments have. How are suppliers of other tie types faring?
While composite tie companies are posting growth this year, business has been pretty slow for concrete tie suppliers.
With Class Is spending less on new track construction such as spurs or extensions, there's been a decline in demand for concrete ties, says Steve Burgess, president of CXT Inc., a subsidiary of L.B. Foster Co.
"Basically all the new construction projects that would involve concrete ties have been pushed out," he says. "Not that these projects aren't going to go, it's just that they're not a part of this year's capex."
It's a similar story for Germany-based PCM Rail.One AG, which entered the North American market in 2014 with the opening of a plant in Clinton, Iowa. Demand for concrete ties this year has been "certainly lower" than it was in 2015, says Torsten Bode, chief sales and marketing officer at Rail.One.
The company's main North American customer is Union Pacific Railroad, but Rail.One this year secured a three-year contract to supply concrete ties to Canadian Pacific. And in late 2015, Rail.One supplied its first ties to CN.
Although the demand for concrete ties among freight railroads may have leveled off, transit-rail has been a bright spot.
"The pinnacle of the business has been the strength of the transit activity," says CXT's Burgess, adding that the supplier is working on a "number of different projects" in the Pacific Northwest.
And while last year's passage of the Fixing America's Surface Transportation (FAST) Act bodes well for future transit projects, it hasn't spurred much development yet.
"Down the line, we're absolutely going to see an impact, but it's yet to come," says Burgess, adding that FAST Act-funded projects should generate more activity in 2017, 2018 and beyond.
For its part, Rail.One is just beginning to explore the U.S. transit market, says Bode.
"We have long-term experience with customer-oriented and value-adding light-rail concrete ties and ballastless track systems, and are keen to see them used in the U.S. and North America as well," he adds.
Meanwhile, Rocla Concrete Tie Inc.'s business this year has been steady, says Vice President of Business Development Brett Urquhart.
"We saw the significant cutback at the end of last year; now we are starting to see planning for maintaining healthier inventory going forward as we hopefully come out of this down cycle," he says. "The [traffic] slowdown always has an impact [on] suppliers."
The slowdown may be impacting the composite-tie sector, as well, but two suppliers say business has been pretty good this year — it's "up" for Axion Structural Innovations, due to a steady increase in orders for ties used in special trackwork, says William Jordan, vice president for commercial development.
Jordan, who declined to share specific projects, added that the company foresees sustained growth into 2017 "driven by an even spread between domestic and international railroads."
In addition, Axion is adding two production lines and enhanced mechanical testing equipment at its facility in Waco, Texas.
LT Resources Inc., which serves as the marketing and sales representative for American TieTek composite ties, also reports positive business activity in 2016, including transit projects and several large port projects.
Composite ties are continuing to "gain acceptance in the industry," says LT Resources President Linda Thomas. The company has observed more interest in composite ties for use under grade crossings, as well as in bridge applications.
---
Keywords
Browse articles on
concrete ties
composite ties
rail ties
rail-tie market
L.B. Foster
CXT Inc.
Steve Burgess
PCM Rail.One AG
Torsten Bode
Fixing America's Surface Transportation Act
FAST Act
Rocla Concrete Tie Inc.
Brett Urquhart
Axion Structural Innovations
William Jordan
LT Resources Inc.
Linda Thomas
Contact Progressive Railroading editorial staff.