Newsletter Sign Up
Stay updated on news, articles and information for the rail industry
Rail News Home
Mechanical
January 2020
Rail News: Mechanical
New power sales may be down, but locomotive repair shops have been busy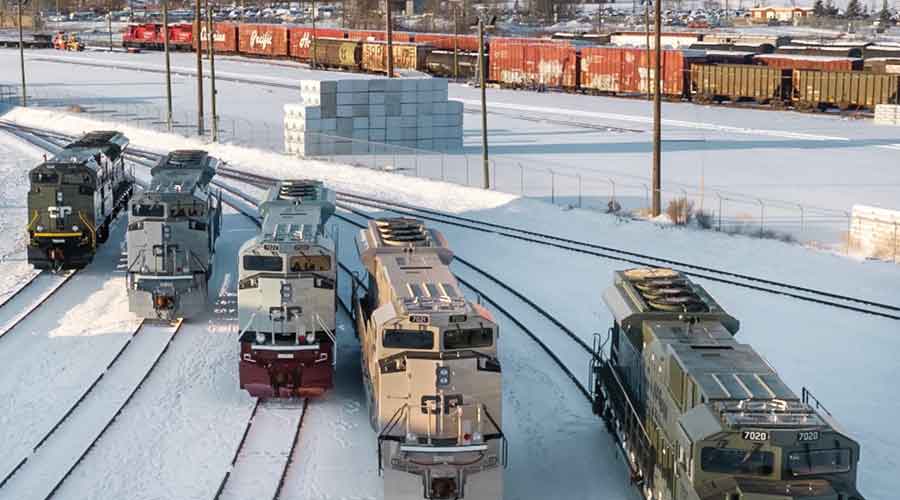 By Walter Weart
Railroads haven't been buying many big-ticket assets, including locomotives, the past couple years. But the power units they do have in revenue service still need to be serviced, repaired and overhauled. And remanufacturing shops have been pretty busy of late, if recent calls and emails to shop officials are any indication.
The work they've been doing ranges from simple refurbishments to complete overhauls as they aim to help customers boost locomotive performance and efficiency.
A wholly owned subsidiary of Caterpillar Inc., Progress Rail is "extensively involved" in various aspects of locomotive overhaul, repowering and refurbishing work, and the market's been "excellent," given the reduced demand for new locomotives," says Brian Edwards, senior vice president, locomotive aftermarket, service operations and sourcing.
Moreover, the implementation of precision scheduled railroading (PSR) at a number of railroads has created a surplus of locomotives, he says, adding that as many as 4,000 have been stored.
Overhaul work ranges from refurbishing the diesel motor to "rotating equipment" such as traction motors, blowers and other components, which can add six to 10 years to the life of the locomotive, Edwards says.
Progress Rail shops also are doing a lot of locomotive rewiring, retrofitting, blasting and painting work, as well as "complete EMD EUI/MUI diesel engine qualification," he adds.
On the repowering front, shops are replacing diesel motors with new ones (a fuel-efficient, Tier 3-compliant Caterpillar 647-12 710, for example), rebuilding trucks and traction motors and/or upgrading locomotive control systems with Automatic Engine Start/Stop (AESS). Customers also can request PR Uptime®, a suite of remote health monitoring and diagnostic services.
Similarly, shops are converting a SD70 to a SD70ACC featuring new trucks and electrical equipment. And models such as the SD75 and SD60 can be equipped with EM2000, Progress Rail's latest control system.
Progress Rail recently upgraded 30 SD90MACs to SD70AUs for Canadian Pacific. The units now feature new traction control systems and cabs, and major components — including the diesel motor — were remanufactured for increased performance and reliability, Edwards says.
For Wabtec Corp., modernization and upgrade work also is providing a significant opportunity, given the locomotive builder's more than 23,000 units in service worldwide, says Sameer Gaur, the company's general manager of product management, freight global services. Many units are approaching the 15- to 25-year-old age range, he adds.
Rebuilding a market
Updates can include a control system upgrade — including the complete conversion of an old DC traction motor unit to an AC motor locomotive equipped with state-of-the-art digital technology.
"Our goal is to not only extend the life of the locomotive, but to make it more productive, more reliable and [more] fuel efficient, as well," says Gaur.
Customers have experienced "substantial outcomes," including up to 15 percent improved fuel efficiency, a 40 percent increase in reliability and a 50 percent increase in haulage ability, company officials say.
For example, Wabtec's FDL Advantage program provides an upgrade of the FDL engine, which has been used in many different models of locomotives for years, Gaur says. In addition to mechanical changes, there is also a complete control system replacement, he adds.
The company's Modular Control Architecture - Fleet Migration (MCA-FM) program provides a next-generation system designed to be "incorporated with all of our locomotives," Gaur says. MCA-FM replaces all old electrical cabinets with new panels and is compatible with GoLINC, Wabtec's onboard computing platform. It also provides increased reliability and diagnostic capabilities.
"Wabtec's modernizations included a range of models, such as U-Series, C-Series, Dash 8, Dash 9 and AC4400," Gaur says. "Some are being converted to AC power, replacing DC as well as cab replacement and other work, and are coming from most of the Class I railroads and some regionals."
From repower work to parts sales
Other locomotive shops also are getting a lot of rebuild work done these days. Since 2017, Brookville Equipment Corp. has completed a rebuild of eight GP35 locomotives for MTA Metro-North Railroad, said marketing specialist Adam Mohney in an email.
Brookville officials see some demand for rebuild or upgrade programs, but demand for new Tier 4 locomotives is gaining momentum, he said.
Brookville also offers positive train control integration and Tier 4 diesel power packages. The company currently is integrating technologies as part of an industrial locomotive order "on a closed rail system," Mohney said.
Meanwhile, The LEAF manufacturing division of RailServe Inc. has more than 70 of its Gen-Set locomotives in service, says Larry Lewczyk, LEAF division plant manager. And some of the units are reaching the upgrade or rebuild age.
"We rebuilt eight locomotives in 2018–2019 and plan to rebuild eight more in 2020," he says.
As part of the upgrades, all electrical components are replaced with a much more robust system.
"We can also do upgrades to Tier 3 in the field allowing the locomotive to be returned to service [quickly]," says Lewczyk.
The company currently is installing Tier 3 engines in rebuilt units that require engine replacement.
Offshore business also has been "significant" on the rebuild/upgrade fronts, Lewczyk says. The company now can supply a kit and technical assistance so the work can be done without returning the locomotive to the LEAF plant.
Another way to measure market health is locomotive parts sales activity. At PowerRail Inc., officials have noted an increase in parts sales during the past two years, as well as an increase in parts remanufacturing, said President and Chief Executive Officer Paul Foster in an email. Some of the increase could be due to railroads that have implemented PSR and are now bringing those locomotives in for maintenance and overhauls, he said.
In addition to overhauling trucks in its rebuild facility, PowerRail manufactures new brake rigging and truck parts in-house. The company's 50,000-square-foot facility in Connersville, Indiana, focuses on remanufacturing pumps, starter motors, Roots blowers and air compressors of all types. PowerRail also offers "Mobile Maintenance," which enables the company to provide locomotive replacement parts, coupled with mobile maintenance and technical expertise.
Walter Weart is a Denver-based freelance writer. Email comments or questions to prograil@tradepress.com.
---
Keywords
Browse articles on
locomotive repair
Progress Rail
EMD
Wabtec
Brookville Equipment
Railserve
PowerRail
Contact Progressive Railroading editorial staff.