Newsletter Sign Up
Stay updated on news, articles and information for the rail industry
<< Rail News Home: Mechanical
1/25/2018
Rail News: Mechanical
MTA board OKs $4 billion Kawasaki rail-car order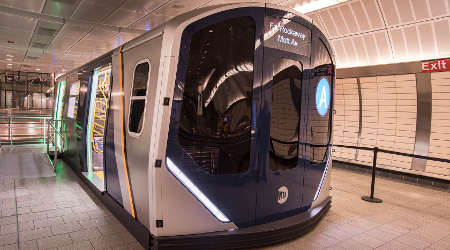 [Editor's note: This story was updated at 1:10 p.m. CST.]

The Metropolitan Transportation Authority's (MTA) board yesterday approved a $1.4 billion contract with Kawasaki Rail Car Inc. for 535 next-generation subway cars.

Known as R211 units, the cars will be used on MTA New York City Transit's lettered routes, as well as the Staten Island Railway (SIR). Funding for the project will be provided by the Federal Transit Administration, MTA officials said in a press release.

The contract includes options for up to 1,077 additional cars, for a total acquisition of 1,612 units valued at $3.7 billion, pending future board approval.

For the initial order, Kawasaki will design and deliver 440 new closed-end cars for the lettered routes, 75 closed-end units for SIR and 20 "open-gangway" units that allow riders to move between cars.
Photo – MTA New York City Transit / Marc A. Hermann
The R211 cars feature 58-inch doors, which are 8 inches wider than standard doors on existing cars. The new doors are designed to reduce delays and speeding up boarding time.

"As part of our commitment to modernize the subway system, we have expanded and accelerated this contract to provide more reliable, more comfortable train cars that are easier to board and exit and provide more useful real-time information to riders," said MTA Chairman Joseph Lhota.

The order marks the first NYCT contract to stipulate that proposers must submit detailed plans for the creation and retention of U.S. jobs, agency officials said. In July 2016, the MTA adopted a "U.S. employment plan" for the rail-car procurement.

Developed by advocacy group Jobs to Move America (JMA), the plan includes incentives aimed at encouraging manufactures to create domestic jobs.

"JMA congratulates [New York] Gov. Cuomo and MTA staff on leading the country with the most robust adoption of the U.S. Employment Plan program in the nation," said JMA Deputy Director Linda Nguyen in a press release.

The cars will be built and tested at Kawasaki's facilities in Yonkers, New York, and Lincoln, Nebraska. Kawasaki and its subcontractors have committed to provide about 470 U.S. jobs for the base award.

Kawasaki will begin delivering the new cars for testing in 2020.

Late last year, the MTA offered tours of a prototype of the latest-generation subway cars.
---
Keywords
Browse articles on
Metropolitan Transportation Authority
MTA
MTA New York City Transit
New York City subway cars
MTA subway car order
Kawasaki Rail Car Inc.
Contact Progressive Railroading editorial staff.