Newsletter Sign Up
Stay updated on news, articles and information for the rail industry
RAIL EMPLOYMENT
Rail News Home
Mechanical
November 2019
Rail News: Mechanical
Canadian Pacific targets longer grain trains, another banner crop year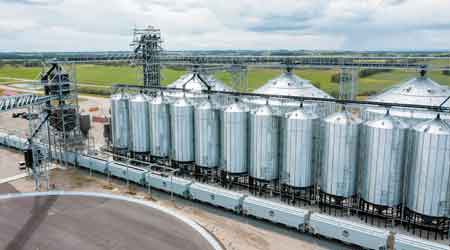 By Jeff Stagl, Managing Editor
For Canadian Pacific, grain is a vital business-boosting commodity. Loads of corn, soybeans, wheat, canola, specialty crops and other grains generate about one-fourth of annual revenue.
"Grain is our largest line of business," wrote CP President and Chief Executive Officer Keith Creel in the Class I's 2019-20 grain service outlook that was submitted July 31 to the Canadian government.
The Class I has moved substantial amounts of the agricultural products in Canada for more than a century.
"Moving grain is in our DNA," Creel wrote. "We are proud of this rich history and excited for the future."
There are several reasons why CPers believe the railroad remains well positioned to serve and exploit that ag market. For one, CP is the only Class I with significant grain franchises in both Canada and the United States.
Its network is strategically positioned through the heart of major farming regions in western Canada and the U.S. Northern Plains, company leaders say. The stateside portion has been in place since 2008, when CP acquired the Dakota, Minnesota & Eastern Railroad and its farm-rich lines in Iowa, Illinois, Minnesota, Nebraska, South Dakota and Wyoming.
CP currently serves 342 elevators — 175 in the United States and 167 in Canada — that ship grain to major ports for export. As more elevator capacity is added each year, the railroad's grain origination footprint continues to expand. Currently, nine new high-throughput elevators are under construction and more than 40 elevators are planning expansions in its network.
The railroad already is the top transportation provider for Canada's growing oilseed processing industry, serving 12 major crush facilities with 9 million metric tons (MMT) of capacity. It taps another 2 MMT of canola crush capacity in North Dakota and Minnesota, as well as several soybean crush plants in Iowa.
To ensure grain remains a be-all, end-all business-boosting enterprise, the Class I has strived to build strong relationships with producers and the Canadian government. The railroad also has worked to establish and refine the necessary capacity, resources, disciplined operating plan — namely precision scheduled railroading — and product innovations to keep grain flowing through its system, CP leaders say.
A lot of grain was on the move through 2019's first nine months, albeit at just a slightly lower clip than last year. Grain carloads slipped 1 percent to 312,500 units, but revenue climbed 9 percent to CA$1.2 billion compared with totals from 2018's first nine months. In the third quarter, revenue rose 7 percent to CA$409 million while carloads dipped 1 percent to 106,600 units.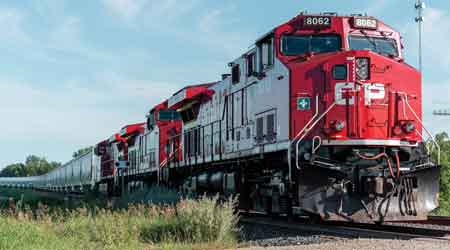 Canadian Pacific
CP's Canadian grain and grain products volume was especially strong during the 2018-19 crop year (Aug. 1, 2018 to July 31, 2019), when the railroad moved a record 26.8 MMT. For the first time, the Class I transported 15,000-plus carloads of western Canadian grain and grain products to the Port of Vancouver for three straight months (September to November 2018) in a single crop year. In addition, the Class I set an April volume record at 2.64 MMT and established a May high for grain products tonnage and carloads, not including whole grains.
CP leaders hailed the 2018-19 crop year as a largely successful one in a press release issued Aug. 1.
"[We] work closely with customers to bring North American commodities to market safely, reliably and efficiently," said Joan Hardy, CP's vice president of sales and marketing-grain and fertilizers. "Tight coordination across the supply chain enables maximum efficiency even during challenging winter months."
Weather delays
However, the 2019-20 crop year got off to a tough start with some unexpected headwinds well before any snowflakes began to fall. In August and September, trade tensions with China continued to negatively impact the Class I's U.S. grain business while wet and cool weather in the prairies wreaked havoc with the Canadian harvest.
In September, the harvest fell 20 percent to 30 percent behind schedule. As a result, the Class I moved about 1,000 fewer carloads per week during the month than in prior years.
The harvest delay will pressure the railroad to move more grain later in the crop year to meet demand and volume obligations. The good news: Traffic began to accelerate in October due to drier weather.
"Volumes have begun to pick up and we are confident that any volumes not moved this fall will move in 2020," said CP Executive Vice President and Chief Marketing Officer John Brooks during the Class I's Q3 earnings conference on Oct. 23.
The harvest delay was more of a timing issue than a reflection of the grain market's strength, Creel said Sept. 11 at Morgan Stanley's annual conference in Dana Point, California.
"It doesn't mean the grains are not going to move," he said. "The encouraging part … is actually the quality of the grain is high, the yields are high."
Brooks concurs.
"We view these bulk headwinds largely as episodic. Looking ahead, the fundamentals for grain and potash and coal look good," he said during the conference. "The crop size looks similar to last year and we continue to watch closely the impacts of quality, resulting from this late harvest."
CP expects another strong harvest in crop-year 2019-20, with western Canadian grain production estimated to reach 71 MMT to 72 MMT. The railroad has the capacity to move 31.2 MMT of grain and grain products during the crop year, but since typical demand seasonality tends to cause softness in late spring and summer, its 2019-20 volume target is 27 MMT to 28 MMT.
Longer, heavier and wider
To realize that tonnage, the Class I plans to continue increasing train lengths and weights, and adding resources. For the crop year, CP is targeting 1,100 to 1,150 locomotives in service, up to 15,700 hopper cars, and 4,350 to 4,420 train and engine employees to help move an average of 1,050 cars of grain products per week.
CP continues to add workers and locomotives to meet customers' demands. Since 2016, the workforce has widened by 12 percent, including more than 700 new employees in 2018.
The railroad also is undertaking what company leaders characterize as a "robust" locomotive modernization program that so far has involved more than 130 units in the fleet. A total of 170 locomotives are slated to be modernized by 2019's end.
In terms of average train length and weight, both have increased significantly over the past five years, From 2014 through 2018, train length grew 13 percent from 6,682 feet to 7,313 feet while train weight climbed 9 percent from 8,076 tons to 9,100 tons. CP leaders say the railroad is positioned to further increase average train length and weight — as well as boost train speed and reduce dwell time to aid grain movements — since longer, heavier and faster trains help increase network capacity and reduce operating costs.
Capital investments in 2019 figure to help support grain movements, as well. By year's end, CP expected to complete the following in Alberta: extend double track in Stephen; build a 9,600-foot siding in Metiskow; extend a 7,200-foot siding to 12,000 feet in Penhold; extend a 7,200-foot siding to 10,400 feet in Campaign; extend a 7,096-foot siding to 12,400 feet in Eldon; and extend two yards tracks to 8,800 feet at Calgary Terminal. Key projects in British Columbia set for a 2019 completion include a new 10,000-foot staging track in Sapperton and a track extension in Field.
Much of the capital work factors into what's considered a game-changing product innovation for CP: a transition to an 8,500-foot high efficiency product (HEP) train model for grain. An 8,500-foot train can pull a minimum of 134 grain hoppers — based on industry-average car lengths — providing 20 percent more capacity than 112-car grain trains.
Introduced in summer 2018, the model calls for keeping a train's composition intact with locomotives and hopper cars throughout the loading process. A customer uses CP's locomotives to move a train through a loop track to facilitate grain car loading.
After a train is loaded, a CP crew moves it from the customer's facility to the destination. All new elevators built on the Class I's lines now need to incorporate either an 8,500-foot loop track or a continuous lead track to accommodate the HEP model.
Five elevators under construction will be ready for loading 8,500-foot trains this fall and four additional facilities will be poised to handle the longer trains by the end of the 2019-20 crop year, CP leaders project.
HEP model incentives
The Class I is working with customers to upgrade facilities to support the HEP model and add 8,500-foot loop track elevators at strategic locations. A recently implemented pricing framework offers grain shippers preferable freight rates if they transition to the model.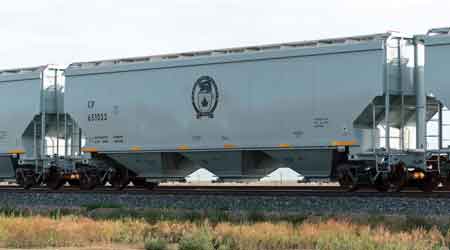 Canadian Pacific
The HEP model reduces loaded train dwell times, cycles trains faster and expands elevator capacity, CP leaders say. Coupled with a plan to acquire thousands of high-efficiency hoppers, the model also will significantly boost grain-moving capacity by about 44 percent, they add. Current 7,000-foot grain trains can carry 10,400 tons while 8,500-foot trains can transport 15,000 tons.
In June 2018, CP announced plans to spend more than $CA500 million to purchase 5,900 high-capacity grain hoppers from National Steel Car Ltd., over a four-year period. As of July 1, 1,278 of the new cars were in service; by year's end, that number is expected to exceed 1,900. The new hoppers will enable CP to remove all low-capacity Canadian government cars from its fleet by 2022's end.
The new cars are shorter and lighter than current hoppers, and feature a three-pocket design for more efficient loading and unloading compared with government-owned cars' four pockets. The new hoppers can handle 15 percent more volume and 10 percent more load weight than the cars to be retired. In addition, the new cars will sport more reliable components that are designed to significantly reduce maintenance-related delays.
More cars, more grain
As the railroad and grain industry continue to adopt shorter, higher-capacity cars, the Class I will be able to fit more cars and more grain on each longer train, CP leaders say.
The railroad plans to eventually employ 147 of the high-capacity cars on 8,500-foot trains.
As the new cars "pay out" in additional capacity within the next few years, CP will be able to reduce annual capital spending from about $CA1.6 billion to $CA1.5 billion or less by 2021, Creel said at the Morgan Stanley conference.
The Class I also continues to offer a dedicated train program (DTP) to grain shippers to help spur more business. In place since the 2014-15 crop year, the program enables shippers to lock in dedicated capacity for a 12-month period, providing more visibility, predictability and control over their supply chain during a crop year, CP leaders say.
An important benefit of the DTP: Customers are incentivized to load and unload trains quickly, they add. The overall tonnage they can sell in the marketplace is a function of the overall cycle time of the dedicated capacity they have contracted, which drives increased grain movements.
Currently, 75 percent of customers' shipments move in DTP capacity. Customers that choose not to participate in the DTP can order cars through an open distribution program, which was updated before the last crop year to cover two weeks of train demand.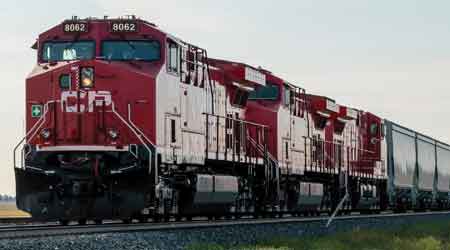 Canadian Pacific
CP in September presented its 2018-19 crop-year Elevator of the Year Award to G3 Ltd.'s Pasqua facility to recognize the shipper's participation in the DTP as well as the HEP model. The railroad launched its first 8,500-foot train in December 2018 at the Pasqua elevator near Moose Jaw, Saskatchewan.
CP presents the award annually to an elevator that achieves high volumes from a single loading point, and consistently demonstrates efficient car loading and safety practices.
Negotiating the ups and downs
What the railroad is trying to demonstrate to shippers is that it's built to take on more volume over the long term regardless of market peaks and valleys by leveraging its network strengths, reliable service and more efficient operations, Creel said during the Oct. 23 earnings conference.
"We are on track to be the only railroad with positive volume growth in 2019 … [as a] result of our disciplined approach to sustainable, profitable growth," he said. "We see plenty of runway ahead."
That includes more opportunities to build grain business. Unless, of course, "mother nature humbles us and brings us to our knees," Creel said.
"We see an opportunity to move more freight, and obviously drive more earnings and drive more revenue growth," he said.
Email questions or comments to jeff.stagl@tradepress.com.
---
Keywords
Browse articles on
Canadian Pacific
Canadian grain
Port of Vancouver
8
500-foot high efficiency product train model
high-capacity grain hoppers
National Steel Car Ltd.
dedicated train program
G3 Ltd.
Contact Progressive Railroading editorial staff.