Newsletter Sign Up
Stay updated on news, articles and information for the rail industry
Rail News Home
Mechanical
March 2017
Rail News: Mechanical
Anticipating slow new-unit sales, locomotive manufacturers seek to boost services and rebuild business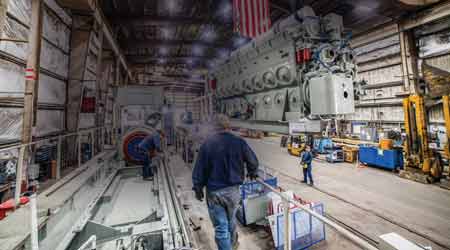 By Michael Popke
Freight carloads were down for the second consecutive year in 2016, primarily due to a sluggish manufacturing economy and turmoil in the energy markets. Intermodal volumes weren't great, either.
Freight locomotive manufacturers certainly felt the impact of another slow year, and some believe the same challenges they faced in 2016 will continue in 2017.
"There isn't any company in the market that isn't going through difficulties right now," said Mike Zerafa, assistant vice president of North American sales and business development for National Railway Equipment Co. (NRE). "The competition is fierce."
Capital constraints and an abundance of parked locomotives will "prove challenging" for new locomotive sales, said Marty Haycraft, senior vice president and chief marketing officer for Progress Rail, in an email.
"However, there are positive signs that locomotives are returning to work, and opportunities are on the horizon," Haycraft added.
One such opportunity: Locomotive providers are using this manufacturing downtime to increase rebuild activity, boost their parts and service business, and, in some cases, expand their global footprint.
Progressive Railroading recently checked in with representatives from five locomotive manufacturers to discuss the marketplace, technology and other developments. What follows are their responses, gleaned from phone and email interviews.
NRE: 'We want to offer more choices'
Officials at NRE, which provides new and remanufactured locomotives, have noted a steady stream of overhaul and repair work this past year, Zerafa said.
To help make up for the decrease in new locomotive business, NRE focused on strengthening its in-house services, boosting its component rebuilding and spare parts businesses, and acquiring HK Engine Components LLC (HKEC), which builds and remanufactures EMD-style 645, 710 and 567 engine power assemblies for the railroad and marine markets. Completed last year, the HKEC deal enabled NRE to expand its engine solution options for customers around the globe.
"With the intensified competition, we want to offer more choices for railroads," Zerafa said.
NRE also continues to offer its Independent Axle Control (IAC) system. Railroads opting for an IAC retrofit can choose to retain, refurbish or replace all other equipment, including cabins, consoles, high-voltage cabinets, excitation control hardware and existing traction motors.
Additionally, the company is pilot-programming its electronically controlled actuator with Class I and short-line customers. The product replaces the traditional hydraulic governor and is an entry point for railroads following a capital improvement schedule for replacing existing equipment.
Progress Rail: [RE]powering up
For Progress Rail, which manufactures Electro-Motive Diesel (EMD) branded locomotives, deliveries last year included a portion of Tier 4 production unit order for a North American customer. In February, the company unveiled the EMD24B [RE]power locomotive, which previously was known as the PR24B, Progress Rail's Haycraft said. The unit is a GP-style locomotive powered by a Cat® 3512C HD engine and is designed with flexibility to allow customers to choose options without extensive engineering. On Feb. 22, Progress Rail announced it had successfully completed initial emissions testing of the EMD24B and had begun the process of certifying the locomotive per the U.S. Environmental Protection Agency's Tier 4 emissions standards. The unit will start the California Air Resources Board's 3,000-hour in-service verification testing, first with Pacific Harbor Line Inc.
Marketplace interest in repowered units continues to increase; Progress Rail's customers are asking about overhauls, reliability and energy management systems, too, Haycraft said.
"As a company, we are taking advantage of this time to streamline our operations and engineering, and further enhance our technology strategy," he said. "Improved life-cycle cost and improved velocity for the railroads continue to drive innovation."
On the predictive analytics front, Progress Rail offers EMD Uptime. In partnership with Uptake — a provider of predictive analytics and insight software — Progress Rail created a next-generation rail analytics platform for condition-based maintenance. EMD Uptime is designed to enable railroads to minimize unplanned downtime, and improve asset utilization and reliability. The cloud-based portal monitors locomotive faults and operating parameters in real time, providing diagnostics, prognostics and repair recommendations.
The company also offers Smart Consist 2.0, which works in conjunction with New York Air Brake Corp.'s Locomotive Engineer Assist Display and Event Recorder, or LEADER®, system to improve energy management across fleets.
Brookville: Rebuilds in progress
In January, Brookville Equipment Corp. announced it had promoted Rick Graham from chief financial officer to president. Graham has recommitted to the company's locomotive building and rebuilding program, and Brookville currently has two rebuild projects in progress, said Adam Mohney, the company's marketing specialist.
Brookville spent much of 2016 expanding its parts and service support networks, and customers showed an increasing interest in the company's customized diesel-hydraulic yard switchers for mining and other heavy-haul tasks, Mohney noted. Last year was the first full year of service for the BL05 locomotive at the Puget Sound Naval Shipyard & Intermediate Maintenance Facility in Bremerton, Wash., and Brookville is the only U.S.-based manufacturer to build this locomotive type, Mohney said. The company expects more inquiries in 2017 from shipyards, cement factories and other industrial businesses that require short, heavy-haul applications.
Brookville also expects its Tier-4 BL12CG CoGeneration™ locomotives, which are designed to reduce emissions, to get more attention this year.
"There are a lot of advancements in available technology that railroads will be looking at to advance their fleets and conserve the environment," Mohney said. "I don't see that changing anytime soon."
GE: Makeovers and digital solutions
In 2016, GE Transportation developed what it terms as an "innovative modernization technology" to keep locomotives running longer. These "extreme makeovers" include new control systems, trucks and AC-propulsion technology designed to provide greater adhesion, improved reliability, an updated control platform and a new operator cab for crew comfort, said Yuvbir Singh, GE Transportation's vice president and locomotive, marine, stationary power and drill leader, in an email.
Modernized locomotives also can be equipped with digital solutions such as Locotrol DP, which can reduce stopping time by more than 20 percent, and Trip Optimizer, which can generate 10 percent fuel savings and has helped railroads save more than 100 million gallons of diesel, according to the company.
"Digital [solutions] will remain a priority, as we help customers better optimize their assets to achieve greater outcomes," Singh said. "In fact, we're seeing digital become a key leapfrog factor within the rail sector across all levels."
For example, GE Transportation last year launched a European digital pilot with German rail operator DB Cargo AG to increase productivity on a non-GE locomotive.
Additionally, GE and South Africa's Transnet revealed plans in January to digitize Africa's transport sector by providing real-time, data-driven shipment updates.
The company also delivered "hundreds of locomotives globally and celebrated key milestones regarding our Indian Railways deal," including the groundbreaking for the manufacturing and services facilities, Singh said, referring to a 2015 agreement with India's Ministry of Railways to develop and supply 1,000 diesel units.
"Furthering our global footprint, we successfully delivered locomotives to key markets, including South Africa, Angola, Pakistan and Indonesia," he said.
Railserve: Turning over a new LEAF
Last year, Railserve rolled out the first Tier 4-compliant Dual Railserve LEAF locomotive. Two basic LEAF models now are available: the original single-engine unit, and the two-engine Dual LEAF. Both boast the same Cummins Genset the manufacturer has always used, but now in a Tier-4 compliant configuration, according to the company.
"What was already a very clean machine has become even more environmentally friendly," said TJ Mahoney, Railserve's LEAF program manager, in an email.
Compared with conventional locomotives, both LEAF models now reduce nitrogen oxide emissions by 92 percent and particulate matter by 99 percent, with fuel consumption rates that are 45 percent to 65 percent lower than conventional units, Mahoney said. In a typical operation, where fuel use is reduced by 50 gallons of diesel per day, the LEAF cuts greenhouse gases by 400,000 pounds per year, he added. The Railserve LEAF employs Observe/Analyze/Respond™ (OAR) technology developed by Alternative Motive Power Systems (AMPS). OAR allows multiple users to track a wide range of operating data from remote locations.
Data from the AMPS Locomotive Control Unit onboard each Railserve LEAF is processed by OAR, and then transmitted via Wi-Fi or cellular system to a web-based dashboard for locomotive status and performance monitoring by on-site plant managers or operations personnel at remote locations, according to the company.
The data collected and displayed helps develop improved safety and operating efficiency by tracking track speed violations, hard couplings, man-down alerts and more.
Internationally, Railserve delivered its first overseas LEAF order to a state-owned railroad in Gabon, Africa in late 2015. The six locomotives are used for major mining operations in western Africa. Overall, company officials' outlook for sustainable locomotives is positive this year, Mahoney said, citing the availability of U.S. Environmental Protection Agency mitigation trust funding.
Michael Popke is a Madison, Wis.-based freelance writer. Email comments or questions to prograil@tradepress.com
---
Keywords
Browse articles on
locomotives
NRE
Progress Rail
New York Air Brake
Brookville Equipment
GE Transportation
Railserve
Contact Progressive Railroading editorial staff.