Newsletter Sign Up
Stay updated on news, articles and information for the rail industry
<< Rail News Home: Mechanical
2/7/2017
Rail News: Mechanical
Cracks prompt SEPTA to pull 90 subway cars from service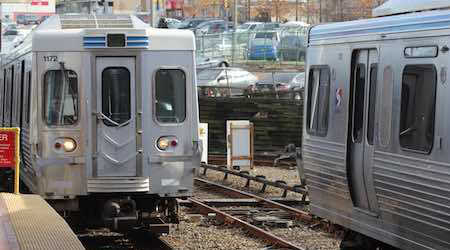 The Southeastern Pennsylvania Transportation Authority (SEPTA) has sidelined more than 90 of its Market-Frankford Line subway cars after the agency discovered cracks in the support beams on some of the vehicles.

SEPTA late last week identified a crack in a carbody bolster on one of the cars, which are known as M-4s. After inspecting the Market-Frankford Line's 220-car fleet, the agency found an additional unit with a crack in the bolster beam, as well as 58 other cars that showed signs of cracks in a vent that's welded to the beam, SEPTA spokesman Andrew Busch said in an email.

Because the cars were part of "married pairs," pulling the 58 units from service required sidelining additional cars that didn't show signs of vent cracks. As of yesterday afternoon, the agency had pulled more than 90 cars from service, Busch said.

The agency needs 144 available cars to run regular peak morning and evening service. SEPTA is providing supplemental bus service along the line during these periods, Busch said.

The agency didn't have an estimate about when it could return the defective cars to service.

Adtranz, which was later acquired by Bombardier Transportation, built the M-4 cars, which were delivered between 1997 and 1999.

SEPTA officials "don't have any reason" to believe there are similar issues with the Broad Street Line fleet, Busch said. That fleet is "completely separate" and was built by Kawasaki in the early 1980s, he added.

In July 2016, SEPTA pulled all 120 of its Silverliner V commuter-rail cars from service due to cracks in their suspension systems.
---
Keywords
Browse articles on
SEPTA
Southeastern Pennsylvania Transportation Authority
Market-Frankford Line
MFL
M-4 cars
M-4s
SEPTA subways
Philadelphia transit
Philadelphia
Adtranz
Bombardier
Contact Progressive Railroading editorial staff.