Newsletter Sign Up
Stay updated on news, articles and information for the rail industry
Rail News Home
Mechanical
January 2017
Rail News: Mechanical
Freight-car repair outlook: A business uptick could be in the offing for certain car types, some officials believe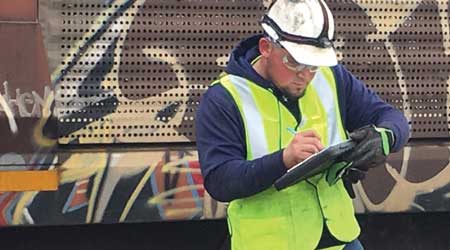 By Michael Popke
In November 2016, Patriot Rail Co. LLC acquired United Transportation Group (UTG) in East Chicago, Ind., which owns a 34-acre rail tank car and tanker truck cleaning and mechanical repair facility 30 miles southeast of downtown Chicago. The acquisition is the most recent example of Patriot Rail's long-term strategy to provide an integrated suite of rail-related services.
In 2013, Patriot Rail — which owns 12 short lines operating in 14 states — also added Blue Ridge Railcar Repair Services in Keysville, Va., to its portfolio.
"The UTG acquisition ... allows us to bundle our services and simplify the process for our customers by providing them a comprehensive plan for all their rail needs," says John Fenton, Patriot Rail's president and chief executive officer, adding that UTG has been renamed Lakeshore Railcar Services LLC. "Chicago is the Fifth Avenue of railroad locations, and we're looking to grow this piece of our business."
So are other players in the freight-car repair space. Although marketplace uncertainty continued to reign as 2016 drew to a close, a sampling of officials at freight-car repair firms believe an uptick in business could be in the offing for certain car types in 2017.
"With our recent expansions at several of our repair facilities, our capacity expectations remain steady with a slight increase in 2017," said Dean Sawyer, director of sales for rail-car services and products for American Railcar Industries Inc. (ARI), in an email. "There are a lot of tank cars in storage due to the low demand of oil. Therefore, most are not expected to be put back in service this year. The key is finding the right mix of work to optimize our resources and capabilities."
The mix is the message
Finding such a mix has been the objective in a few repair circles for some time now. Witness the tank-car segment.
When the U.S. Department of Transportation in 2015 issued a new set of standards for tank cars transporting flammable liquids, freight-car repair companies began prepping for what they expected would be a surge of retrofit work to older DOT-111 tank cars. Anticipating major retrofit orders, numerous repair shops announced plans to build new facilities dedicated to remanufacturing work on DOT-111 and newer CPC-1232 cars.
For the most part, though, the major orders didn't come. Railroads and other tank-car owners proceeded cautiously, given the cost of updating older tank cars as well as plummeting oil prices — wrinkles that lowered retrofit demand and resulted in market uncertainties that some repair firm officials suggest could carry over into 2017.
"Due to the slowdown caused by lower oil prices, lower shipment volumes caused many car owners to park their 111s and defer decisions on their retrofits until later in the cycle deadline," said Marty Haycraft, senior vice president and chief marketing officer of Progress Rail, a Caterpillar subsidiary, in an email.
Progress Rail provides a range of freight-car repair, reconditioning and retrofitting services at shops in the United States, Canada and Mexico.
Meanwhile, many larger fleet owners already have replaced the cars in question with "more compliant classifications" or performed the necessary modifications in-house, Haycraft said.
"While there will likely be some contract shop retrofit activity, the number of retrofits in 2017 remains uncertain due to energy market fluctuations," he added.
Sawyer at ARI — which two years ago invested $10.5 million in buildings and equipment at its tank-car retrofit facility in Marmaduke, Ark. — still believes there are reasons for optimism, though, calling 2016 a "steady year" for maintenance around requalification and project work despite the retrofit delays and ever-tightening railroad budgets.
"This year is expected to be steady with a slight increase in general maintenance and tank-car requalification," he said.
Meanwhile, automobile racks, which must be certified to meet specifications for individual carmakers, have provided some repair firms with a steady stream of business in recent years, and should continue to for at least the near term, some car-repair company execs believe.
"The automotive sector has been [in] growth mode for the past seven years," said Dennis Manns, chief commercial officer for Road & Rail Services, in an email. "There has been a tremendous number of new plants created in Mexico over the past five to seven years, and several scheduled for production over the next 24 to 36 months. Mexico's automotive production will have tripled from 10 years ago. This shift in production has had a dramatic impact on the automotive fleet with empty car supply."
Plenty of upswing potential
A potential wild card for every link in the rail chain is the new administration in Washington, D.C. Early indications suggest that President-elect Donald Trump and his administration won't create additional obstacles on the regulatory front, rail industry observers believe.
"We are hopeful, with the new administration, that there will be changes to improve the economy and overall rail-car and infrastructure needs," Sawyer said.
Meanwhile, Progress Rail officials expect the first half of 2017 to be "challenging," but they also see signs that "the second half could be more favorable," Haycraft added.
"For instance, there is some optimism developing around the new administration and what that could mean for energy prices and infrastructure spending, which could in turn spike demand for certain types of rail cars," he said. "An overall economic improvement driving demand across multiple car types would obviously be welcome."
There are other factors, of course, that likely will affect the repair market — from the price of oil to weather patterns to the potential relaxing of U.S. Environmental Protection Agency rules that could affect coal shipments, Haycraft said.
Amid the uncertainty, Patriot Rail's Fenton remains convinced there is plenty of upswing potential, even in a down market.
"There's still a need in this country for good, quality rail-car repair," he said.
Michael Popke is a Madison, Wis.-based freelance writer. Email comments or questions to prograil@tradepress.com.
---
Keywords
Browse articles on
Freight-car repair
Patriot Rail
Lakeshore Railcar Services
American Railcar Industries
tank cars
DOT-111
Progress Rail
Road & Rail Services
Contact Progressive Railroading editorial staff.