Newsletter Sign Up
Stay updated on news, articles and information for the rail industry
RAIL EMPLOYMENT
Rail News Home
Mechanical
January 2016
Rail News: Mechanical
Locomotive builders continue to craft Tier 4 models to help railroads further their environmental pursuits
By Jeff Stagl, Managing Editor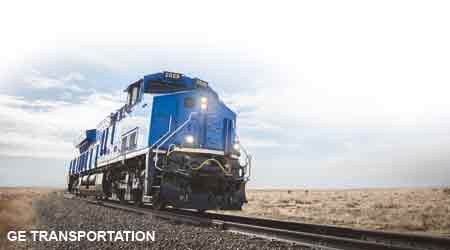 At 2015's end, the Evolution™ Series Tier 4 Locomotive had logged more than 7.5 million miles in revenue service — the equivalent of over 30 round trips to the moon or more than 2,900 flights from New York City to San Francisco, according to GE Transportation.

Central California Traction Co. (CCT) is pursuing a plan to adopt more environmentally friendly locomotives without sacrificing power and performance. The objective: to replace each of its eight switchers with units that meet the U.S. Environmental Protection Agency's (EPA) Tier 3 or Tier 4 air emission standards.
CCT took a step toward that goal in March 2015, when it took delivery of two Tier 4 CoGeneration™ switchers from Brookville Equipment Corp. Each one features twin 600-horsepower engines from Cummins Inc. that comply with the EPA's latest regulations.
To comply with Tier 4, all new engines installed in locomotives as of Jan. 1, 2015, must vastly reduce air emissions from levels governed by Tiers 1, 2 and 3. The regulation calls for more than a 90 percent reduction in both nitrous oxide (NOx) and particulate matter (PM) emissions from Tier 1 levels unveiled in 1996, and a more than 70 percent drop in both NOx and PM emissions from Tier 3 levels first introduced in 2005.
The CoGeneration units not only reduce fuel usage about 47 percent compared with a SW1500 switcher, they're performing well and are "very clean," says CCT General Manager Dave Buccolo.
"You don't see any exhaust coming out of them," he says.
CCT — which operates about 70 miles of track between Stockton and Sacramento — has applied for funding through the California Air Resources Board (CARB) to help acquire two more Tier 4 switchers in 2016 and another two in 2017. The CARB dollars cover 85 percent of the cost to purchase an environmentally friendly locomotive.
As railroads continue their quest to become better environmental stewards — in part by cutting air emissions — the demand for Tier 4 road locomotives and switchers is growing among Class Is, regionals and short lines. To meet it, locomotive builders are ramping up production of recently introduced Tier 4 models, or completing development and testing to begin manufacturing the cleaner motive power.
GE: An evolutionary process
GE Transportation is rolling more Tier 4 units off its assembly lines. Introduced in 2012 and field tested in 2013, the Evolution™ Series Tier 4 road locomotive features GE's 12-cylinder EVO engine and more than 200 onboard sensors that monitor performance and health. It requires no after-treatment system — such as urea selective catalytic reduction — and is designed to reduce emissions more than 70 percent from Tier 3 levels.
GE has been working on its Evolution Series line since 2005 and has racked up $600 million in development costs, including $200 million on the Tier 4 model alone, says Dennis Peters, the company's executive product manager. But it's been money well spent to develop the industry's first Tier 4 road locomotive, GE officials say.
"We have the only product on the market to date," says Peters.
GE began taking orders for Evolution Series Tier 4 units in 2014 ahead of production, which began in 2015. That gave the company a two-year lead on business development efforts, says Yuvbir Singh, vice president of GE Transportation's locomotive, marine, stationary power and drill businesses.
Through 2015, GE had received orders for more than 1,300 units, with delivery scheduled from 2015 through 2017. By 2015's end, about 400 to 500 Evolution Series Tier 4 locomotives were projected to be in revenue service at four railroads.
"So far, we have heard they are meeting or exceeding expectations, [and] that the reliability is good," says Singh.
To keep up with production demands, GE is manufacturing Evolution Series locomotives both at its Fort Worth, Texas, and Erie, Pa., plants.
EMD preps for production
Production on a Tier 4 unit is gearing up at Progress Rail Services Corp. subsidiary Electro-Motive Diesel Inc. (EMD), too. The company expects to complete its first batch of SD70ACe-T4™ road locomotives in 2016's second half.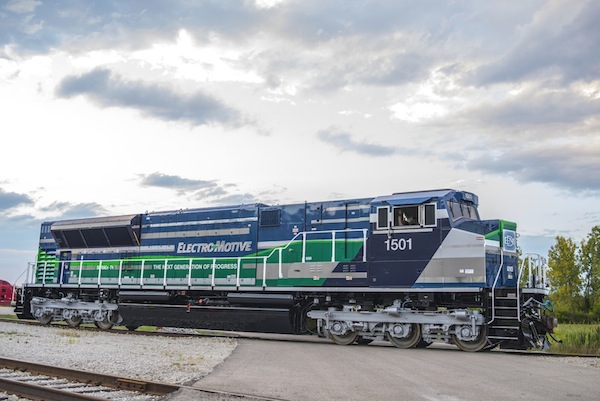 In 2016's second half, Electro-Motive Diesel Inc. expects to produce its first batch of SD70ACe-T4 road locomotives, which now are being tested.
Photo: Progress Rail Services/EMD
The model features a 12-cylinder EMD 1010 engine, a high-performance AC-traction system, advanced electronics and an enlarged cab designed to improve crew ergonomics and safety. EMD achieved Tier 4 standards without the use of urea by incorporating cooled exhaust gas recirculation, a particulate oxidation catalyst, and other state-of-the-art engine components and technologies.
The company began to develop the SD70ACe-T4 prior to being acquired by Progress Rail parent Caterpillar in 2010. EMD tried to incorporate the EMD 710 engine into the Tier 4 model, but determined a different engine could provide better fuel efficiency, says Jim Shirvinski, senior VP of engineering for Progress Rail's Locomotive & Railcar Services Group. The development of the EMD 1010 engine followed, and tests so far have shown a 5 percent gain in fuel savings, he says.
Customer input has helped EMD craft the SD70ACe-T4 into "a total business solution," says Marty Haycraft, Progress Rail's chief marketing officer and SVP of locomotive and railcar services, who manages EMD's North American sales. Feedback led to the incorporation of a larger sloped, teardrop windshield to improve visibility, an added egress window to boost crew safety and a larger conductor's workspace.
"We're getting good feedback from customers on the features they want to see, like more head room in the cab and better visibility with the windshield," says Haycraft.
Five pre-production SD70ACe-T4s currently are undergoing tests — three at EMD's facility in LaGrange, Ill., and two at the Transportation Technology Center in Pueblo, Colo.
In addition to the road variety, Tier 4 models have joined the ranks of switchers, including Brookville's CoGeneration locomotive. The generator-set (GenSet) switcher features a wide cab design, a heavy duty, FRA-crashworthy welded frame, and a Cummins emission solution that includes a diesel oxidation catalyst and a diesel particulate filter.
The custom-designed units in CCT's order represented the first Tier 4 switchers for Brookville, says Director of Sales Chris Rhoades.
"We are a custom manufacturer by nature, but we try to standardize," he says. "We would love to produce additional units just like this."
NRE earns Tier 4 certification in California
NRE already is producing a Tier 4 GenSet switcher, the NREX. The company reached a milestone in August 2015, when the NREX became the first switcher to be verified by the California EPA as achieving Tier 4 emission standards after a rigorous 3,000 locomotive-hour test, says NRE President and Chief Executive Officer Steven Beal.
The NREX is part of the company's N-ViroMotive line of locomotives, which feature one or more self-contained power plants or power-on-demand technology. NRE began to develop a Tier 4 switcher about three years ago and started revenue service testing at a railroad about two years ago, says Beal. That railroad has ordered a second unit and delivery is slated for early to mid-2016, he says.
The NREX is available with a 600-horsepower Cummins engine and soon will be available in a second version featuring a more powerful 700-horsepower engine produced by Swedish company Scania. In early 2016, the Scania engine-equipped unit is expected to begin a six- to nine-month test in the United States.
R. J. Corman Railpower also offers a Tier 4 switcher with different engines. The RP Series, three-engine switcher is available with a Cummins QSX15 or an engine produced by German firm Deutz AG.
"It depends on customer preference. If length is an issue, to keep it shorter, the Deutz engine is more compact," says Adam Bennett, R. J. Corman Railpower's general manager of engineering.
At 2015's end, the company expected to ship the 14th RP Series locomotive for a major Class I, he says. A CARB test of the RP Series continues, requiring 3,000 locomotive hours of operation, says Bennett.
R. J. Corman Railpower also is working on a single-engine RS Series model that would be used by R. J. Corman short lines. The company hopes to have a version available in mid-2016, says Bennett.
At Railserve Inc., the production of several Tier 4 LEAF® locomotives is on the docket for 2016. The Tier 4 model has a slightly different footprint than the company's LEAF GenSet — which meets Tier 3 emission standards — and features a 600-horsepower Cummins engine with a diesel particulate filter.
"We have a design for a Tier 4 LEAF, and it's vetted," says TJ Mahoney, Railserve's LEAF program manager, adding that orders are on books this year for several of the locomotives.
Cummins, Siemens target transit-rail market
Meanwhile, partners Cummins and Siemens continue to produce a Tier 4 locomotive targeted at passenger railroads. The diesel-electric Charger model features a 16-cylinder Cummins engine that provides up to 4,400 horsepower and accommodates 125-mph operations.
Efforts to develop the Tier 4 Charger began three years ago, when Siemens recognized an opportunity to add a diesel-electric unit to its locomotive business, says Michael Cahill, president of Siemens Rolling Stock. The company teamed up with Cummins, "a real solid partner on the diesel side," he says.
Cummins made minor modifications to its base QSK95 diesel engine to meet Tier 4 requirements, such as changing the fuel and air-handling systems, and adding an after-treatment system.
Siemens so far has received Charger orders from a multi-state coalition (including the departments of transportation in California, Illinois, Michigan, Missouri and Washington), All Aboard Florida and the Maryland Transit Administration for the Maryland Area Regional Commuter system.
"We're [also] having discussions with other railroads," says Cahill.
Since federal air pollution standards have tightened up, a number of freight and passenger railroads continue to explore the addition of cleaner motive power. And Tier 4 models aren't the only ones garnering their attention.
"We are getting requests for both Tier 3s and Tier 4s," says R. J. Corman Railpower's Bennett.
---
Keywords
Browse articles on
Central California Traction Co.
GE Transportation
Electro-Motive Diesel Inc.
Progress Rail Services Corp.
NRE
Brookville Equipment Corp.
R. J. Corman Railpower
Railserve
Cummins
Siemens
Tier 4
Contact Progressive Railroading editorial staff.