Newsletter Sign Up
Stay updated on news, articles and information for the rail industry
Rail News Home
Kansas City Southern
July 2019
Rail News: Kansas City Southern
Rising fuel costs drive railroads to hone idle reduction and energy management practices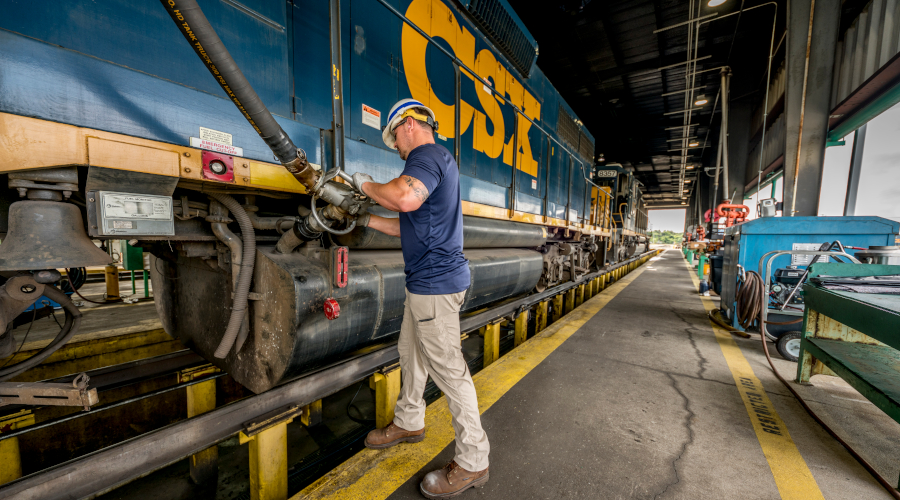 By Vesna Brajkovic, Associate Editor
With fuel expenses for all Class I railroads steadily increasing through the years, according to individual annual reports, it's no wonder the railroads are making moves to manage fuel usage.
While the cost of diesel is at the top of most railroads' operating expense lists, they're targeting other factors, such as excessive engine idling and the use of more horsepower than required, to reduce fuel consumption. For help, they often turn to technology.
For example, BNSF Railway Co., which consumed 1.43 billion gallons of fuel in 2018, has equipped 98 percent of its active locomotive fleet with an automatic engine start-stop (AESS) technology. AESS shuts down a locomotive after idling for a specified period of time as long as temperature, air pressure and battery charge parameters are met, according to BNSF spokesperson Ben Wilemon.
Kansas City Southern also implements AESS to better manage excessive fuel use, according to KCS Assistant Vice President of Communications Doniele Carlson.
In 2018, KCS consumed 134.9 million gallons of fuel, 1.1 million gallons less than it did in 2017. Still, its fuel spend increased by more than $32 million from 2017 to 2018, mostly due to a 30 cent increase per gallon. The cost was partially offset by the railroad's lower consumption, according to KCS's 2018 annual report.
For example, KCS developed a compliance program to lower its horsepower per ton (HPT), which includes the use of GE Transportation's Trip Optimizer. The system is designed to automatically control the throttle and help minimize fuel usage by calculating the most efficient way of operating a locomotive according to several factors, such as train length, weight, grade, track conditions and weather.
BNSF also uses HPT optimization to reduce fuel use while maintaining service performance. If a train has more horsepower than is necessary for a given route segment, the crew can isolate a locomotive or limit the maximum throttle position used, Wilemon said in an email.
More than 3,500 BNSF locomotives are equipped with energy management systems that allow the throttle and dynamic brake to be controlled automatically, similar to an automobile's cruise control system, Wilemon explains.
CN also has recorded fuel efficiency gains by installing Trip Optimizer technology operational on almost 600 locomotives by the end of 2018, according to CN spokesperson Jonathan Abecassis.
CN also uses a horsepower tonnage analyzer that was built in-house. The tool gives crews instructions and real-time monitoring to ensure they only use the power needed during a trip by optimizing a locomotive's horsepower-to-tonnage ratio. The data collected is also used for historical analysis and to identify new fuel conservation opportunities, Abecassis said in an email.
Meanwhile, investment in advanced locomotive technology, such as Trip Optimizer and positive train control (PTC), have played a major role in CSX's fuel efficiency gains, CSX spokesperson Sheriee Bowman said in an email.
CSX upgraded its Trip Optimizer on locomotives in one subdivision to enable the system to receive PTC-generated information on real-time operating conditions, such as signal aspects, speed restrictions and other network and track conditions. With this enhancement, Trip Optimizer can incorporate additional data into its calculations of the most fuel-efficient throttle settings, enabling the technology to "plan" for these events and further increase fuel savings, Bowman said.
The Trip Optimizer with PTC soon will be tested on locomotives in additional subdivisions, Bowman said.
The railroad reduced fuel consumption by 1.6 million gallons in Q4 even with slightly higher gross ton-miles in 2018. CSX officials say they aim to drive additional efficiencies through continued improvements in network fluidity and increased utilization of fuel optimization processes and technologies.
Another fuel-saving technique railroads are employing is to reduce friction on the track.
BNSF has more than 1,500 friction modification units installed across its network. The units apply friction modifier liquid to the top of the rail as the trains roll past, reducing rolling friction — and the amount of fuel required for the trains to maintain track speed.
Employee-focused initiviates
Training also can be part of the fuel-saving deal. To ensure technology is being used to its full potential, locomotive engineers at CN receive on-the-job training on the technologies and regional managers are provided with information to their track performance.
"Our train crews and rail traffic controllers are continuously being trained on best practices for fuel conservation, including locomotive shutdowns in our yards, streamlined railcar handling, train pacing, coasting and braking strategies," CN's Abecassis said.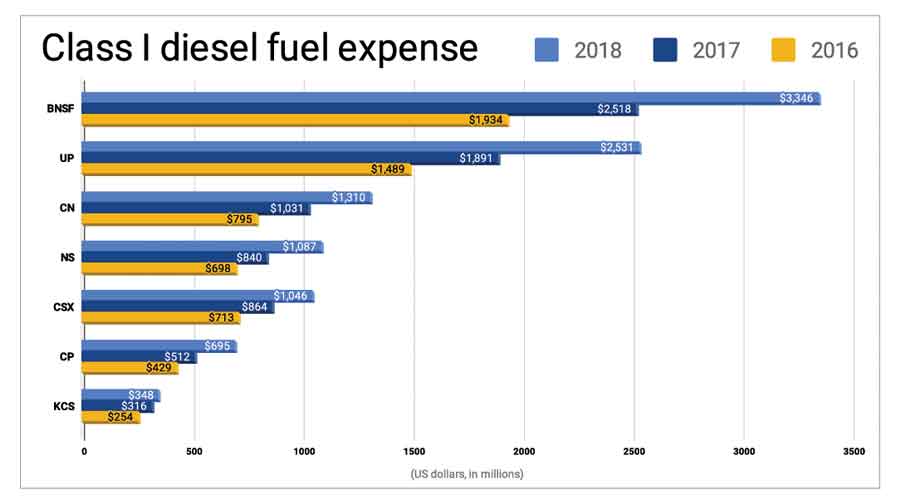 Source: Class I annual reports
In 2011, the railroad also launched an employee engagement program, that embeds environmental sustainability into CN's culture. The program incorporates initiatives to reduce energy consumption — including minimizing fuel use, reducing waste and improving housekeeping practices at yards and offices, Abecassis said.
Class Is also aim to keep their fleets younger, and all new power units feature the latest fuel-saving technologies.
Canadian Pacific's fleet is largely composed of high-adhesion alternating current (AC) locomotives that are more fuel efficient and reliable, and feature superior hauling capacity, compared with standard direct current locomotives, as CP officials stated in the railroad's 2018 annual report.
In 2019, CN plans to add more than 100 new AC locomotives with distributed power to its fleet, bringing the total to over 1,000 locomotives. Distributed power allows for remote control of the locomotives and improves braking performance, train handling and fuel efficiency, Abecassis said.
CN consumed 21.3 million more gallons of fuel in 2018 compared to 2017's total — the increase was due to an uptick in workload and the volume of traffic. The increase was partially offset by a 3 percent fuel efficiency improvement from the previous year, according to the report.
Since 2005, BNSF has purchased more than 3,000 new locomotives, which are up to 14 percent more fuel efficient than the locomotives they replaced, Wilemon said.
Replacing outdated equipment
Inspecting and maintaining existing fleets also is key to railroads' fuel-savings successes.
KCS crews inspect and maintain locomotives according to manufacturer recommendations to maintain gaseous and particulate emissions at or below the certified EPA Tier level, according to the company's 2018 annual report.
The railroad also periodically overhauls outdated, less fuel-efficient locomotives with current technology to achieve new Tier level certification and lower emissions.
In some cases, fuel-saving practices and technologies paired with precision scheduled railroading drive both fuel and maintenance savings.
"One of the major benefits of scheduled railroading has been improved asset utilization and the resulting ability to reduce the active locomotive fleet through a combination of sales and placing units in reserve," CSX's Bowman said. "By reducing our active fleet, we save on maintenance, fuel and capital requirements. Our active locomotive count ended the year down over 300 locomotives while we grew volume and revenues."
CP's fuel efficiency also improved by 3 percent from 2017 to 2018, primarily as a result of running longer trains, according to the railroad's 2018 annual report.
"Fuel efficiency is an important part of [providing optimal operational performance] because it lowers costs, reduces emissions and demonstrates the environmental advantages of rail over other transportation modes," Bowman said. "Network fluidity and other aspects of scheduled railroading also contribute to fuel efficiency by reducing delays, increasing speeds and utilizing assets more effectively."
Email comments or questions to vesna.brajkovic@tradepress.com.
---
Keywords
Browse articles on
fuel management
Kansas City Southern
KCS
BNSF
BNSF Railway Co
automatic engine start-stop
AESS
idle
Ben Wilemon
Doniele Carlson
GE Transportation
Trip Optimizer
CN
Jonathan Abecassis
CSX
Sheriee Bowman
PTC
Canadian Pacific
Contact Progressive Railroading editorial staff.