Newsletter Sign Up
Stay updated on news, articles and information for the rail industry
Rail News Home
Kansas City Southern
October 2017
Rail News: Kansas City Southern
Railroads, shippers assess damage wrought by two historic storms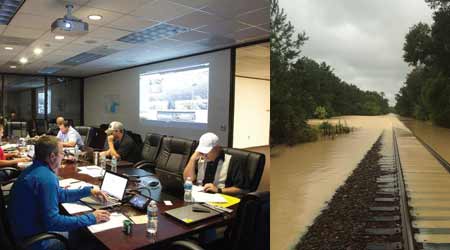 — By Julie Sneider, Senior Associate Editor
As of late September, railroads and transit agencies affected by hurricanes Harvey and Irma were still evaluating the toll the devastating storms took on their operations and customers in Texas and Florida.
On Aug. 25, Harvey made landfall on the Texas Gulf Coast as a Category 4 hurricane. Two weeks later, Irma slammed into Florida twice — first hitting the Keys as a Category 4 storm on Sept. 10 and then making landfall later that day as it moved up Florida's Gulf Coast as a Category 2.
As the storms hit, the affected Class Is — BNSF Railway Co., Union Pacific Railroad and Kansas City Southern in Texas during Harvey, and CSX and Norfolk Southern Railway in Florida during Irma — provided daily updates and phone numbers on their websites to keep customers apprised of out-of-service routes damaged by high winds and unprecedented flooding, and when those routes would reopen.
Meanwhile, Houston-based Commtrex Inc. — an open electronic exchange that connects shippers with rail assets, storage, service providers and data — offered free listings during and immediately after Harvey to help shippers with routing, storage and asset availability and repair. Within a week, the exchange experienced a 400 percent increase in storage requests in southern and central Texas. Commtrex Chief Executive Officer Martin Lew took calls from customers who were scrambling to find available storage facilities for rail cars because their usual providers were also affected by the storm.
"Because Harvey was such an outlier event, customers had to look outside their typical patterns," said Lew, whose own employees struggled to get to the office during the storm and its aftermath.
After surveying Harvey's damage to UP's operations around Houston, CEO Lance Fritz told Reuters news service that the Class I had been "cut off from Houston in every direction," with nearly every rail subdivision washed out or under water. By Sept. 19, the railroad's Gulf Coast operations had been fully restored, including the repair of bridges over the San Bernard and San Jacinto rivers.
Once Irma struck, Jacksonville-based CSX was able to re-establish rail service into and out of Florida within the first 24 hours and throughout the majority of the state within a week. In preparing for the storm, CSX teams evacuated more than 1,500 rail cars from Florida and held about 200 trains and thousands of cars to avoid damage.
The historic levels of destruction and resulting business disruptions are expected to impact third-quarter earnings as well as economic growth, according to Wall Street analysts. Some estimates put the total losses of Harvey alone at $75 billion, CNN reported a week after the storm.
By Sept. 28, economists estimated the impact of Harvey and Irma combined "could cut as much as six-tenths of a percentage point from GDP growth in the third quarter," according to Fortune.com.
In his Reuters interview, UP's Fritz said the Class I expects lost business due to Hurricane Harvey and costs associated with storm cleanup would reduce third-quarter earnings by 5 cents a share. However, pent-up demand from Houston-area manufacturers and recovery efforts should help boost the railroad's fourth-quarter results, he said.
---
Contact Progressive Railroading editorial staff.