Newsletter Sign Up
Stay updated on news, articles and information for the rail industry
Rail News Home
Kansas City Southern
May 2017
Rail News: Kansas City Southern
Perspective: KCSM's new crew management solution sets stage for ongoing innovation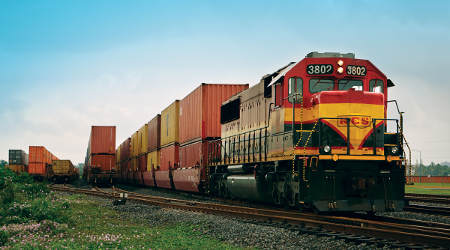 By Kansas City Southern

In 2016, Kansas City Southern's Information Technology (IT) team deployed CPM-Mexico Crew Call — transforming time-consuming manual processes and a legacy server into an efficient, cloud-based automated crew management solution for Kansas City Southern de Mexico S.A. de C.V. (KCSM).

Since 1998, KCSM — which serves northeastern and central Mexico, including the ports in Lázaro Cárdenas, Tampico and Veracruz — had been using a self-developed crew management application on a legacy client server. Manual processes were used for train scheduling, union rules for crew pool order, crew assignments and exceptions, calling crews via a LAN line and confirming via text, taxi service, operational reporting and payroll.

"In all areas of the company, KCSM is progressively seeking innovative solutions," said Mike Naatz, KCS' senior vice president of operations support and chief information officer. "From an IT standpoint, we want solutions that speed fact-based decision-making, automate activities and simplify management, enabling people to grow from task managers to strategic thinkers."

When KCSM's application no longer worked well with newer company technologies, the railroad began evaluating its options for moving forward. While other crew management technology solutions were available in the industry, KCSM sought a more customizable and cost-effective solution.

"In many ways, KCSM is not like other railroads, so a one-size-fits-all industry solution doesn't always make sense for us," said Wayne Godlewski, KCS' vice president of information technology. "We teamed up with CloudMoyo, hosted extensive requirements sessions with IT, transportation, labor relations and payroll to identify where we can improve, and customized the CloudMoyo Public Transport Management System [CPM] into the CPM-Mexico Crew Call."

The new CPM-Mexico Crew Call is transforming the way KCSM operates by automating tasks and providing real-time data to more effectively manage the business. Newly-automated functions include:
• Crew availability tracking;
• Crew pool order management;
• Interactive Voice Response (IVR) crew assignment acceptance and tie-up;
• Employee incident management (e.g. on rest, vacation, medical leave);
• Improved compliance with union agreements;
• Real-time notifications to the crew office; and
• Integration with the KCS Management Control System (MCS), Track Warrant System (TMDS), SAP, Sirius and other operating systems.
CPM-Mexico Crew Call effectively schedules crews for trains by managing crew availability, allocation order and attendance, as well as train schedule compliance with an IVR notification and acceptance system. The system uses the Microsoft Azure cloud and advances in mobile technology to balance crew and equipment needs in a manner that is cost-effective and enables quicker time to deployment and higher return on investment. And, workforce and logistics management, delivered via a state-of-the-art user experience, leads to an improved work experience for crews, a reduction in overtime (cost savings) and a stricter adherence to labor laws.



All this automation is displayed on dashboards providing predictive analytics and actionable data. Now that KCSM has visibility of real-time data to monitor and react to train delays in a timely manner, the company can improve its forecasting of crew supply and demand to promote safety and operational efficiencies, thus improving service times for customers and value for shareholders. With real-time data brought to life, managers can make fact-based decisions and take action to keep the organization on track.

"We are very pleased with our progress to date in terms of technology solutions and operating process improvements. We've already been able to decommission some related legacy systems and upgrade others," said Godlewski.

The data speaks volumes about where the company has been and where it's headed now, he added.

"With more predictive analytics, we'll also be able to forecast where we're going, which is truly where the innovation lies," said Godlewski.
---
Keywords
Browse articles on
Kansas City Southern
Kansas City Southern de Mexico
CPM-Mexico Crew Call
CloudMoyo
Contact Progressive Railroading editorial staff.