Newsletter Sign Up
Stay updated on news, articles and information for the rail industry
Rail News Home
Kansas City Southern
November 2019
Rail News: Kansas City Southern
2019 Railroad Innovator Award profile: Kansas City Southern's Patrick Ottensmeyer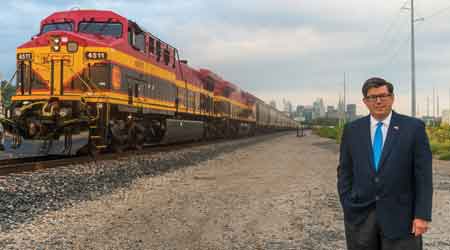 By Pat Foran, Editor
During a late-summer afternoon conversation in the Truman Car parked just outside Kansas City Southern's corporate headquarters, Patrick Ottensmeyer is locked in.
KCS' president since 2015 and chief executive officer since 2016, Ottensmeyer is talking candidly and pragmatically about the railroad and about railroading, about the global economy, about uncertainty. Communication is an overriding theme, dot-connecting a thread. Engaging with employees, customers, investors, lawmakers, technology partners is crucial, this conversation suggests. It's about sharing with them. Listening to them. Reaching them. Moving forward, ultimately, with them.
Ottensmeyer, clearly, is interested in the world around him. He's interested in people. Interested in connecting. Interested, period. For good reason: Ottensmeyer is helming KCS — "a railway network that connects commerce across a continent," as the company bills itself — during a pivotal stretch in its history.
"Pat has led KCS through the proverbial 'interesting times' — growth potential, operating challenges, hurricanes, trade wars, government interference and threats (on both sides of the border) — and all through it, he has transformed his railway into a growth leader, a technology leader and, soon, a precision scheduled railroad (PSR) leader, as well," says independent transportation analyst Tony Hatch, program consultant for Progressive Railroading's annual RailTrends® conference.
As chair of the U.S. Chamber of Commerce's U.S.-Mexico Economic Council, Ottensmeyer has been ensuring the rail industry has a voice at the table, engaging with public- and private-sector leaders to strengthen bilateral commercial ties. He also served as the U.S. chairman of the strategic trade initiatives working group of the U.S.-Mexico CEO Dialogue.
Meanwhile, KCS is taking what Hatch calls "a bold view of PSR as a growth-driver of looking at change not to please the lowest common denominator (i.e., not just to close yards), but to achieve their credo, service begets growth."
And under Ottensmeyer's watch, KCS has been nudging the innovation needle, embracing blockchain and all that next-gen positive train control might net, while also seeking ways to employ a range of autonomous technologies.
In June, Progressive Railroading named Ottensmeyer the 2019 recipient of the Railroad Innovator Award. He'll receive the award, which recognizes an individual's outstanding achievement in the rail industry, at RailTrends, to be held Nov. 21-22 at the New York Marriott Marquis Hotel in New York City.
"Pat is a great leader who knows how to pull a team together," says David Starling, who served as KCS' CEO before handing over the reins to Ottensmeyer in 2016. "He's smart, thoughtful — a great head of a mature company that was ready to evolve. He's just going to continue to make the company better and better."
The seeds of Ottensmeyer's continuous improvement soul were sown on the family farm he grew up on. Born in 1957, Ottensmeyer was raised in Vincennes, Indiana — "rural America," as he puts it.
"My dad was a fairly small family farmer — watermelons, corn, soybeans," says Ottensmeyer, who was the fifth of six children. "He also always had another job."
When Pat was in junior high school, the Indiana State Highway Commission took a chunk of the family farmland to build a cloverleaf intersection for U.S. highways 41 and 50. That made the land uneconomical to farm, and prompted Ottensmeyer's father to make a career change. He chose real estate development.
"He had some success," Ottensmeyer says. "Dad grew up in the Depression, so he kept 15 to 20 acres for a mobile home park we'd all come back to if we needed to."
Life lessons in Vincennes
Think strategically, yet pragmatically.
It was a life lesson, of sorts, for the Ottensmeyer children. "Do your thing" was another.
"To Mom and Dad, it was important to let us be our own people,"
Ottensmeyer says. "They just wanted to create a better life for their kids. If they did that, they believed, we would leave and go on to do what we wanted to do. And we did."
For Pat, leaving meant heading to Indiana University (IU) in Bloomington, which was about 90 miles from Vincennes — "far enough so I didn't have to live at home," he says.
There, he earned a bachelor's degree in finance.
Banking felt like a fit. So, he signed on with the National Bank of Detroit, which an IU faculty member had told him had one of the best commercial loan officer training programs in the country. Ottensmeyer stayed with the bank five years, working his way up through the commercial lending ladder.
In rail's ZIP code
In 1984, he joined the Chicago office of Security Pacific National Bank, which Ottensmeyer described as a "high-flying, high-profile bank riding the wave of Southern California's perpetual boon economy." Over the next six years, he rose to the position of vice president and loan officer, primarily serving as an account representative for multinational corporations.
"I was always interested in large, multinational lending accounts — the size, the scale, the complexity of the deals," he says. "It also put me in the same ZIP code and space with Santa Fe Southern Pacific (SFSP), and that opened a door for me."
SFSP subsidiaries owned and developed real estate; mined for coal, gold and silver; explored for oil and gas; and operated a pipeline that transported gasoline and other petroleum products. SFSP also owned the Atchison Topeka and Santa Fe Railway Co. (ATSF) and the Southern Pacific Railroad.
Ottensmeyer became the primary account representative, loan officer and relationship manager for SFSP.
"He had all of the qualities you would want in a banker — he was honest, bright, he knew the business," says Denis Springer, who was SFSP's assistant vice president of finance when he met Ottensmeyer. "He also was very personable. Very empathetic. He had a style I found easy to work with."
In 1983, SF and SP announced plans to merge as a holding company (SFSP) — a proposed deal the Interstate Commerce Commission (ICC) would nix in 1985.
In 1987, SFSP asked the ICC to reopen the merger case but the commission refused, ordering the holding companies to sell one or both railroads. SFSP opted to sell Southern Pacific Transportation, which included Southern Pacific Railroad, a trucking company and real estate directly owned by Southern Pacific.
"We found ourselves a very attractive candidate for a breakup," Springer says. "We ended up doing what was at the time the largest recapitalization that had ever been done to that point, somewhere close to a $5 billion deal."
Security Pacific Bank and J.P. Morgan served as co-leads on the 42-bank syndicate. "It was an interesting, exciting time," Ottensmeyer adds.
Interesting times would continue for Ottensmeyer, as Security Pacific National Bank would merge with Bank of America, sending him to New York City to head the corporate banking group.
The deal was completed in late 1992. And it wasn't long before Ottensmeyer would return to Chicago — and to rail.
While Ottensmeyer was in New York, Springer had been promoted to ATSF's CFO position. Springer needed to find another VP of finance/treasurer. Once he got the approval to hire someone, he made one phone call. "Fortunately, Pat said 'yes,'" Springer says.
"I was very happy to get back to Chicago," Ottensmeyer says. "I also had a lot to learn."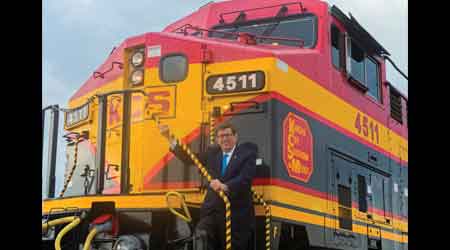 kansas city southern/roy inman
First thing he'd learn, or more accurate, remember: Rail industry change would be in the offing for the next several years.
Not long after Ottensmeyer signed on, Burlington Northern Corp. and ATSF announced plans to merge. By 1995, the deal was completed. The merged railroads were dubbed Burlington Northern & Santa Fe Railway (BNSF).
By 1999, with the railroad mega-merger era in full swing, and facing the prospects of having to relocate to BNSF headquarters in Fort Worth, Texas, Ottensmeyer did some soul-searching.
"My kids were at a certain age ... and we wanted to stay in Chicago," he says. "When I left BNSF at the end of '99, my plan was to take a year off. I took five."
Technically, Ottensmeyer didn't take any years off. From 2000 to 2006, he served as EVP and CFO of Intranasal Therapeutics Inc., a specialty pharmaceuticals company. ("It started out as fundraising, helping them develop a business plan," he says.)
He also taught a finance/accounting seminar course at DePaul University in Chicago. ("It was all about exposing students to the real world.") Ottensmeyer also served on the board of education at Lake Forest (Illinois) Schools.
Ottensmeyer also consulted on the occasional rail-related project, including working with a group that was looking into acquiring the Elgin, Joliet and Eastern Railway in 2004.
And when KCS, in search of an EVP and CFO, came calling in 2006 — due in part to Springer suggesting the Class I reach out to him — Ottensmeyer was eager to return to the rail realm.
"It also was an opportunity to get back into the public company finance track," he says.
Kansas City, here he comes
Not that Ottensmeyer didn't have concerns coming in, given KCS' seemingly precarious (to some) position on the North American rail map. But the fact that KCS had just gained control of TFM S.A. de C.V., enabling the Class I to transition from more of a regional U.S. railroad to a multinational railroad operating across the U.S.-Mexico border, "really changed the game," Ottensmeyer says.
But few in the investment community were talking about it. In 2006, only two equity analysts followed KCS, Ottensmeyer says. Wall Streeters tended to base the railroad's valuation thesis on its breakup or takeover potential.
So, one of his first jobs was to develop a long-range plan, one that enabled KCS leaders execs to articulate the story. Today, more than two dozen sell-side analysts follow KCS, Ottensmeyer says.
"I feel really good about the way the company is perceived," he says.
Demonstrating he could tell the KCS story to analysts and other constituents certainly didn't hurt his cause when, in 2008, he asked to be considered for the railway's EVP of sales and marketing gig.
"He came to me and said, 'I'm a former banker and I'd like a shot at chief marketing officer,'" says Starling. "He said he knew the company, and that he thought he could do a good job."
Starling and then-KCS Chairman Mike Haverty agreed.
"It was a smart move on Pat's part to get that experience under his belt," Starling says.
It certainly helped put Ottensmeyer in the CEO-in-waiting seat. In 2015, he was named president. In 2016, he succeeded Starling as CEO.
In announcing the appointment, Starling cited Ottensmeyer's extensive financial and marketing background, coupled with the leadership he'd demonstrated in strengthening the company's rail operations.
"His relationships with customers, investors, other railroad executives, and employees in both Mexico and the U.S., will be a tremendous asset as KCS seeks to translate its abundant business opportunities into sustained long-term growth," Starling added.
Ottensmeyer credited Starling for showing him the leadership ropes.
"He was humble, unassuming — the consummate lead-by-example person," Ottensmeyer says. "He was a true operating guy, and I spent all of my days in finance and marketing, so I learned an awful lot. And not just about the railroad, but how to engage with people."
And Ottensmeyer's engagement acumen and leadership skills have been on full display since he took the railway's reins. In late 2016, President-elect Donald Trump said he'd tear up the North American Free Trade Agreement, something that would negatively impact KCS, which generates a good chunk of its annual traffic and revenue from business in Mexico.
"From the beginning, my intent was to be involved, engaged — not to just wait and see what would happen,"
Ottensmeyer says. "I had no idea what that meant, or could mean. Just that we needed to be at the table. That I did."
As chair of the U.S. Chamber of Commerce's U.S.-Mexico Economic Council, Ottensmeyer is. "We're letting the legislators know how important this is," he says.
Meanwhile, the North American rail industry continues to call on Congress to pass the proposed United States-Mexico-Canada Agreement ASAP to harness the North American trading relationship's full potential.
"This could go on awhile, but we're hopeful it'll be sooner rather than later," Ottensmeyer says.
PSR: Positive early returns
KCS execs are also optimistic about the early PSR returns.
To improve both operational and financial performance, KCS joined the PSR crowd late last year and began adopting principles of the strategy, which calls for shifting the operational focus from moving trains to moving cars. Where KCS may differ from other Class Is is Ottensmeyer and his leadership team are going out of their way to characterize PSR as a growth driver.
KCS is already seizing growth opportunities. KCS logged record third-quarter 2019 revenue of $747.7 million, a 7 percent increase over the same quarter a year ago, KCS officials said in a press release. The company posted an operating ratio (OR) of 62.3 percent and an adjusted OR of 60.7 percent compared with 63.4 percent in the prior year.
"We are very pleased with our progress toward implementing PSR principles," Ottensmeyer said.
To continue making progress, particularly over the longer haul, railroads will need to put more of their collective brain power (and money) to work on the technology front.
"I do worry a bit — the industry focus right now is so inward, with PSR," Ottensmeyer says. "I question whether we're getting behind, in terms of innovation in responding to threats."
Threats such as autonomous transportation. Although driverless cars and trucks are making headlines, the technology for automatic trains in rail yards is developing faster than people think, Ottensmeyer notes, referencing a presentation from T. Rowe Price equity analyst Andrew Davis.
More investment is needed. For its part, KCS has made "a small equity investment" in Voyage, an autonomous vehicle technology company that is exploring a prototype/proof-of-concept-type project focused on using its driverless vehicle technology at KCS intermodal ramps, Ottensmeyer says.
"We have to keep pushing forward," he says.
The same "forward" thinking applies to communication and the culture evolution.
"I think you actually need to tell people what we want to be," Ottensmeyer says. At KCS, the "what" is the railway's "Vision and Values."
A culture assessment conducted earlier this year tells Ottensmeyer that employees predominantly believe the company lives by those values.
"That's a start," Ottensmeyer says. "We just have to keep making sure we're doing what we say we're doing, that we're getting through."
With Ottensmeyer at the helm, the dot-connecting figures to continue.
Email comments or questions to pat.foran@tradepress.com.
---
Keywords
Browse articles on
Patrick Ottensmeyer
Kansas City Southern
Railroad Innovator Award
RailTrends
Contact Progressive Railroading editorial staff.