Newsletter Sign Up
Stay updated on news, articles and information for the rail industry
Rail News Home
Internet-Digital
August 2019
Rail News: Internet-Digital
Ports, service providers aim to add capacity in time for container volume rebound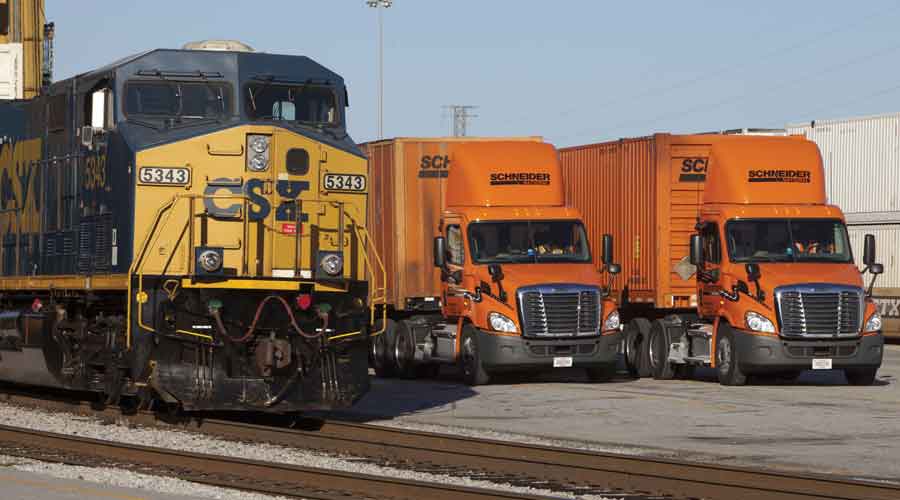 By Vesna Brajkovic, Associate Editor
To remain competitive in the freight transportation market, ports and service providers are investing in their infrastructure and expanding their intermodal offerings much like railroads.
Despite a downtick in North American intermodal volumes in 2019's first half, the sector remains a long-term growth engine for freight handlers and movers.
To that end, the Port of Greater Baton Rouge in Port Allen, Louisiana, secured $20 million in state funding in May to extend tracks to move more commodities by rail. The port is served by Union Pacific Railroad.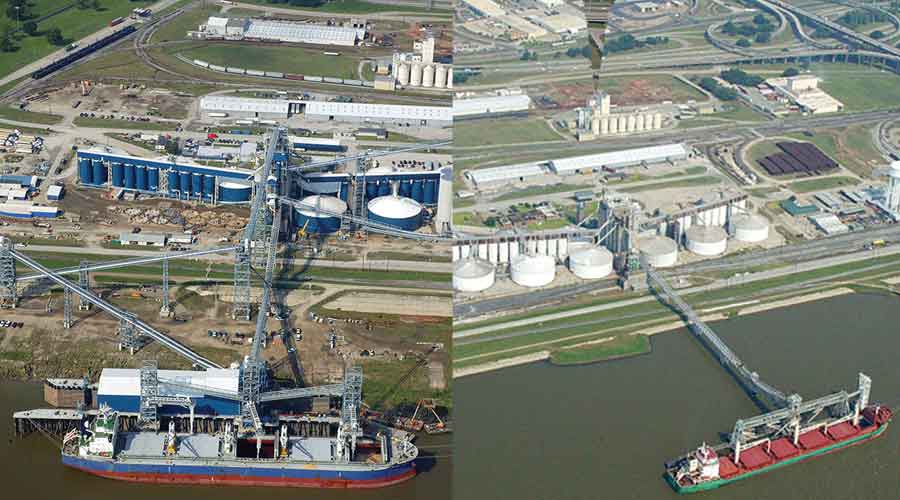 Photos: Port of Greater Baton Rouge
High stages of the Mississippi River interfere with the offloading of corn, grain, soybeans and other commodities from barges at the port, requiring companies based there — such as Louis Dreyfus Co. (LDC) — to transfer commodities to an elevator facility with additional equipment at a slower pace. LDC ships commodities overseas at a volume of about 5 million to 6 million metric tons per year out of the port, according to a press release issued in May by Louisiana Gov. John Bel Edwards' office.
The rail project is designed to address the river-stage concerns, as well as speed up shipments and aid in the transfer of commodities from Louisiana farmers to export vessels. The project calls for extending four tracks deeper into the property to serve LDC's grain elevator and provide an option to move commodities by trains stretching to more than 110 rail cars.
The much-needed project will serve the port and its tenants for years to come, said Port Executive Director Jay Hardman in a press release.
"Once completed, it will enable the port to remain a competitive player in the exportation of grains and oilseeds into the world marketplace," he said.
Port officials are pursuing a permit from the U.S. Army Corps of Engineers. Pending approval, construction is expected to begin later this year and be completed next year.
"This is a tremendous economic development project that has been in the works for many years," says Louisiana Department of Agriculture and Forestry Commissioner Mike Strain. "The expanded rail capacity will increase the volume and transfer of goods at a rapid rate. It will also allow for uninterrupted delivery of grain, wood pellets and other commodities when the river levels are too high or too low for normal commerce by barge or ship."
Furthermore, Louisiana's challenging weather — which includes excessive rainfall during harvests — requires the state's farmers to import higher-quality soybeans from the Midwest to blend with their harvest to provide a more marketable product.
"From a logistics standpoint, when the river is too high or too low, the rail system is vital to getting beans to the ports in South Louisiana," St. Landry Parish farmer Carlos Polotzola said in a project funding announcement.
An expeditious project
Beyond the rail access project, the port also plans to build a new rail logistics facility, or chambering yard, along the Gulf Intracoastal Waterway in the near future. An official start or completion date for that project hadn't been announced as of press time.
The logistics facility will expedite rail service to LDC's grain elevators, speed rail deliveries of wood pellets to Drax Biomass, a wood-pellet manufacturer located at the port, and enhance rail operations throughout the port.
LDC and Drax Biomass will both pledge proceeds from expanded shipments as a match for state and port funding of the future yard, state officials said.
"These rail enhancements will mean better business and more profitable operations for our farmers, for the port and for major tenants like LDC. All of that boosts our capital region and state economy," Gov. Edwards said.
The port is no stranger to rail improvements. Last year, UP completed a $12 million interchange track project to expand train capacity from 45 cars to as many as 110 cars.
Some intermodal service providers, too, are aiming to expand their offerings to better serve shippers at cost-competitive rates across the country.
Schneider adds services
Earlier this summer, Schneider began offering intermodal services at CSX's Indianapolis ramp.
The service targets shippers in central and southern Indiana; Louisville, Kentucky; and Cincinnati. It's a more cost-competitive transportation option compared with eastern markets, said Jim Filter, Schneider's intermodal division senior vice president and general manager.
Before offering the service in Indianapolis, Schneider served the market through terminals in Chicago and Ohio. Now, customers are responding favorably to the new location, which operates six days per week, Filter said.
"These partnerships are important relationships in that by working together we can maximize supply-chain efficiencies, offer scalable capacity and reduce transportation costs," said CSX spokesperson Sheriee Bowman in an email. "Together, we provide safe and efficient options for shippers using multimodal transportation."
Via the ramp, eastbound freight travels from Indianapolis to North Bergen, New Jersey, and Worcester, Massachusetts, and inbound freight travels from North Bergen, New Jersey, to Indianapolis.
In addition, Schneider last month launched service at BNSF Railway Co.'s intermodal ramp in Barstow, California, to serve shippers in the eastern region of Southern California, as well as in Las Vegas and western Arizona.
Freight moving to and from the Barstow ramp will go directly to Chicago five days per week. The service is cost- and service-competitive with truckload, Filter said in a press release.
The ramp is located just northeast of San Bernardino, California, and 150 miles from Las Vegas.
"San Bernardino has experienced a lot of growth in recent years, creating capacity issues for shippers in the region," Filter said. "We're pleased that our intermodal service through the Barstow ramp provides a new option that delivers more capacity."
With the addition of the ramps in Indianapolis and Barstow, Schneider now offers intermodal service at more than 40 ramps throughout North America.
Autonomous trucks and drone testing
While some ports and service providers continue to expand and upgrade their intermodal offerings, others — such as real estate developer Hillwood Development Co. — are aiming to explore new ones by creating a testbed for freight mobility innovations.
Hillwood is dedicating part of its 26,000-acre AllianceTexas development in Fort Worth, Texas, to the creation of an innovation center to support the development, testing and commercialization of advanced multimodal technology.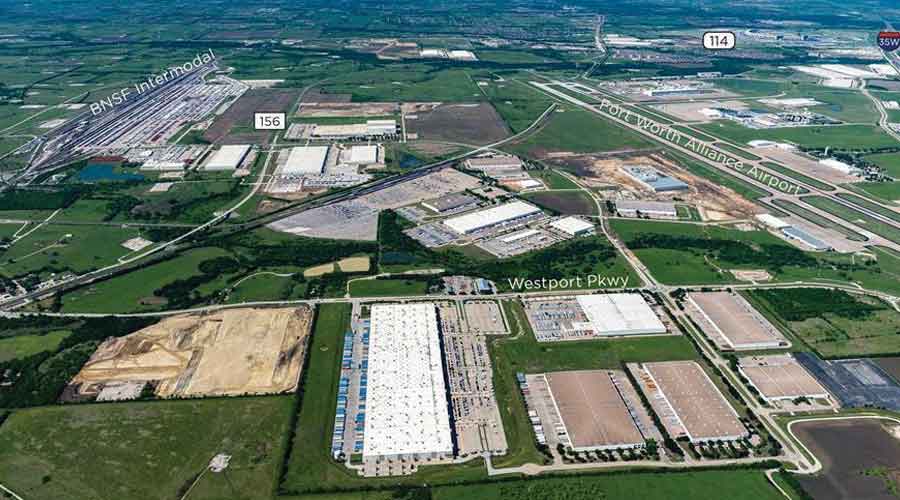 Hillwood
Known as the Mobility Innovation Zone, the center will be near a BNSF Railway Co. intermodal facility, the Fort Worth Alliance Airport, a FedEx sorting hub, the Federal Aviation Administration's Southwest regional headquarters and 500 other facilities that call AllianceTexas home.
Because of the neighboring facilities and Hillwood's ability to provide infrastructure for multimodal transportation, the new zone is specifically positioned to support the testing of aerial and surface technologies to move freight within a self-contained environment, Hillwood officials said in a press release.
The first use case that will be tested in the Mobility Innovation Zone will be a surface freight mobility program that includes Internet of Things-enabled shipping containers that move along a "smart road system" throughout the AllianceTexas grounds via autonomous trucks.
The development would enable innovation to be fostered across the supply chain from the intermodal hub to distribution centers and finally end-users, ultimately driving the automation process. Using the existing infrastructure at AllianceTexas, each of these movements can be tested and eventually integrated using autonomous vehicles and other technologies.
A second use case to be tested in the zone is an aerial proving ground that will allow drones, or unmanned aerial vehicles (UAVs), and vertical take-off and landing (VTOL) aircraft applications to be tested and ultimately integrated into the National Airspace System.
Hillwood is working with regulatory agencies to strengthen the evolution of transportation both on the surface and in airspace to define smart roadway infrastructure standards, enable autonomous vehicle movements on state and local roadways and create industry standards for UAVs and VTOL aircraft to operate in an urban environment, Hillwood officials said.
"Creating the Mobility Innovation Zone is the next step in the natural evolution of AllianceTexas," said Hillwood President Mike Berry. "With a solid transportation foundation already in place and our knowledge of new technologies being developed for the future of mobility, AllianceTexas is the perfect location for the first fully integrated mobility testbed."
Whether creating brand new mobility solutions, improving on existing infrastructure or securing new locations to better serve customers, the intermodal world continues to evolve. And that's an encouraging thing since container traffic might get a boost later this year and into 2020 from the fall peak if consumer spending kicks into gear.
Email comments or questions to vesna.brajkovic@tradepress.com.
---
Keywords
Browse articles on
Intermodal
Port of Greater Baton Rouge
Jay Hardman
Union Pacific
Louis Dreyfus
Drax Biomass
John Bel Edwards
Mike Strain
Schneider
CSX
BNSF
Jim Filter
Hillwood
AllianceTexas
Mobility Innovation Zone
autonomous trucks
drones
Contact Progressive Railroading editorial staff.