Newsletter Sign Up
Stay updated on news, articles and information for the rail industry
Rail News Home
High-Speed Rail
November 2015
Rail News: High-Speed Rail
The Chicago-to-St. Louis higher-speed rail project nears finish line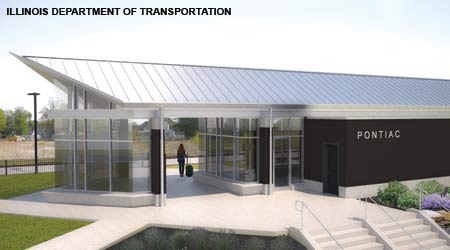 The Chicago-St. Louis route will feature eight new or remodeled stations, including one in Pontiac, Ill.
By Daniel Niepow, Associate Editor
It's been nearly six years since Illinois received a $1.1 billion federal grant to bring high-speed passenger rail to the state. Part of the Obama administration's High-Speed Intercity Passenger Rail Program, that money has gone toward track improvements between St. Louis and Dwight, Ill., with the eventual goal of allowing trains to reach 110 mph along the corridor.
In 2012, the federal government kicked in an additional $186.3 million to help speed up train service between Dwight and Joliet, Ill.
All the upgrades are expected to reduce the entire five-and-a-half-hour train journey from Chicago to St. Louis by about an hour. Amtrak's Lincoln Service and Texas Eagle trains currently run at a maximum speed of 79 mph along the route, save for a 15-mile stretch between Dwight and Pontiac, Ill., where trains began running at 110 mph on Thanksgiving Day 2012.
Since then, the project's leaders have continued to forge ahead in the face of several hurdles, including pushback from local communities, difficulties associated with implementing positive train control (PTC) and stringent environmental documentation requirements. Although there's still work left to do, they've logged a series of accomplishments — from the completion of track rehabilitation along the corridor to breaking ground on the line's first new station — and stand ready to tackle the project's final phases within the next few years.
Posting progress
In August, state officials gathered to mark the beginning of construction on a new high-speed rail station in Dwight. That $3.26 million project is slated to wrap up as soon as mid-2016, according to Illinois Department of Transportation (IDOT) spokesman Brian Williamsen. Work is also underway to build a multimodal center in Alton, Ill., which is near the corridor's southern terminus in St. Louis.
The entire 284-mile route from Chicago to St. Louis will feature eight stations, including new ones in Dwight, Pontiac, Carlinville and Alton. Crews will rehabilitate or enhance existing stations in Normal, Lincoln and Springfield, Williamsen said.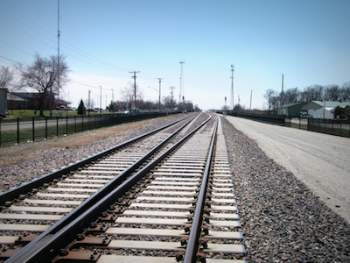 Union Pacific Railroad has installed 262 miles of new concrete ties along its mainline on the corridor.

Photo: Illinois Department of Transportation
IDOT officials are in the process of awarding a contract for the station in Pontiac, which is slated to cost $2.5 million.
Ensuring that each station is compliant with the Americans with Disabilities Act is an important part of the process, as is coordinating design efforts with local residents, said John Oimoen, deputy director of railroads at IDOT.
"We work very closely with the communities … and let them have a lot of influence on the design," he said in a phone interview last month.
The public's involvement has been a bit of a stumbling block for other aspects of the project, however.
Crossing complications
"We are challenged by some of the requirements for consensus building when it comes to grade crossings, in particular," said Phil Pasterak, who heads the Parsons Brinckerhoff team charged with managing the project.
He made the remarks during a presentation he delivered last month at Railway Interchange 2015 in Minneapolis.
The route includes nearly 300 crossings, and the project team must gain approval from each community along the way.
That's resulted in a series of negotiations with several city governments and stakeholders, who've sometimes expressed differing opinions on addressing crossing safety, said Union Pacific Railroad General Director of Engineering Design Patrick Halsted, who also presented information about the project at Railway Interchange. UP is leading construction activities for the trackage it owns along the Chicago-St. Louis corridor.
Safety updates
The majority of crossings will be equipped with four-quadrant gates, along with technology upgrades to ensure the safe passage of trains, vehicles and passengers. To that end, UP is installing constant warning time devices that can sense an approaching train and measure its speed and distance to a crossing.
Additionally, the Class I plans to use inductance loops, which detect the presence of vehicles within crossings.
"It's a game-changer when you're going 110 mph," Halsted said as he addressed the railroad's plans for updating crossing safety.
Prior to these upgrades, the crossing gates descended about 20 seconds before the arrival of a train. Now, the time's been extended to about 80 seconds, according to IDOT's website dedicated to the project.
Contractors have updated 38 crossings so far, Pasterak said.
To keep the public informed, the department's been holding open houses, safety presentations and community events.
"With a project of this size, we've got a scope, a budget and a schedule, and we need to be able to communicate with [residents]," said IDOT's Oimoen.
The PTC question
Another challenge for project planners: implementing PTC for higher-speed trains without adequate federal guidance.
Like Class I routes, the Chicago-St. Louis passenger line will feature an Interoperable Electronic Train Management System (I-ETMS), but there's one important difference: "We are now the only corridor … in the country where I-ETMS needs to operate at speeds of up to 110 [mph]," said Pasterak.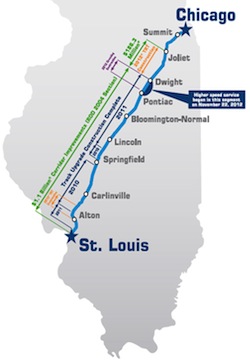 A map of the Chicago-St. Louis higher-speed route
(Click to view a larger image.)

Source: Illinois Department of Transportation
The Federal Railroad Administration (FRA) has issued some PTC guidelines for running trains up to 90 mph, but not yet for trains exceeding that speed. UP's signal team is working closely with the FRA to get rules governing trains traveling beyond the 90 mph mark, Pasterak said.
In the interim, UP is installing a new fiber trunk line along the entire right-of-way to prepare for PTC implementation.
Because the federal government is covering most costs associated with the $1.9 billion project, planners also must comply with a hefty set of environmental reporting requirements.
So far, the project's leaders have begun working on nearly 50 National Environmental Policy Act (NEPA) Tier II documents, which examine the line's potential impacts on wildlife, habitats and other natural resources.
The reporting process has taken "a lot more time than anybody ever imagined when we speculated and started designing this project," Halsted said. "But we are continuing to trudge through this."
Project planners broke the NEPA process into two parts: the first tier consisted of a high project-level review and the selection of a preferred alternative, while the second includes more detailed engineering and environmental studies.
"That allows us to sequence the construction up and down the corridor, so that we can get environmental documents done for certain pieces … and be able to come up with a project schedule," Oimoen said. "If we were try to do an environmental document for the whole project, it would be so voluminous and would take so long."
In spite of these obstacles, Halsted and Pasterak showcased several accomplishments during their presentation last month.
Laying the groundwork
For example, UP crews have finished 262 miles of track rehabilitation, which has involved replacing wood ties with concrete ones, Halsted said.
The Class I also has installed 322 new culverts, which Halsted said will improve reliability for the line in the future.
"The three most important components of building track are drainage, drainage and drainage," he said.
In the future, UP will construct 57 miles of new second mainline.
Additionally, the project calls for 16 new or improved sidings, four of which have been completed as of July's end.
The construction work has necessitated several service disruptions for freight and passenger trains. In October alone, there was a 15-day service outage along the route. Even with these interruptions, the underlying market for passenger rail along the route remains strong, Pasterak said.
"People are still riding it — whether it's a replacement bus or a train that's running a little bit late," he said.
For high-speed rail proponents, that demand underscores the project's necessity.
"It's urgent that the governor push to get this thing finished," said Rick Harnish, executive director of the Midwest High-Speed Rail Association. "Then we as a state need … to really start looking at what it takes to make true high-speed rail happen."
Moving ahead
But achieving "true" high-speed, that is 200 mph or more, may not happen in the near future — at least not along the Chicago-St. Louis route.
"That would be very challenging on this specific right of way," IDOT's Oimoen said.
For one, there's the issue of compatibility with freight railroads along the joint-use corridor. Additionally, the route's curvature would prove difficult for trains moving at such high speeds, Oimoen said.
At the moment, IDOT leaders remain focused on achieving their goal of running trains at 110 mph by 2017, as well as incorporating safety improvements along the way.
"The project is progressing very well," Oimoen said. "It should be one of the safest rail corridors in the country when we're done with it."
---
Keywords
Browse articles on
Chicago-St. Louis high-speed rail corridor
Chicago-to-St. Louis Corridor
Illinois Department of Transportation
IDOT
High-Speed Intercity Passenger Rail Program
John Oimoen
St. Louis
Dwight
Carlinville
Phil Pasterak
Patrick Halsted
Brian Williamsen
Midwest High Speed Rail Association
Rick Harnish
Contact Progressive Railroading editorial staff.