Newsletter Sign Up
Stay updated on news, articles and information for the rail industry
Rail News Home
Federal Legislation & Regulation
October 2018
Rail News: Federal Legislation & Regulation
Remembering the deadly Chatsworth train crash 10 years later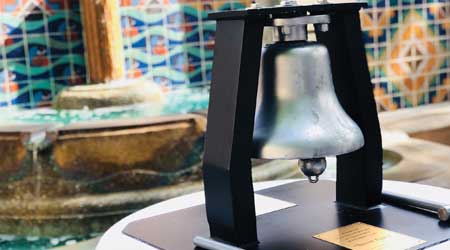 By Julie Sneider, Senior Associate Editor
Last month, Metrolink marked the 10th anniversary of the deadly train crash in Chatsworth, California.
The collision on Sept. 12, 2008, left 25 people dead and more than 100 injured. Federal investigators determined the accident occurred when a Metrolink engineer became distracted while texting on his cell phone, prompting him to miss a red stop signal. As a result, the Metrolink train he was operating collided head-on with a Union Pacific Railroad train.
"Contributing to the accident was the lack of a positive train control (PTC) system that would have stopped the Metrolink train short of the red signal and thus prevented the collision," the National Surface Transportation Safety Board (NTSB) wrote in its report on the accident's probable cause.
Later that year, the Chatsworth tragedy was the catalyst for Congress passing the Rail Safety Improvement Act, which includes the mandate that requires railroads to install PTC technology.
The safety act initially required railroads to complete PTC implementation by Dec. 31, 2015, but Congress passed a three-year extension after the industry indicated most railroads would be unable to meet the original deadline. Railroads that can't meet the current deadline — Dec. 31 of this year — may qualify for a two-year extension from the Federal Railroad Administration if they meet certain requirements.
Preventing another tragedy The 10th anniversary prompted NTSB Board Member Jennifer Homendy to write in a blog post stating that the rail industry has a long way to go to prevent another tragedy like Chatsworth.
"But there are things we can do," she wrote. "We can insist railroads complete PTC implementation on all their tracks."
U.S. Rep. Jeff Denham (R-Calif.) made a similar point at a hearing of the House Subcommittee on Railroads, Pipeline and Hazardous Materials, which was held a day after the Chatsworth anniversary. The meeting's purpose was to review the industry's PTC implementation status. The FRA has determined that nine railroads — all commuter railroads — are at risk of not meeting the statutory requirements to qualify for a PTC deadline extension, noted Denham, who chairs the subcommittee.
"The railroads have achieved some significant improvements over the past year implementing this safety technology. While we are seeing progress among a majority of railroads, we want to see everyone meet their requirements," he said.
Earlier this year, Metrolink became the first commuter railroad to attain PTC interoperability with both its shared-track freight partners, UP and BNSF Railway Co. To mark the Chatsworth anniversary, Metrolink exhibited at L.A. Union Station an interactive display that pays homage to those killed and injured.
The exhibit included an interactive experience with a PTC simulator and descriptions of the safety improvements Metrolink has made over the past decade.
---
Keywords
Browse articles on
Metrolink
Chatsworth train disaster
Chatsworth
California
10th anniversary
positive train control
PTC
Union Pacific Railroad
Rail Safety Improvement Act
National Surface Transportation Safety Board
NTSB
Jennifer Homendy
Federal Railroad Administration
FRA
U.S. Rep. Jeff Denham
Contact Progressive Railroading editorial staff.