Newsletter Sign Up
Stay updated on news, articles and information for the rail industry
Rail News Home
Federal Legislation & Regulation
August 2017
Rail News: Federal Legislation & Regulation
Cutting red tape: Nonpartisan group floats ideas to fast-track permitting process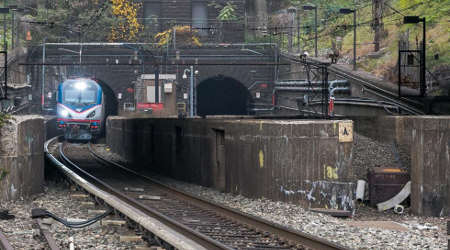 By Daniel Niepow, Associate Editor

Last month, the Federal Railroad Administration (FRA) issued a draft environmental impact statement for a project to replace the Hudson River rail tunnels between New York and New Jersey. The release of the document wrapped up a 14-month review process.

The century-old Hudson tubes sustained significant damage during Hurricane Sandy nearly five years ago. Today, they accommodate around 200,000 passengers who travel between the states each day.

The FRA expects to issue a final environmental impact statement in March 2018, or about 22 months after the start of the review process. In the past, reviews of this magnitude have taken more than 40 months to complete, according to the FRA.

Leaders planning other major infrastructure projects in the United States can take a lesson from the FRA's expedited environmental review process, says Philip Howard, chair of the nonpartisan reform coalition Common Good. Howard is among a group of observers who argue that the lengthy environmental review process is a chief cause for delays on key projects.

"The Hudson tunnels project could serve as a poster child for how to do it right," Howard says.

U.S. Transportation Secretary Elaine Chao also has called for finding ways to expedite the review process. In her nomination questionnaire to become transportation secretary, Chao said it's necessary to "look at the existing process for infrastructure development and find more efficient ways to address bottlenecks in planning and permitting."

While Howard wasn't directly involved with the team behind the Hudson River project, he had extensive conversations with its leaders about how to speed up the process.

To complete the study in less time, the project's leaders made careful decisions about the review's scope early on and analyzed major project components more quickly, Howard says.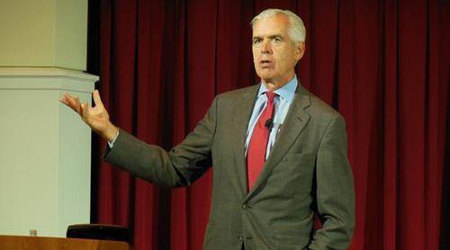 Photo – Common Good
In May 2016, Howard released a report titled "Billions for Red Tape," which examined ways to fast-track permitting for the Hudson River tunnel project. In October 2015, he issued a separate report that tallied the financial impact of infrastructure delays generally.

In the earlier report, Howard estimated that a six-year delay in starting construction on public projects costs the United States more than $3.7 trillion.

In his 2015 report, Howard laid out potential procedural changes that he believes would accelerate the permitting process. Among them: Change the timing of the public comment period. Although government agencies typically begin public hearings after environmental documents are released, Howard argues the hearings should be held before formal plans are finalized.

Public input, Howard argues, should be gathered only via written submissions and informal meetings.

With its 1,000-plus-page reviews, the current process "is not good for democracy," Howard believes. "It's a complete bureaucratic insiders' game. You might as well be wandering into a dark jungle."

Howard also argues that public choices need to be made with the general population in mind instead of trying to please every stakeholder.

"Consensus, I think, is a corrupt concept," Howard says. "There's always somebody who doesn't like a project."

Howard also proposed drafting new legislation that would eliminate excessive litigation, which can lead project proponents to draft 1,000-page documents to cover themselves legally.

In the 2015 report, Howard cited Germany as an example of a country whose environmental review "promotes expediency without sacrificing the quality of the review itself."

Speeding up the permitting process in the United States would bring another benefit: an influx of private capital to fund infrastructure projects. That's been the case for projects in Germany and elsewhere in Europe, Howard says.

"There's much more private capital in infrastructure in Europe than there is in this country. The main reason for that is because there's reasonable certainty on the timetable for approvals in Europe," he says. "In this country, the timetable could be anywhere from a couple years to 15 years."

That means private capital is largely left on the sidelines in the United States.

In the end, Howard doesn't propose axing the entire environmental review process, which he still believes is "incredibly important."

"It's a wonderful innovation, but it was intended to highlight important issues, not delay projects by years," Howard says.
---
Keywords
Browse articles on
Philip Howard
Common Good
Hudson River rail tunnels
Amtrak
infrastructure repair
environmental review process
permitting processes
Contact Progressive Railroading editorial staff.