Newsletter Sign Up
Stay updated on news, articles and information for the rail industry
Rail News Home
CSX Transportation
October 2017
Rail News: CSX Transportation
CSX tries to unclog its network while implementing a new operating model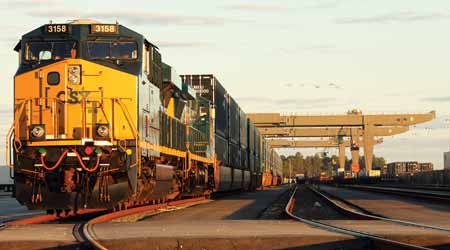 By Jeff Stagl, Managing Editor
Coal delivered at power plants several days later than expected. Grain destined for elevators held up because not enough rail cars were on hand. Shipments of cooking oil for a major potato chip plant and frozen french fries for a cluster of fast-food restaurants diverted to trucks.
That's a sampling of service-performance issues and their effects that have had some CSX shippers scrambling since March, when the Class I began implementing precision scheduled railroading (PSR) — and dealing with a slow and clogged network as a result. At that time, E. Hunter Harrison took the Class I's reins as president and CEO. He immediately pursued the operating model he adopted and refined several times over the past few decades during his stints as leader of the Illinois Central Railroad, CN and Canadian Pacific.
PSR is a departure from the common practice of holding trains until they're completely full. Instead, deliveries are prioritized from origin to destination as quickly as possible, and each asset is used and monitored constantly so customers can better plan their shipments.
PSR is designed to improve customer service, control costs, optimize asset utilization, enhance safety and aid workforce development. The railroad is employing the model to provide customers a more reliable, predictable and cost-effective freight transportation product by executing and balancing train plans, and speeding cars through the network, said CSX Executive Vice President and Chief Operating Officer Cindy Sanborn in an email. [Editor's note: CSX on Oct. 25 announced Sanborn had resigned, effective Nov. 15.]
"Our service may be configured differently, and the transition to the new system may mean that we're asking some customers to make some changes, but ultimately we believe that the customer will be happier with that product," she said.
While PSR is rooted in the philosophy that a customer who pays for timely service should receive timely service, many shippers claim what they're receiving of late is anything but.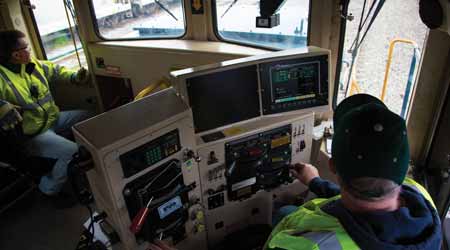 CSX
For example, a food ingredients/sweetener producer says bulk shipments to its customers who are captive to CSX are taking longer and are less consistent versus a year ago. One specific "pain point" is Anderson, Indiana, where cars previously flowed and interchanged well, but now are registering dwell times in the five- to seven-day range, said a company official — who wished to remain anonymous — in an email.
"We have shipped bulk truckloads to cover the rail delays in order to not shut down our customer," the official wrote. "We have now increased the transit lead times in our customer profiles to account for the additional estimated delays, but still need to cover with trucks sometimes due to inconsistencies with service."
Because of a multitude of operational changes taking place simultaneously, CSX experienced heavy network congestion into summer. The Class I's leaders acknowledge that some customers experienced "unintended effects" from the rapid transition to PSR, and they've owned up to it, said Sanborn. In early August, Harrison emailed customers a letter apologizing for the service disruptions.
But the CSX braintrust is trying to do more than just recognize that problems exist and issue mea culpas, said Sanborn.
"We have redoubled our efforts to resolve customer issues as quickly as we can and to improve communication with customers as we move forward," she said.
A few road bumps to Precision-ville
For CSX leaders, it's all about getting past the short-term operational pains to register the long-term gains promised by PSR, such as a fast and more fluid network, lower costs and a reduced operating ratio. The service woes appear to be temporary — with recent signs that performance is improving — and the transition period will be worth the road bumps once the operating plan is fully in place and generating the desired operational and financial benefits, they believe.
"While we have made a lot of changes since we began our transition [to PSR], there is still work to be done to refine the operating plan and continue to improve company performance and service to customers," said Sanborn.
In that vein, a number of alterations still are being made, some of which are based on customer feedback, she said. CSX managers continue to remap traffic flows across the network by closely analyzing connections between merchandise trains, yard jobs and locals; emphasize local operating teams to encourage a habit of proactive communication and problem-solving efforts with customers; and evaluate opportunities to operate unit-train service in a more efficient and scheduled manner.
For example, the Class I might discontinue unit-train service for a customer who in the past used one or two trains per week, or about 200 cars, and instead offer seven-days-per-week service that would provide about 30 cars daily, she said.
"For the customer, that [would] mean they need fewer cars and less track space for storing empty or full cars, and there'd be less inventory tied up in transit at any one time," said Sanborn. "For CSX, it means we are able to handle fewer cars in our scheduled merchandise service, with better balance on the network. That's a more efficient approach."
A history of taxing transformations
Although CSX is experiencing some problems due to PSR, it's not as if the Class I hasn't pressed for new operational approaches in the past that required wholesale changes. In April 2016, the railroad launched a "CSX of Tomorrow" initiative that in part called for realigning the network to help bolster service, boost productivity and improve safety.
Yet that effort and other past initiatives were expected to take several years to implement, while PSR is being rolled out in a matter of months. And service snafus during the implementation were exacerbated in summer by two derailments and Hurricane Irma, CSX leaders say.
Near-term issues notwithstanding, the Class I needs to adopt PSR because its service and financial performance haven't been consistent of late, said CSX EVP and Chief Financial Officer Frank Lonegro during Cowen and Co.'s 10th Annual Global Transportation conference held Sept. 6 in Boston.
"Measured by operating ratio [OR], we hovered around 70 percent. It wasn't that long ago that we had an industry-leading OR. Since then, though, the industry has made great progress … but we did not make meaningful progress," he said. "On the service side, [we've had] a couple of good years followed by a couple of not-so-good years."
The difficult thing for the Class I as it attempts to reinvent itself is that Wall Street is impatient, said John Larkin, a Stifel Equity Research analyst who follows CSX, in an email. Many expect an OR in the 50s in a matter of months, he said.
"That is obviously not a realistic expectation," said Larkin.
He also believes that many critics, observers and customers are selling Harrison short for the recent performance hiccups. Harrison is "the most brilliant operator of our time," Larkin believes.
"He will get CSX service fixed and lower the operating ratio to the targeted levels, no matter what. He won't accept anything else," said Larkin.
For now, CSX's service performance wobbles, then seems to hold up, as independent rail industry analyst and Progressive Railroading columnist Tony Hatch put it in an Aug. 29 report. Service metrics, especially cars online and terminal dwell times, have improved in recent weeks following some deterioration in July and August, wrote Robert W. Baird & Co. Inc. analyst Benjamin Hartford in a report issued Sept. 6.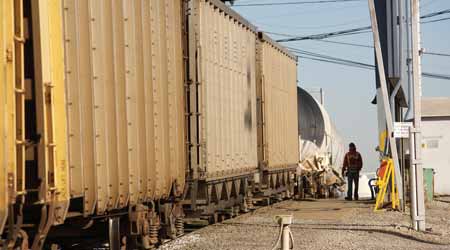 CSX
In August, CSX revised the way it calculates train velocity, terminal dwell and cars online to more accurately reflect operational performance. Operating metrics as of Sept. 18 showed that since service problems peaked in July, systemwide train velocity increased 15 percent to 15 mph — equaling performance in the same week last year — and systemwide terminal dwell time declined about 15 percent to 11.2 hours. Dwell times had decreased for seven consecutive weeks, while train velocity had steadily increased for four straight weeks. [Editor's note: Operating metrics as of Oct. 10 showed average velocity of 15.7 mph — the best mark since June — and systemwide terminal dwell time of 10.7 hours.]
Aggressive and comprehensive
To help ensure the company's performance is more consistent and reliable, CSX has crafted a long-range strategy, which the Class I was set to unveil at its investor conference Oct. 29-30 in West Palm Beach, Florida.
"In broad terms, we'll talk about financial and operational objectives, and the timeframes in which we hope to achieve them," said Sanborn, adding in her late September email that it was too soon at that time to share more details.
In the meantime, PSR implementation continues. So far, it's been "aggressive, intense and rapid," said Lonegro.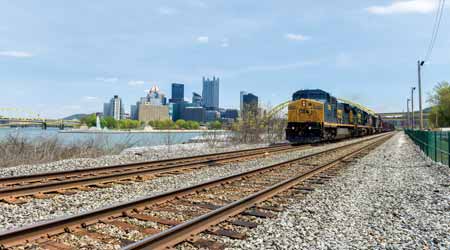 CSX
Since March, CSX has made 1,300 train plan changes, although the pace of such changes has moderated, he said. In addition, more than 300 train crew starts per week have been eliminated, and about 850 locomotives either have been placed in storage, sold or retired. Moreover, the Class I has cut 2,700 CSX jobs, as well as 1,000 contractor and consultant positions.
CSX also has converted seven of 12 hump yards to flat switching yards — since hump yards add to the time it takes to move some cars from Point A to Point B — and plans to convert two to four more yards over the long term. Some car blocks can be switched more efficiently at intermediate stops between an origin and destination, and in less time than it would take to classify each in a hump yard, CSX leaders say.
The original plan called for converting more yards immediately, but Avon Yard in the Indianapolis area — which is considered one of the remaining trouble spots in the railroad's network — remained clogged as a flat yard. So, the Class I reverted Avon back to a hump yard.
Maker or breaker
There are going to be temporal challenges in the midst of a transformational change, said Lonegro.
"We're bullish on the future, and sometimes you have to break some eggs to get there," he said.
Yet it's the many broken service promises during the rollout that have caught the attention of the Surface Transportation Board (STB). Because of a number of complaints it received from CSX shippers and constituents, the board in July began monitoring the Class I's performance. As part of that oversight, the STB's staff holds weekly calls with CSX senior managers and receives weekly service metrics from the Class I. In addition, the board's Rail Customer and Public Assistance office has been working with affected shippers to resolve some service disruptions.
The STB also has rescheduled a public listening session for Oct. 11 to enable CSX executives, shippers and others to talk about service issues or learn about recovery efforts. The STB initially scheduled the session on Sept. 12, but postponed it because of Hurricane Irma.
The STB's oversight role can best be characterized as "a flashlight or magnifying glass" or "a pressurizer," said Hatch in his Aug. 29 report. And a number of CSX shippers — many of whom plan to testify at the listening session — will gladly take whatever pressure the board can apply.
Some CSX-reliant members of the Private Railcar Food and Beverage Association Inc. (PRFBA) are using trucks or other railroads to move their freight because of the Class I's performance issues. Members haven't noted many service improvements of late, with movements in Atlanta starting to struggle again and the Tennessee market "continuing to suffer," said officials at PRFBA — which represents the interests of large food companies — in an email.
American Chemistry Council members who use CSX also continue to experience "serious service issues," such as long transit times, delays at yards and cars that aren't picked up by the railroad, says Scott Jensen, the council's spokesman.
The problems have been ongoing for some time and continued through August, he said.
"In some instances, there have been improvements, but some members say they have yet to see any improvements, or there's been worsening in other cases," says Jensen.
Most members don't expect the problems to get any better until next year, he adds.
To deal with CSX's service issues, some members have had to shut down operations while others reached a point that they were facing a shutdown, says Jensen.
"Some also said they were looking at different transportation options," he says.
PSR a proven commodity, CSX says
Over the past few months, CSX has taken steps to work better with customers to address and prevent service issues, said COO Sanborn.
Among them: having members of the executive, sales and marketing, and customer service teams play roles in resolving issues as quickly as possible; deploying customer service reps to areas with heavy localized congestion; and fostering better communication with the operating team, she said.
CSX also recently hired 15 supervisory employees who have experience operating in a PSR environment to help advance the adoption of its principles and contribute to resolutions.
The main thing to remember about PSR's principles: They have proven over time to be very effective at improving the performance of railroads, said Sanborn. For CSX — and by extension, its customers — it'll take some patience to allow enough time for the principles to sink in.
Whether unsatisfied shippers will wait much longer before they turn to trucks or CSX competitors to move their freight remains to be seen. It's also unclear if those that adopt other means will ever become CSX customers again.
For those that stick with it or switch back, their reward will be a more intuitive and flexible railroad, Sanborn believes.
"Our decision-making is driven by [PSR] principles," she said. "As our business evolves, we will use that framework to determine how to continue meeting our customers' needs, and operating safely and efficiently, in response to whatever new conditions develop."
---
Keywords
Browse articles on
CSX
precision scheduled railroading
Hunter Harrison
Cindy Sanborn
Frank Lonegro
Contact Progressive Railroading editorial staff.