Newsletter Sign Up
Stay updated on news, articles and information for the rail industry
Rail News Home
Canadian National Railway - CN
1/30/2019
Rail News: Canadian National Railway - CN
CN scores solid Q4 results, sets record capital spending for 2019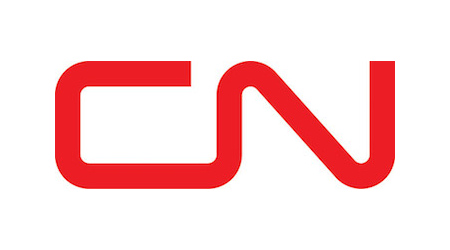 CN yesterday reported fourth-quarter revenue of CA$3.8 billion, up 16 percent compared with fourth-quarter 2017 results.
Operating income climbed 19 percent to CA$1.4 billion and adjusted diluted earnings per share jumped 24 percent to CA$1.49. Diluted earnings in fourth-quarter 2017 included a deferred income tax recovery of CA$2.35 per share resulting from the enactment of a lower U.S. corporate income tax rate, CN officials said in a press release.
In addition, fourth-quarter carloads rose 5 percent to 1.5 million units, operating expenses increased 12 percent to CA$2.3 billion and the operating ratio improved 0.8 points to 61.9. The adjusted ratio improved 1.5 points to 61.2.
Higher volumes of crude oil and Canadian grain, rate increases, higher fuel surcharges and the positive translation impact of a weaker Canadian dollar — partly offset by lower frac sand loads — helped drive up revenue in the quarter, CN officials said. Petroleum and chemicals revenue soared by 50 percent, coal revenue jumped 21 percent, grain and fertilizers revenue grew 13 percent, intermodal revenue rose 9 percent, forest products revenue increased 7 percent, and metals-minerals and automotive revenue each went up 5 percent.
"I'm very pleased with our fourth-quarter results and the strong finish to 2018," said CN President and Chief Executive Officer JJ Ruest. "With approximately CA$1.3 billion of revenue growth in the final three quarters of the year, CN regained its position of strength and demonstrated again its ability to grow at low incremental cost."
For the full year, CN reported revenue of CA$14.3 billion, up 10 percent, and operating income of CA$5.5 billion, up 5 percent compared with 2017 levels. Carloads rose 4 percent to nearly 6 million units, operating expenses climbed 13 percent to CA$8.8 billion and the operating ratio rose 1.8 points to 61.6 (the adjusted ratio increased 1.7 points to 61.5).
For full-year 2019, CN expects volume growth — in terms of revenue ton miles — to reach the high single-digit range and earnings per share growth to hit the low double digits. For Ruest, it will be a year of building on the momentum the Class I generated late last year, he said.
To support a solid pipeline of growth opportunities and remain focused on operational productivity and service performance, CN is planning record capital spending of CA$3.9 billion for 2019, said Ruest. The budget will cover 80 miles of additional double track in western Canada, the acquisition of 140 new locomotives — mainly in 2019's first half — the purchase of 500 new grain hoppers in the first half and numerous technology adoptions.
The additional network capacity will accommodate growth in diverse markets and the adoptions will "bring technology to our precision scheduled railroading," said Ruest.
Contact Progressive Railroading editorial staff.
More News from 1/30/2019