Newsletter Sign Up
Stay updated on news, articles and information for the rail industry
Rail News Home
C&S
February 2019
Rail News: C&S
Winter challenges 2019: Products to help railroads ward off Old Man Winter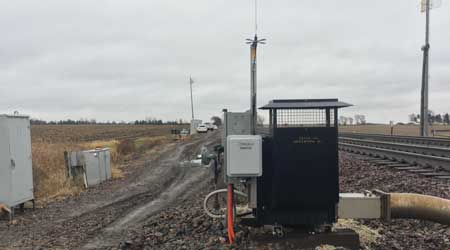 Compiled By Jeff Stagl, Managing Editor
When Old Man Winter becomes ornery, railroads have a difficult time maintaining operations. Witness CN's agonizing ordeal a year ago.
Extreme cold temperatures made February 2018 one of the worst months operations-wise in the Class I's 100-year-plus history. CN had to shorten trains — causing manpower and trainset shortages — because of the weather.
Luckily, technological and engineering advancements are helping railroads better deal with tough winter conditions.
Locomotive air driers remove moisture from the brake system to keep trains moving, while computer-controlled start-stop systems, low-idle settings and auxiliary power units keep locomotive engines working in cold temperatures, according to the Association of American Railroads.
Plus, railroads spend millions of dollars each year to upgrade or obtain new winter equipment, such as industrial-sized snowblowers, the association says.
To make sure they stay on top of the latest technologies and equipment, railroads turn to the supply community.
Following are emailed submissions from 11 suppliers that reveal how their offerings can help keep Old Man Winter at bay.
Knox Kershaw Inc.
Knox Kershaw Inc.'s KSF 940 Snow Fighter is designed to combat heavy snow and freezing temperatures. The machine features a 50,000-pound working weight, large pressurized cab with a second operator's seat and joystick controls, and specially designed wings, plow and broom built to move heavy snow in the harshest environments.

The cab's window placement offers high operator visibility. The tilt-cab feature provides access to major components, and the side-mounted heater and A/C provide a clean roof line with no maintenance components on the roof, Knox Kershaw said. The cab is tightly sealed to allow the high-performance pressurizer to meet silica dust requirements.

The power unit comes equipped with a 260-horsepower Cummins engine, Espar diesel-fired engine block heater and Arctic Fox hydraulic tank heater. Dual 8-D batteries offer high cranking power for cold weather starts.

The four-season plow has a heavy structural frame that can be used for snow or ballast. The bolt-on curl kits allow for plowing through the deepest of snow, Knox Kershaw said. High capacity, 36-inch snow wings can clear snow 16 feet from the track center. The two-stage blower discharges snow 30 feet to either side.

For ballast work, the auger and blower assembly are replaced with the ballast deflector. A reversing valve for the broom is standard on the KSF 940.

In 2019, Knox Kershaw plans to introduce CAN-based controls for snow fighters and ballast regulators.

"This upgrade will aid in operation, diagnostics and fault monitoring utilizing a 12-inch touch screen monitor," the company said. "Safety parameters will be installed to prevent injuries to personnel and costly damage to the machine."
Rails Co.
Rails Co. offers a line of snow removal equipment, including five different types of switch heaters, snow detectors, automatic control systems — a new wireless control and monitoring system among them — and accessories such as insulated heat-retaining shields.
The company's tubular electric switch heaters are designed and built for efficiency, reliability and low-cost operation, Rails said. The heaters have no moving parts, conform to AAR specifications and perform consistently, regardless of whether switches and rails are covered in ice, heavy and wet snow, or light snow.
Standard heaters for switches up to 45 feet long are rated from 100 to 500 watts per foot, in voltages to 600 watts, AC or DC. Available in a round or flat profile, the heaters can be installed on the inside or outside of the rail.
Optional insulated heat retainers that are mounted over the tubular heater inhibit heat loss and create an effective oven-like space enclosing the heating element. They enhance heat transfer to the rail, increasing temperature rise and response time, and reduce power requirements, Rails said.
When combined with Rails' wireless 900MHz radio control system, they provide wireless control and monitoring of the heaters. Switch heaters can be controlled and running status can be monitored from a bungalow, control room or remotely.
Thermon Heating Systems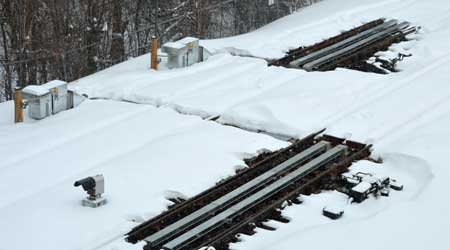 Thermon Heating Systems
In this era of precision scheduled railroading, there is continuous pressure to deliver freight and passengers on time. Railroads need to have full capacity regardless of the seasons.
So, high-performing, reliable and efficient snow clearing devices are key to moving trains in winter across Canada and most of the United States, Thermon Heating Systems said.
The company's "Fastrax" brand offers a line of switch snow-clearing products, including the "SwitchBlade" electric element, "FEB" electric and "Hellfire" gas-fired hot air blowers, and high velocity cold-air blowers and crib heaters.
The SwitchBlade and Hellfire products have been in service on all Class Is and many passenger railroads for decades, the company said.
Over the years, Thermon Heating Systems has made continuous improvements by collaborating with customers to monitor performance and incorporate changes, the company added.
"Our commitment to lowest lifecycle cost, maximum reliability under all winter conditions, high efficiency, quality, safety and customer service will continue to be a focus going forward," Thermon Heating Systems said.
In terms of customer service, the company aims to maintain inventory and offer next-day delivery of standard spare parts.
Flink/Teleweld Co.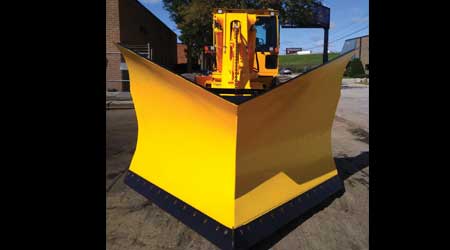 Flink/Teleweld Co.
Flink/Teleweld Co. supplies snow and ice equipment to railroads, municipalities, and truck and equipment dealers across the United States and Canada.
The Chicago Transit Authority has purchased several Flink combination spreader/dump bodies over the years, the company said.
Flink/Teleweld manufactures salt and material spreaders (8 to 15 feet) that mount inside truck beds or directly to the frame of the truck.
The company also produces snow plows (from 8 to 17 feet) to fit vehicles from 1-ton trucks to large tandem axle trucks, and can adapt to specialty equipment.
FLINK/Teleweld has capabilities to adapt its snow and ice control equipment to fulfill a customer's or market's needs, the company said.
For example, Flink/Teleweld partnered with SwingMaster to adapt a v-plow to SwingMaster's tractor for rail use. The v-plow has a nose height of 39 inches and wing height of 69 inches with a cut width of 8 feet 6 inches.
"We have worked with them in the past mounting 10- and 11-foot reversing plows to their tractors," Flink/Teleweld officials said.
A modified swivel bar on the v-plow was adapted to the standard arms of the tractor for ease of mounting the v-plow, with a single lift chain making transport easier, they said.
Geismar North America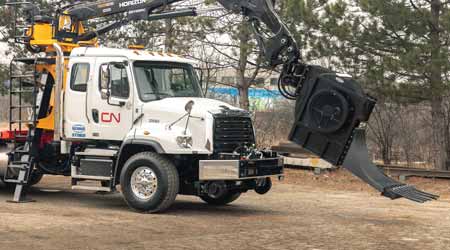 Geismar North America
Geismar North America has developed a solution for fighting snow that enables the same vehicle to be used all year.
Traditional snow fighting vehicles typically are used only for handling snow, then are parked until the next snow season.
"We felt that this was under-utilization of equipment. That's why we developed the Storm," Geismar North America said.
The company's design of a material-handling log loader is built specifically to accept and run Geismar North America's cold-air blower in winter mode.
The blower allows a single operator to fight snow from the cab or via remote control. The performance allows quick cleaning of all switches and adjacent tracks, the company said.
When the snow season concludes, Geismar North America transfers the vehicle to summer mode by moving the crane and boom to the rear, accommodating the use of a magnet or grapple for material-handling needs.
"In this configuration, the vehicle is also equipped with rail racks to enhance its versatility," Geismar North America said.
The company soon expects to add a tamper to the Storm. The vehicle is available in a single package that is U.S. Department of Transportation-approved for any state or Canadian province without special permits, Geismar North America said.
HOTSTART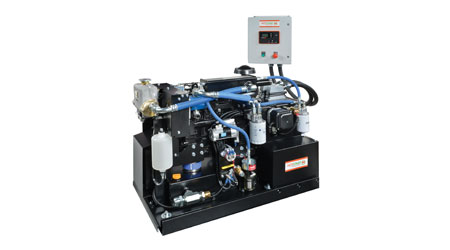 HOTSTART
HOTSTART offers an APU heating system that's a self-contained, diesel-driven coolant and oil preheater designed to use the locomotive's onboard fuel supply to heat prime movers without requiring a shore power connection.
Unlike electric heating systems, the APU allows a locomotive to be shut down in any location by using its fuel supply.
Eliminating unnecessary idling means reducing fuel and oil consumption, emissions, noise, engine wear and wet-stacking, HOTSTART said.
During normal operation, the APU consumes under a half gallon of fuel per hour. Featuring four heat exchange points plus a built-in tank heater and heavy-duty alternator, the systems provides up to 19 kW of total heating power and 80 amps of battery charging power.
"Every aspect of the APU's design is intended to work seamlessly with a locomotive's day-to-day operations, including an easy-to-use configurable display, real-time operating parameters, automatic operation and AESS-ready capability," HOTSTART said.
An optional plumbing kit helps make installation easier while a cab heat option delivers APU power directly to the cabin heaters, keeping the crew comfortable during layovers, the company said.
nVent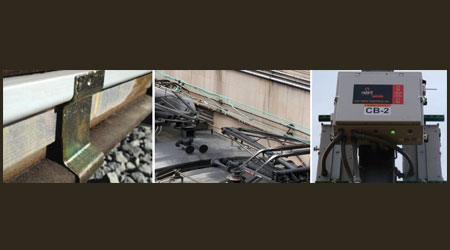 nVent
nVent offers a line of rail infrastructure heating solutions designed to help railroads operate safely and efficiently in winter conditions.
In addition to railway switch heating systems, the company provides solutions that can melt snow and ice on third rails (contact rails) and overhead contact wires. It's especially important to prevent snow and ice buildup on third rails or risk service disruptions, the company said.
Third rails can be disrupted by a small amount of ice buildup that blocks the transfer of energy from the third rail to train shoe. For third-rail heating, nVent offers the RAYCHEM CRH-SL, which is based on self-regulating heating cables, and nVent RAYCHEM PTC-Z, which is based on power limiting heating technology.
Catenary systems power rail vehicles via overhead contact wires, and are susceptible to ice buildup even in warmer climates that experience freezing rain when temperatures drop. To keep catenary contact wires clear, nVent offers the "state-of-the-art" nVent RAYCHEM CATHeat that's designed to quickly deliver robust, ice-melting heat to the contact wire, the company said.
In addition, nVent offers heating system control solutions with configurations that allow for on-site and remote operation. The solutions are comprised of trackside control panels, standard industrial PLCs, as well as communication system hardware and software that link on-site controllers to off-site human-machine interfaces.
Control systems create a number of other advantages that can yield operational efficiencies and contribute to cost savings, the company said.
Power Drives Inc.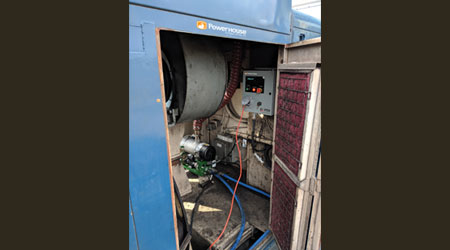 Power Drives Inc.
Power Drives Inc.'s (PDI) PowerHouse™ idle reduction technology enables locomotives to shut down in the coldest temperatures.
The compact PowerHouse can heat and circulate water or coolant through a locomotive engine block and cooling system, the company said. EPA SmartWay verified, the PowerHouse maintains a cooling system temperature above 100 degrees Fahrenheit and features a 136,500 BTU/hour diesel-fired heat exchanger, which provides rapid heating of engine coolant and oil.
PDI offers two PowerHouse models: the 120 and the APU (auxiliary power unit). The 120 model is the only 120 volt plug-in device offered in the rail industry, and is used when locomotives have ready access to 120V shore power, the company said.
The APU model is a modular, two-piece system for increased flexibility — ideal for road haul and run-through locomotives, PDI said. It incorporates an EPA Tier 4-compliant, 9.5-horsepower Kubota® engine that drives an alternator, providing power to the pumps and locomotive battery bank while the prime mover is shut down.
Both PowerHouse models include remote monitoring for access to real-time operating data, and controls to automatically start and stop the heat exchanger to avoid continuous run time, further reducing fuel consumption, emissions and noise, PDI said.
Harsco Rail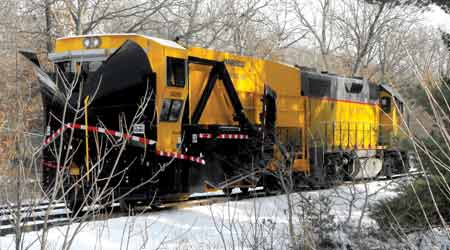 Harsco Rail
The Harsco Rail Spreader Ditcher is designed as a versatile machine used to plow heavy snow, spread ballast, reshape banks and cut trackside ditches.
Ranging from 160,000 to 170,000 pounds in weight, the machine is equipped with an operator control cab, front plow, side wings, two non-powered bogies, AAR couples and an APU for electrical/hydraulic power.
The Spreader Ditcher High Plow can clear 16-foot snowdrifts and widen snow cuts with main wings and bank slopers, Harsco Rail said. It can rip solid blue ice and handle slides mixed with rock, stumps and frozen matter.
The machine also cuts snow ditches for thaws and spreads snow in classification and switch yards, the company said.
The Spreader Ditcher features heavy construction with a low center of gravity, a standard front plow, in-cab controls, front plow locks, wing locks, front plow depth control, FRA Type I heated windshields, FRA Type II sliding side egress windows and an AC generator.
Railway Equipment Co.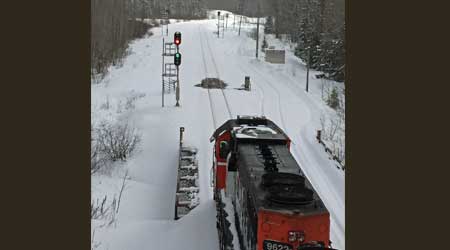 Railway Equipment Co.
Track switch snowmelters are situated throughout North America, often in remote locations at highly critical control points. They are called upon to work in the most severe winter conditions, and if a snowmelter fails, it will cause an inoperative track switch leading to service interruptions.
Railway Equipment Co.'s (REC) Sno-Net® remote monitoring systems "allow you to be there without going there," the company said. The track switch snowmelter can be connected via various secure communication networks to enable the flow of information directly to authorized staff.
This information flow eliminates guess work and enables railroad personnel to know what they're dealing with prior to arriving at a site in unsafe weather conditions, REC said.
Class Is and transit systems such as the Massachusetts Bay Transportation Authority in Boston and Metrolinx in
Toronto are using Sno-Net systems to monitor and control track switch snowmelters. They also are employing remote operated cameras that provide a real-time image of the switch.
A Sno-Net system provides notifications when a snowmelter is operating unnecessarily, which could deplete available fuel, rendering a snowmelter ineffective when needed, the company said.
REC has offered remote monitoring and track switch snowmelter system controls in North America for more than 12 years. The company also provides remote monitoring products for cameras, switch machines, grade crossing gate mechanisms and other signal systems.
Chet's Shoes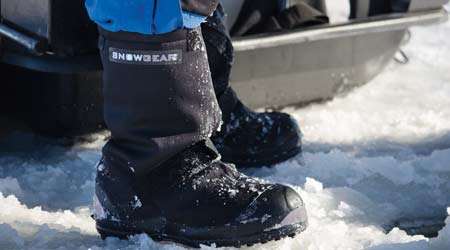 Chet's Shoes
Created with the railroad worker in mind, the Snowgear Ice Master offered by Chet's Shoes features a carbide studded sole that provides superior traction on glare ice and other snowy surfaces.
Standing 14 inches high, the overshoe has a fleece lining for added warmth and can easily slide over a work boot, the company said.
The Ice Master features a waterproof upper and a Velcro closure with a D-ring adjustable strap to keep the overshoe secure. The bottom includes reflective material for visibility in low light conditions.
The Ice Master is available in the same size as a regular work boot; for example, a size 10 overshoe is designed to fit over a size 10 work boot, Chet's Shoes said. But if a boot has a larger sole or metatarsal guard, a size or two larger might be needed, the company said.
Chet's Shoes has provided customizable industrial programs for more than 40 years and conducted business for over 70 years.
The company offers mobile shoe services, individualized web portals and customizable billing.
Email questions or comments to jeff.stagl@tradepress.com.
---
Keywords
Browse articles on
Knox Kershaw Inc.
Rails Co.
Thermon Heating Systems
Flink
Teleweld Co.
Geismar North America
HOTSTART
nVent
Power Drives Inc.
Harsco Rail
Railway Equipment Co.
Chet's Shoes
Contact Progressive Railroading editorial staff.