Newsletter Sign Up
Stay updated on news, articles and information for the rail industry
Rail News Home
Amtrak
5/2/2018
Rail News: Amtrak
Amtrak marks 47 years, nets funds for Pacific Surfliner improvements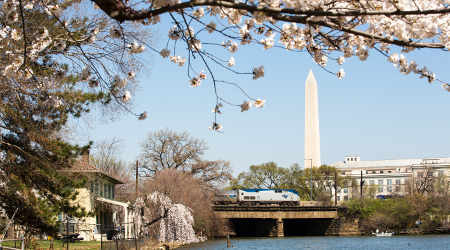 Amtrak President and Chief Executive Officer Richard Anderson yesterday announced several improvements underway at the national intercity passenger railroad as it marked its 47th anniversary.

"While we celebrate our history, we have a keen eye on the future and are making necessary changes to provide our customers with an unparalleled travel experience," said Amtrak President and Chief Executive Officer Richard Anderson. "Many customers have already noticed these improvements, and can look forward to several more upgrades that are on the way."

One improvement underway involves refurbishing the interiors of more than 450 coaches for trains serving the Northeast and Midwest U.S. That work is slated to wrap up by summer's end.

Amtrak also is improving on-time performance on the Northeast Corridor (NEC) by updating charter and private train guidelines to minimize impact on operations.

In addition, the railroad is improving schedules on its Piedmont, Pacific Surfliner and San Joauqin routes; rehabilitating and improving passenger areas at major stations; and providing real-time NEC service updates via social media.

Amtrak is carrying out these upgrades ahead of more long-term improvements, such as buying modern train equipment and further developing major stations in Chicago, Baltimore, Philadelphia, New York City and Washington, D.C.

Amtrak came into being after President Richard Nixon signed the Rail Passenger Service Act in October 1970. The law established the National Railroad Passenger Corp. to take over intercity passenger-rail service that was previously operated by private railroads.

At the time, 20 railroads turned over their passenger services to the new company. Amtrak began service on May 1, 1971, serving 43 states across 21 routes.

Meanwhile, the California State Transportation Agency (CalSTA) last week awarded funds to construct double track and siding extensions along Amtrak's Pacific Surfliner route.

CalSTA awarded a total $188.3 million to the Los Angeles-San Diego-San Luis Obispo (LOSSAN) Rail Corridor Agency, which operates the Surfliner route. The grant includes $147.9 million to address current and future constraints on the northern section of the LOSSAN corridor in Ventura, Santa Barbara and San Luis Obispo counties.

That sum will go toward building the double track, improving stations and train layover facilities, upgrading signals and switches, and providing incentives to host railroads for improved Pacific Surfliner on-time performance.

The funding is part of CalSTA's $2.6 billion funding package for rail and transit projects throughout California. The agency also is providing additional funding for seven critical projects through multi-year funding agreements, which brings the total awarded to more than $4.3 billion.
Contact Progressive Railroading editorial staff.
More News from 5/2/2018