Newsletter Sign Up
Stay updated on news, articles and information for the rail industry
Rail News Home
Amtrak
April 2019
Rail News: Amtrak
In memoriam: Former Amtrak leader Joseph Boardman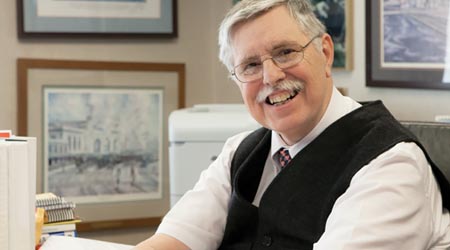 By Julie Sneider, Senior Associate Editor
Former Amtrak President and Chief Executive Officer Joseph Boardman died March 7 after suffering a stroke in Florida, where he shared a vacation home with his wife, Joanne. He was 70.
Amtrak's second-longest-serving president, Boardman led the railroad from 2008 until his retirement in 2016. During his eight years at the helm, he made significant progress by "reducing our debt, improving our infrastructure and raising our cost recovery performance," Amtrak Chairman Tony Coscio and current CEO Richard Anderson said in a joint statement.
Former Vice President Joseph Biden, a longtime Amtrak fan and rider, called out Boardman's leadership during a tough economic period.
"Joe Boardman led Amtrak through difficult times, taking over during the worst economic crisis since the Depression, and starting a modernization that will help deliver the 21st century rail system America deserves," Biden said in a March 11 post on Twitter.
Boardman grew up on a New York dairy farm run by his parents. At 17, he enlisted in the Air Force, eventually serving in Vietnam. After his return home, he earned bachelor's and master's degrees at Cornell University and the State University of New York at Binghamton, respectively. While in college, he drove a bus to pay his bills, and the work got him thinking about a career in transportation.
Boardman once told an Amtrak blog writer that his childhood experiences on the family farm taught him to stay cool under pressure. A favorite item on his Amtrak office desk was a "Keep Calm and Carry On" coffee mug.
Stints at the FRA, TRB, AASHTO
Prior to his time at Amtrak, Boardman was New York state's transportation commissioner from 1997 to 2005. From 2005 to 2008, he served as administrator of the Federal Railroad Administration (FRA) and was the U.S. Department of Transportation's designee on Amtrak's board under President George W. Bush.
Boardman also served as chairman of the Transportation Research Board's Executive Committee, and the American Association of State Highway and Transportation Officials' Standing Committee on Rail Transportation.
"He was a personal friend, a highly regarded public servant and was well respected among the FRA staff," recalled current FRA Administrator Ronald Batory in a prepared statement.
Boardman will be remembered for his passionate defense of Amtrak and its national network, according to Rail Passengers Association President and CEO Jim Mathews.
"[He] believed in his bones that all Americans should have the ability to choose to travel by train," Mathews said in a written statement.
Whether he was leading Amtrak, the New York State Department of Transportation or the FRA, Boardman was a tireless advocate for rail safety and efficiency, said Chuck Baker, president of the American Short Line and Regional Railroad Association.
"He cared deeply about serving the American public, ensuring rail access throughout the nation's heartland," Baker said in a prepared statement. "He was that rare individual who cared more about finding a solution to a problem than taking credit for a solution, and our industry benefited greatly from that way of doing business."
---
Keywords
Browse articles on
Amtrak
Joseph Boardman
In memoriam
Former Vice President Joseph Biden
Federal Railroad Administration
Transportation Research Board
Rail Passengers Association
New York State Department of Transportation
Ronald Batory
Chuck Baker
Jim Mathews
Contact Progressive Railroading editorial staff.