Newsletter Sign Up
Stay updated on news, articles and information for the rail industry
Rail News Home
Amtrak
November 2015
Rail News: Amtrak
Time is running out on Amtrak's aging tunnels
— by Julie Sneider, senior associate editor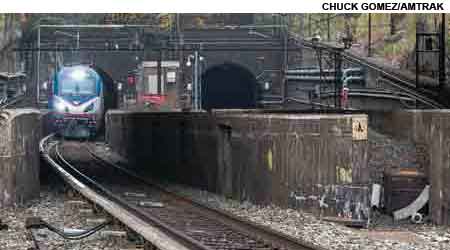 The 105-year-old Hudson River rail tunnel (shown in photo) carries Amtrak and New Jersey Transit trains under the river between New Jersey and New York.
For Joseph Boardman, the aggravating delays for New Jersey Transit and Amtrak trains traveling through the 105-year-old Hudson River rail tunnel in July proved to be an important lesson.
For years, Amtrak's president and chief executive officer has been sounding the alarm that the tunnel's antiquated state risks the reliability of rail systems that use the link to transport passengers from New Jersey to New York City and back every day. Amtrak owns and uses the infrastructure, but it's also used extensively by NJ Transit.
Although Amtrak crews shut down one of the tunnel's two tubes every weekend to perform repairs and maintenance, their condition — including the 80-year-old electric cables that were the source of the summer outages — is crumbling. And the tubes sustained an enormous amount of damage when Hurricane Sandy pounded the East Coast in October 2012, filling the Hudson tunnel with corrosive saltwater.
While the need to rebuild the Hudson tunnel in particular and invest in Amtrak and transportation infrastructure in general is a message that Boardman has been sending since he took Amtrak's reins in 2008, it wasn't until the electrical problems caused five days of train delays in July that he says he understood "on an emotional level" what the tunnel's deteriorating condition means for the hundreds of thousands of passengers who rely on travel through the tunnel daily.
"When we had to shut down those tunnels, we went from 24 trains running at peak hour, to six trains at peak hour," Boardman says. "And that really tied up the New York metropolitan area, from New Jersey to New York and back. And that affected people's lives: their concerns for their safety, for reliability, for their ability to get to work and then home again so they could pick up their kids at daycare. The issue is really about those things. And that's the story that needs to be told."
A peek at what's in store
The power outage was an alarming picture of what the future holds if regional, state and federal leaders don't act soon on a plan to overhaul the existing tunnel and build a new one into New York City. If the status quo continues much longer, the region can look forward to more unpredictable infrastructure breakdowns, creating a transportation nightmare for people who live and work in the nation's economic epicenter, Amtrak officials say.
It's also a glimpse of what Americans' day-to-day lives will be like if the nation continues putting off investment in aging infrastructure along the Northeast Corridor (NEC), Boardman believes. Which is why Amtrak has been advocating for funding to build a new two-track tunnel under the Hudson River, make extensive repairs of the old tunnel and complete other projects that are part of the railroad's NEC Gateway plan.
This summer's service disruptions were not surprising. A year earlier, after HNTB Corp. completed an engineering review on the tunnel's condition post-Hurricane Sandy, Amtrak officials warned that service disruptions would occur if major investment in tunnel repairs and upkeep weren't made. While the engineers' study found no evidence that the tunnel linings were unsafe, the engineers did conclude that chlorides and sulfates left from the storm were eating away at bench walls, track, signal, electrical and mechanical systems.
The HNTB report underscored the urgency for accelerating Amtrak's Gateway plan, the heart of which is building new, two-track tunnel capacity under the Hudson River. The Sandy damage was so severe that long-term closures of the tunnel would be necessary within 20 years, it concluded.
"The Northeast region needs to make the Gateway program a priority and we must get about the business of moving it forward as fast as we can," Amtrak Chairman Tony Coscia said in October 2014, when the report's findings were announced. "There is no comfort zone to say we don't need to be worried."
A project of national significance
The stakes are high. U.S. Transportation Secretary Anthony Foxx recently described construction of new Hudson River rail tunnels as "one of — if not the — most important" infrastructure projects in the nation because of the regional economy's reliance on a well-functioning rail system between New Jersey and New York City. Beyond that, the structures serve as a critical NEC link between Washington, D.C., and Boston. While the rail corridor is near capacity at some locations, congestion appears to be the worst in the area leading into Penn Station because the Hudson tunnel is the only intercity passenger-rail crossing from New Jersey into New York City.
Trains passing through at peak commute times typically are overcrowded, a status that will only worsen as demand for rail service is projected to increase significantly by 2030, according to Amtrak. As a result, the Gateway plan calls for a series of projects that Amtrak officials believe are necessary to double the rail capacity between Newark, N.J., and New York City, expand Acela high-speed rail service, and shore up the infrastructure's severe-weather resiliency.
The projects would increase tracks, tunnel, bridge and station capacity, and eventually create four mainline tracks between Newark and Penn Station in Manhattan, including the new Hudson tunnel.
New portal bridges, expanded Penn Station
Moreover, Gateway would expand Penn Station tracks and platforms, and create new "Penn South" concourses that would provide connections to the Farley Post Office Building, which is currently being renovated into the future Moynihan Station. The future Penn/Moynihan complex would be better able to serve the growth of Amtrak's Acela trains and future higher-speed rail service, Amtrak officials believe.
Additionally, two high-level fixed bridges — known as the North and South Portal Bridges — will be built to replace the moveable Portal Bridge that crosses the Hackensack River between Kearny and Secaucus, N.J. The North Portal Bridge will be the first one built, at a cost of about $1 billion. Final design and federal environmental review have been completed on that bridge plan, and the five-year construction phase will begin as soon as funding is secured.
Gateway also would improve the NEC between Newark and Secaucus, with the mainline expanded from two to four tracks between Newark and Bergen Palisades tunnel portals. Better connections would be constructed to link the NEC and NJ Transit's Morris and Essex lines, according to Amtrak's Gateway website.
Amtrak officials came up with the Gateway plan four years ago, following New Jersey Gov. Chris Christie's decision to call off the trans-Hudson rail-tunnel project. At the time, Christie expressed concerns that the NJ Transit project would top its $14 billion cost.
Boardman has declined to put a price tag on the yet-to-be-funded Gateway plan until the overall design phase — now underway — is completed. Various news media have cited cost estimates between $15 billion and $20 billion, but Boardman won't comment on those figures.
"Until you have a more complete design of the project, you're not going to know what the number is, and we're not even close to that at this point," he says. "But we know that it will be a multi-billion-dollar project."
Making progress, despite lack of funding
Funding, of course, has been the biggest roadblock to putting Gateway on a faster track. Still, Amtrak has been plugging along on the project, even though questions about who'll pay for the whole thing and where the money will come from have yet to be answered.
Since 2012, the railroad has directed $300 million toward planning, design and pre-construction efforts that will pave the way for the new tunnel's construction. That includes $74 million spent on planning and pre-construction activities, and $235 million on concrete casing construction at the Hudson Yards. A majority of those dollars came from federal Hurricane Sandy resiliency funds as part of the Disaster Relief Appropriations Act of 2013, Boardman says.
In 2013, construction began on concrete casing of the two tubes as part of the effort to preserve the future Gateway tunnel's underground alignment through the Hudson Yards and into Penn Station. About 800 feet of the casings has been completed. And construction of the next 100 feet to extend the casing under 11th Avenue is underway.
Even though Gateway's final design hasn't been finalized and funding questions remain, it was "absolutely necessary" to complete the underground alignment preservation as soon as possible, Boardman says.
"Preserving that alignment is so critical to us and for anybody who would want to do high-speed rail and have access into Penn Station," he adds.
Meanwhile, Amtrak is preparing to launch the National Environmental Policy Act (NEPA) review required prior to completing the new Hudson tunnel's design. Last month, NJ Transit's board authorized negotiations with Amtrak to reach a memorandum of understanding that will put the environmental permitting process under NJ Transit's authority. Once the MOU is approved, the transit agency will select a consultant to oversee the NEPA process.
Boardman anticipates the environmental process will begin in 2016 and take two to four years to complete.
"So, you're talking 10 to 12 years to get a tunnel built under the Hudson River. But we're getting started with it," Boardman says. "We've allocated another $35 million in our budget next year to really make a continuing effort to move forward on this."
As the environmental review and design planning inches forward, Boardman will continue to advocate for a financing scheme that would allow the Gateway project — and other rail infrastructure needs of national significance — to get built. He says he was encouraged by this summer's breakthrough in discussions for a Gateway funding solution — prompted by the tunnel's power outages in July — that included federal officials, Gov. Christie and New York Gov. Andrew Cuomo.
A 50/50 funding split
In September, Cuomo and Christie proposed that the two states and the Port Authority of New York and New Jersey (PANYNJ) come up with a plan that would pay half the cost of the Gateway project if the federal government picks up the rest of the cost. Spelled out in a letter to President Obama, their proposal acknowledged that replacing the tunnel is a national priority, and that the tunnel is the "linchpin" for Amtrak's 457-mile NEC route. The letter represented a significant turn in the political discussion: a month prior, Cuomo had declined to meet with Foxx to talk about it.
Boardman says he's also appreciative for longtime support that the Gateway initiative has received from federal officials representing the NEC states, such as U.S. Sens. Charles Schumer (D-N.Y.), Bob Menendez (D-N.J.), Cory Booker (D-N.J.) and Richard Blumenthal (D-Conn.).
A call for a Gateway shepherd
In August, Schumer proposed a "Gateway Development Authority" that would shepherd the Gateway program and find ways to pay for it. Under the senator's proposal, the authority would bring together the project's key players — Amtrak, New York, New Jersey, PANYNJ, New York City's Metropolitan Transportation Authority, NJ Transit and the federal government — to make sure the project gets done.
"Amtrak can't access federal mass transit funding. The Port Authority and regional transit agencies can't access federal railroad dollars the way Amtrak can," Schumer said in August, according to news reports. "We'll only get Gateway done by adding up several pieces of financing, with an eye toward getting the maximum amount possible from the federal government."
Boardman says it doesn't matter to him which entity — the Port Authority or a newly created Gateway authority — oversees the Gateway project, as long as it gets built. And since the July power outages, the political will to advance it seems to be in place.
"All the northeastern political people really do now seem to understand" what's at stake, Boardman says. "We're very encouraged with what has been occurring."
Nevertheless, the clock is ticking. Despite weekly repairs and maintenance, problems like the electrical outage that occurred in July are likely to happen again — and with greater frequency — given the tunnel's age.
How much life does the Hudson tunnel have left?
"What our engineers have said is that, maybe we have 20 years, maybe we have 7 years," Boardman says. "If we only have 7 years, then we certainly won't get the new tubes and tunnels done in that period of time. If we have 20 years, then we can get it done. This nation has proven that when the people make up their minds to do something, we can get stuff done.
"But, the time to get moving on this project is now."
---
Keywords
Browse articles on
Amtrak
Joseph Boardman
New Jersey Transit
Hudson River rail tunnel
Gateway
Northeast Corridor
NEC
HNTB Corp.
U.S. Transportation Secretary Anthony Foxx
Acela
Port Authority of New York and New Jersey
Contact Progressive Railroading editorial staff.