Newsletter Sign Up
Stay updated on news, articles and information for the rail industry
Rail News Home
Amtrak
November 2015
Rail News: Amtrak
It's time to build infrastructure, Amtrak's Joe Boardman says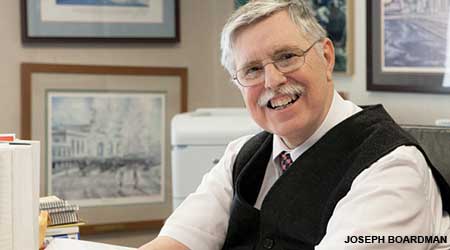 — by Julie Sneider, senior associate editor
On Oct. 26, Amtrak President and Chief Executive Officer Joseph Boardman and a panel of transportation experts met at the National Press Club to highlight the need to invest in nationally important rail projects such as the Northeast Corridor (NEC) Gateway, Chicago Gateway and Chicago Region Environmental and Transportation Efficiency (CREATE) program.
Boardman and the panelists met to discuss the nation's aging infrastructure, railway congestion and the lack of adequate investment to address solutions.
"Persistent underinvestment leads to [rail traffic] congestion — and the lack of investment threatens our national economy," Boardman said.
Joining Boardman at the event last month were Tom Carper, a member of Amtrak's board; Howard Learner, founder of the Environmental Law and Policy Center in Chicago; and Jack Quinn, former chairman of the Railroads Subcommittee of the House Transportation and Infrastructure Committee and current president of Erie Community College. The three also served on the Chicago Gateway Initiative Blue Ribbon Panel, which Boardman appointed last year to examine recurring rail gridlock in Chicago. The task force issued its recommendations last month.
The panelists asserted that nowhere in the United States are rail infrastructure problems worse than in the New York and Chicago regions.
About 750,000 people ride trains each day along the NEC, where Amtrak is the majority owner of the commuter-rail network. One of three jobs in the regions is located within 5 miles of an NEC station, but Amtrak is transporting the heaviest traffic in the corridor's history on infrastructure that's so old it's vulnerable to single points of failure, Boardman said.
In Chicago, Amtrak shares routes into and out of the city with freight railroads and the commuter railroad Metra, which carries about 83 million passengers a year. The region is considered the most densely packed freight-rail transfer point in the world, handling a third of American rail traffic and 60 percent of intermodal, Carper noted in prepared remarks.
"Railroad congestion [in Chicago] creates an annual economic vulnerability to disruption that runs into the hundreds of billions of dollars, as delayed trains disrupt everything from supply chains to individual travelers on their daily commute," Carper noted.
Although there is no shortage of solutions to the problems, there has been a shortage of funding to implement those solutions. For example, the federal Transportation Investment Generating Economic Recovery (TIGER) program, which is the only federal program that has funded CREATE projects, received a 2015 appropriation of just under $500 million, no more than $125 million of which can be used for one project, said Quinn.
"That's just a fraction of what we need for a single project in Chicago, and less than 1 percent of the projected cost of the Gateway project in New York," he added.
The panelists called for more innovative financing techniques and consistent environmental review requirements across transportation modes.
Specific to Chicago, the Blue Ribbon Panel recommended co-located dispatching among railroads, improved operating practices by Amtrak and other railroads, and funding for priority rail projects that have a national impact.
"This is a fight our country needs to win," Boardman said. "It's time for us to build."
---
Keywords
Browse articles on
Amtrak
Joseph Boardman
National Press Club
Northeast Corridor
Gateway
Chicago Region Environmental and Transportation Efficiency
CREATE
Contact Progressive Railroading editorial staff.