Class Is to STB: Economy, PTC are Capex Wild Cards
For the past five years, the Surface Transportation Board (STB) has requested letters from Class Is outlining their plans for meeting demand during the fall peak. In this year's letters, the board wanted to know each railroad's method of ascertaining demand, performance goals and capital spending plans.
The Class Is submitted their letters in late August. The message to STB Chairman Daniel Elliott III was similar from each railroad: There wasn't a fall peak in 2008 and there likely won't be one this year.
The Class Is also were in unison about capital spending. Although their 2010 capex budgets hadn't been determined at the time, they expected the sluggish economy and positive train control (PTC) mandates to impact spending.
In terms of the economy, the recession already took a toll on Norfolk Southern Railway's 2009 capex budget, wrote Chairman, President and Chief Executive Officer Wick Moorman.
"Our investment budget was originally $1.41 billion, but has been reduced to $1.3 billion," he wrote.
PTC in Play
In terms of PTC, Rail Safety Act mandates and Federal Railroad Administration (FRA) regulations might prompt U.S. railroads to delay certain projects next year, wrote CSX Corp. Chairman, President and CEO Michael Ward. Railroads must develop a PTC implementation plan by April 2010 and install the technology by 2015's end.
"The FRA said in a notice, point blank, that PTC will require a 'massive reprogramming of capital funds,'" Ward wrote. "With the FRA's own analysis estimating $13.85 billion of costs over the next two decades, the government must act to help mitigate this cost through grants, tax incentives and flexibility in PTC implementation. Otherwise, CSX and every other railroad subject to the requirement will have to make difficult tradeoffs and 'reprogram' every capital investment."
Perhaps hundreds of millions of dollars that had been pegged for capacity instead will be spent on the first stages of PTC, wrote Union Pacific Railroad Chairman, President and CEO Jim Young.
"Despite an FRA study showing very little economic benefit to this technology, the timeline on this mandate requires this expenditure in 2010," he wrote.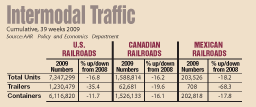 ---
Keywords
Browse articles on AAR on Progressive Railroading
More articles