» Railroad product of the week home ADVERTISEMENT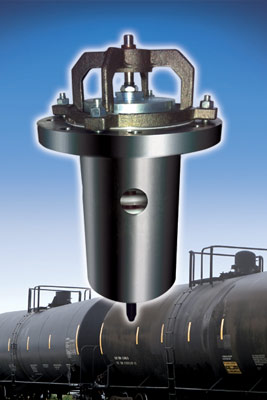 Midland Manufacturing is pleased to announce the release of its new Hi-Flow Pressure Relief Valve. The valve, model number A-22075, has received full AAR (Association of American Railroads) certification under AAR number PRD 122007.

Backed by its 60 years of experience in designing the safest tank car valves, Midland has designed its new Hi-Flow Pressure Relief Valve to exceed the new higher flow requirements for Packing Groups I & II commodities transported in rail tank cars of 30,000 gallons or more. This requirement includes the two largest commodities, crude oil and ethanol. Midlandís new A-22075 valve is available in standard mounting configurations for new car builds or retrofit applications. In addition, the valve has been constructed from carbon steel with a stainless-steel stem and retainer to help reduce the possibility of corrosion.

Additional features and benefits of Midland's new Hi-Flow Pressure Relief Valve include:
Flow rating of 29,550 scfm
Guide tube as a standard component to allow mounting to a pressure plate with no nozzle
A model without the guide tube is available for retrofit applications to cars with nozzles
Mounting design is available in tongue-and-grove and flat-face configurations
Also available with flue
Mounting-bolt circle remains the same to allow for retrofit applications
Maintains the easy-to-replace seal design
Proven design compatibility with Midland's A-2000 series family of valves
Midland is an AAR Class F facility and ISO 9001:2008 certified, and is proud of its quality programs and dedication to continuously meet customer needs and expectations. Since 2005, Midland has manufactured more than 100,000 tank car pressure relief valves to these high quality standards, a further testament to its position as the "tried and true" market leader. For more information on Midland Manufacturing, please go to
www.midlandmfg.com
.