By Jeff Stagl, Managing Editor
Within the next two months, Kansas City Southern expects work to start on its second international rail bridge in Laredo, Texas.
The $75 million structure will be built parallel to and 35 feet east of the Class I's existing single-track bridge that connects Laredo to Nuevo Laredo, Tamaulipas, Mexico. The new bridge also will have a single track and stretch more than 1,000 feet.
Situated west of downtown, the current Laredo International Railway Bridge is the only rail crossing over the Rio Grande River that links Laredo and Nuevo Laredo. It's an essential link in the international border-crossing corridor, KCS officials say.
Adding a second structure will boost the Class I's cross-border capacity, enhance border security and help expedite train movements between Mexico and the United States.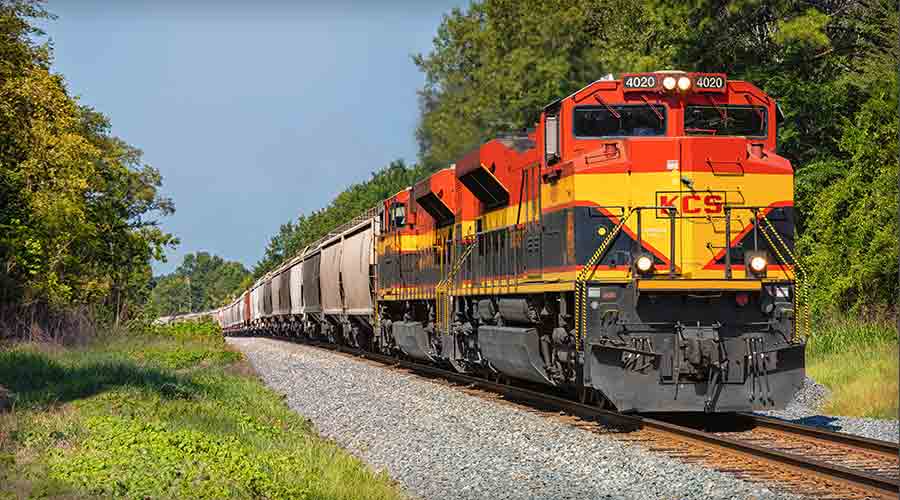 Kansas City Southern
Traffic currently is limited to short windows in each direction, with trains heading north or south across the bridge controlled in four-hour blocks. The new bridge will accommodate the 24/7 interchange of trains moving north or south across the border without any operational limitations, KCS officials say.
The new bridge also will help the railroad handle a rise in U.S. exports, which have been increasing since the United States-Mexico-Canada Agreement was enacted in July 2020.
Over the past two years, KCS obtained construction permits in the United States and Mexico, and completed engineering and design for the project. Now, the railroad is ready to enter the construction phase.
"We are mobilizing to start [the project] in October or November, with an estimate of 15 to 18 months for completion," said Doniele Carlson, KCS' assistant vice president of corporate communications and community affairs, in an email.
Sometime soon — after receiving and analyzing contractor bid proposals — the railroad will determine a more specific start date, she added.