By Jeff Stagl, Managing Editor
For the past several years, Watco has been exploring more ways to reduce air emissions to boost its environmental stewardship. One area of interest: alternative fuels and technologies for the switcher fleet.
The short-line holding company has analyzed switchers that operate on natural gas and hydrogen, and generator-set or GenSet units that feature a number of smaller diesel engines, some of which can be shut down when extra power isn't needed.
But some GenSets are prone to catching fire while operating because of their engine-bank design, natural gas units require an expensive tender to haul the fuel and the size of available fuel cells cloud hydrogen use in switchers.
Those concerns recently led Watco to begin adopting another alternative switcher that promises more reliability, less maintenance, zero emissions and lower operating costs. The company is converting two old diesel-electric locomotives into battery-operated switchers that have few moving parts and require no fossil fuels.
The project involves an SW1200 built in the 1950s and an SW1500 unit manufactured in the 1960s that are stationed in Texas. Watco is converting the switchers — which needed extensive repairs — in partnership with Medha Servo Drives Pvt. Ltd. An India-based company, Medha provides propulsion systems — including locomotive control systems — fuel-saving devices, rolling stock equipment and signaling.
About three-plus years ago, the holding company developed a relationship with Medha, which upgraded control systems for several dozen of Watco's diesel-electric locomotives. Medha has provided control systems for battery-powered buses and commuter vehicles in other countries, says Watco Vice President and Chief Mechanical Officer Keith Testerman.
"They are educated and up to date on battery-powered vehicles," he says. "They provided us with good control systems, and we have confidence in them."
Watco will receive a $2.4 million Texas Emissions Reduction Program (TERP) grant to help fund the switcher conversions. The TERP proceeds cover more than 80% of the grant funds Watco had applied for, says Testerman.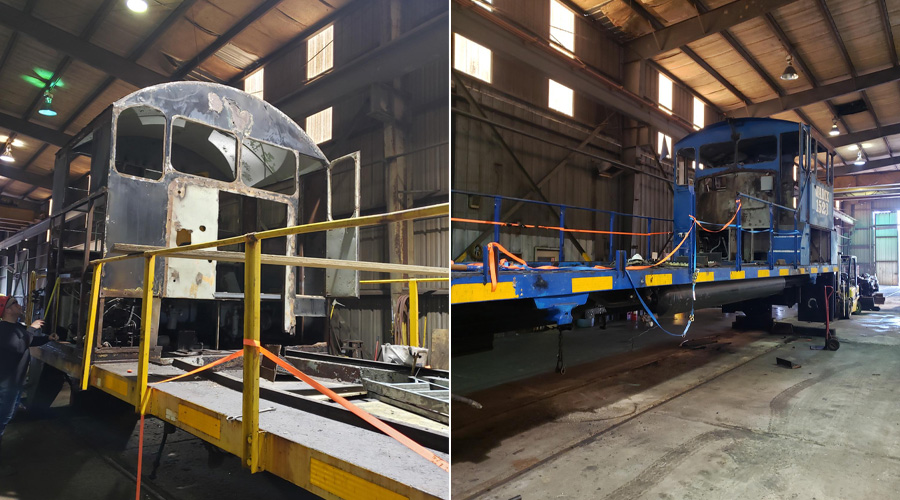 Watco
The switchers are completely disassembled and currently are undergoing some sheet metal repairs. Medha will supply key power and control system components, and Watco personnel will reassemble the units. Watco and Medha officials meet weekly to review and tweak the conversion designs, says Testerman.
Watco estimates the two battery-powered units will reduce greenhouse-gas emissions by 19 metric tons annually and cut yearly maintenance expenses by 30% compared with conventional diesel switchers. Although the company will need to purchase a charger and pay for electrical usage, the switchers' annual operational costs will drop about 60% by eliminating diesel consumption.
The units are designed to operate up to 12 hours before needing a battery recharge, which will take about eight to 10 hours to complete. The battery banks are recyclable and each battery can be replaced individually over time to spread out replacement costs.
Although battery-powered units make sense for switching because they can be recharged nearby, two such units are needed to replace every conventional diesel switcher since recharging means a unit is out of service for a while, says Testerman.
Watco and Medha plan to test the switchers in the second quarter. The units will be analyzed while operating at 10 mph, which is top switching speed in industry, says Testerman.
"Can the battery-powered switchers do what conventional 1500 switchers can do at 10 mph? That's what we want to find out," he says.
Watco seeks to ensure the units are Federal Railroad Administration-compliant locomotives, so among a host of objectives, they will need to generate enough power to provide heat and air conditioning in the cab. The units are expected to enter service at the company's Green Ports intermodal operation in Houston by the end of the third quarter.
Going forward, Watco aims to continue the battery-powered switcher program in other locations, but no firm plans are in place, says Testerman.
"We want to perform the tests a few months first," he says.