By Julie Sneider, Senior Associate Editor
The Fatality Analysis Maintenance-of-Way Employees and Signalmen (FAMES) Committee this month issued a report analyzing 62 fatal rail roadway worker accidents that occurred since the Federal Railroad Administration's Roadway Worker Protection (RWP) regulation was implemented in 1997.
The regulation requires railroads to adopt on-track safety programs to protect workers from the hazards of being struck by a train or other on-track equipment. In collaboration with railroad labor and management representatives, the FRA formed FAMES as a voluntary, consensus-based committee that periodically issues findings and recommendations to reduce the risk of future accidents and eliminate roadway worker fatalities.
In its most recent analysis, FAMES found that in 19 of those 62 accidents, rail roadway worker fatalities occurred on track adjacent to where the roadway work was being performed. FAMES also reports that:
• 12 fatalities occurred in situations where no protection had been established on the adjacent track;
• five involved situations where exclusive track occupancy was the form of protection on the adjacent track. Trains were authorized to move on the adjacent track without the fatally injured workers being notified; and
• two occurred where train approach warning (watchman/lookout) protection was the form of on-track safety provided for the adjacent track. The watchmen were the fatally injured workers.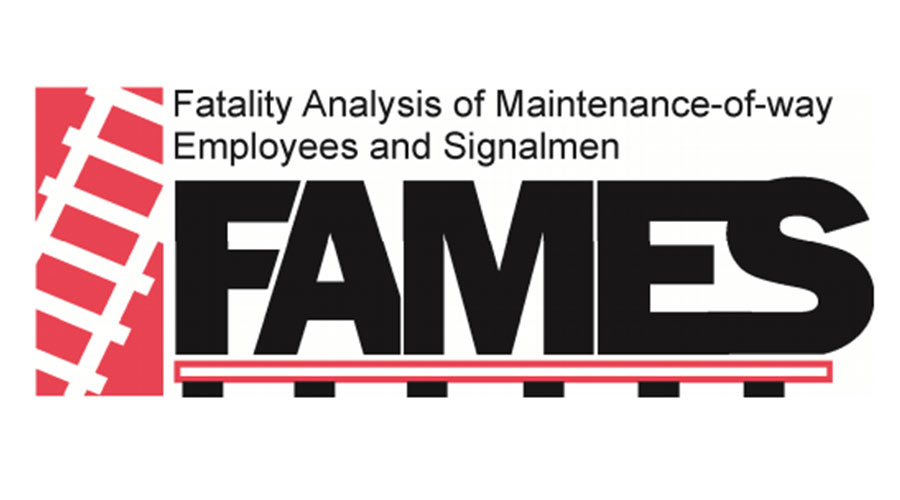 Moreover, the analysis found that in 13 of the 19 fatalities, roadway maintenance machines (RMMs) were in use; in eight fatalities, roadway workers were struck while conducting training or observing surfacing operations; and in 10 fatalities, the affected work groups consisted of four or fewer roadway workers.
In response to the analysis, FAMES issued several recommendations and reminders, including that railroads ensure that adjacent track protection is established according to FRA regulations, carrier rules and as safety conditions dictate. Also, roadway workers should never use adjacent track to walk around or observe the work unless on-track safety has been established, FAMES said.
During on-track safety briefings, FAMES also recommends that the crew identify whether RMMs will be present and then manage any associated risks; recognize that RMMs are loud, reduce visibility, present a striking hazard and increase the complexity of the job; and communicate the type of on-track safety in effect, including notification and warning procedures for approaching movements and operating procedures for adjacent track.
What's more, it should be made clear where each roadway worker's place of safety is in the event of an approaching train. In addition, specific instructions must be given for how the return-to-work message will be communicated.
FAMES further recommends:
• Before authorizing movements through working limits on an adjacent track, the roadway worker in charge (RWIC) must notify roadway workers and receive verification that personnel and equipment are clear of that track;
• All roadway workers should be highly aware of adjacent track risks when working in multitrack territory, especially when around RMMs;
• RMM operators should sound their horn whenever they observe movements approaching the adjacent track; and
• When using train approach warning, watchmen/lookouts must be focused only on detecting approaching movements.
Finally, if anyone on the crew observes someone fouling an unprotected track, adjacent or not, tell them to move to the clear, FAMES recommends.
The report on roadway worker fatalities is the second time this year that FAMES has communicated safety messages. In January, the committee sent out a safety alert related to the roadway workers' use of electronic devices.
FAMES' report and safety alert are the latest examples of the federal government's intensified focus on rail worker safety. Late last year, the National Transportation Safety Board (NTSB) renewed its list of "Most Wanted List of Transportation Safety Improvements," which included rail worker safety. The NTSB added that item to the list in 2021, after recognizing an alarming increase in rail roadway worker fatalities between 2020 and 2021.
In a February interview with RailPrime, NTSB Member Tom Chapman said 73 rail roadway workers have died in on-the-job accidents since the FRA RWP regulation was implemented.