By Jeff Stagl, Managing Editor
During a nearly hour-long appearance at AllianceBernstein's 37th annual Strategic Decisions Conference held virtually on June 3, CSX President and Chief Executive Officer James Foote touched on a host of topics. He fielded questions from moderator David Vernon, an AllianceBernstein vice president and senior analyst.
The talking points included the state of the economy and rail demand, developments in a number of commodity groups (including autos, coal and industrial products), pricing, costs and labor.
For example, Foote said business trend lines are positive because of pent-up transportation demand fueled by the pandemic recovery.
"There is more demand than there is transportation supply," he said.
Foote also stressed that CSX is dealing with a 7% attrition rate and has been in hiring mode since early 2021, especially to add more train and engine service crews.
"We want to have more people on staff than fewer," he said, adding the railroad needs a sufficient workforce on hand to meet shippers' growing needs.
But the highlights of Foote's comments centered on CSX's pending Pan Am Railways Inc. acquisition, its intermodal strategy and rail industry consolidation trends.
In terms of the Pan Am acquisition CSX has been pursuing since late 2020 — which includes the regional's 1,200-mile network and partial interest in the more than 600-mile Pan Am Southern system — Foote expressed confidence the deal eventually will gain Surface Transportation Board (STB) approval despite recent setbacks. The STB in March ruled the deal is a significant rather than minor transaction, requiring a more rigorous review, and later determined CSX's submitted application was incomplete.
CSX now is working on providing the missing or necessary information to the STB, including a full analysis of how the acquisition will affect railroad and rail-truck competition in New England, Foote said. The deal has gained strong support from a number of shippers and federal, state and local governments, he added.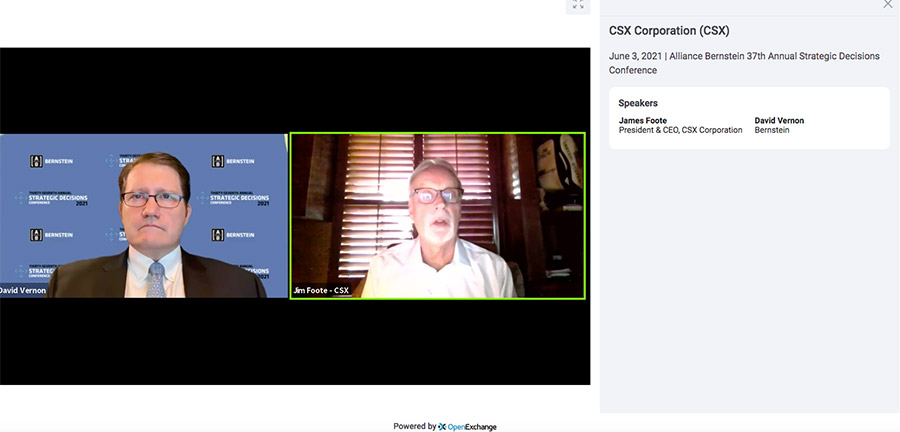 "We're just in the early stages of seeking authority to complete the transaction," Foote said. "Clearly it improves the overall rail transportation network, especially in the New England region. We can start to unlock the value of rail versus the highway."
CSX plans to provide its web-based shipper tools to Pan Am customers. Regionals such as Pan Am can't afford to develop sophisticated online tools, such as the ShipCSX portal, Foote said.
"We can do better than a small regional can. In today's marketplace, technology is a big deal," he said. "Customers don't want to have to pick up the telephone to talk to a railroad. They want to go online … and click and go — just like they do with a truck."
Foote believes the Pan Am acquisition will gain regulatory approval sometime in early 2022, pending the STB's review process.
As for rail industry consolidation, Foote doesn't believe the proposed Kansas City Southern combination with either CN or Canadian Pacific will trigger more major mergers.
"No, not at all, but who knows," he said.
When Foote joined the rail industry in 1980, there were 61 Class Is.
"They were all a basket case, their service was horrible and there was no capital investment," he said.
But a wave of post-1980 consolidations helped greatly improve service performance.
"The core infrastructure of the rail industry now is significantly better than it was. The seamless nature and the single-line service provided today is much better than it was," Foote said.
All told, mergers aren't necessarily a bad thing and additional ones could always be proposed, he mused.
"You could make a case that consolidation might be good," Foote said.
CSX already has made a case that the drayage community is vital to its intermodal business. The railroad needs to be more of a partner with drayage service providers, Foote stressed.
"We never looked at this piece of the business before," he said. "We are talking to the drayage community more than ever before."
The Class I deals with a lot of truckers and chassis, and continues to seek ways to keep terminals fluid and equipment storage in good stead.
CSX also is trying to bolster its relationships with truckers, chassis partners, ocean carriers, cargo owners and other intermodal stakeholders. The railroad has sufficient intermodal capacity that can be better utilized and exploited through tighter partnerships, Foote believes.