By Jeff Stagl, Managing Editor
In late September, BNSF Railway Co. capped off a better network connection across its Emporia Subdivision in Kansas, which is a key part of the Class I's transcontinental corridor.
On Sept. 28, the Class I began full operations on 12.5 miles of new double track in the sub, which spans from Kansas City to Wellington and is located along the Los Angeles-to-Chicago Southern Transcon route. The first train traversed the newly built track on Sept. 26, with final traffic cutovers completed on Sept. 28.
The heavily used Emporia Sub is one of 11 subdivisions on the Transcon line and is the last segment on the busy corridor to receive a second mainline track, BNSF officials said in an email. A train moves through the sub about every 20 minutes.
"The double track will accommodate additional traffic [in the sub], which means a shorter and faster connection," BNSF officials said.
BNSF Railway Co.
Located near Wichita, the new mainline segment is part of a larger, multi-year double-track project that began in 2019. The segment connects to 10 miles of double track that was completed south of the area in 2020.
"Between Wellington and Emporia, we expect to have approximately 35 more miles of second mainline track (from Ellinor to Mulvane) placed into service over the next 18 months," BNSF officials said. "Once fully completed, approximately 50 miles of new double track will be available to support traffic growth."
When all that track is in place through the heart of Kansas, the entire Southern Transcon will be much more fluid and there will be fewer blocked grade crossings. The entire project involves the installation of 267,000 track feet of rail and 133,000 concrete ties, and the construction of 19 bridges.
The project's completion also will mean the entire Transcon will be entirely double tracked except for two river crossings near Alva, Oklahoma, and Sibley, Missouri, BNSF officials said.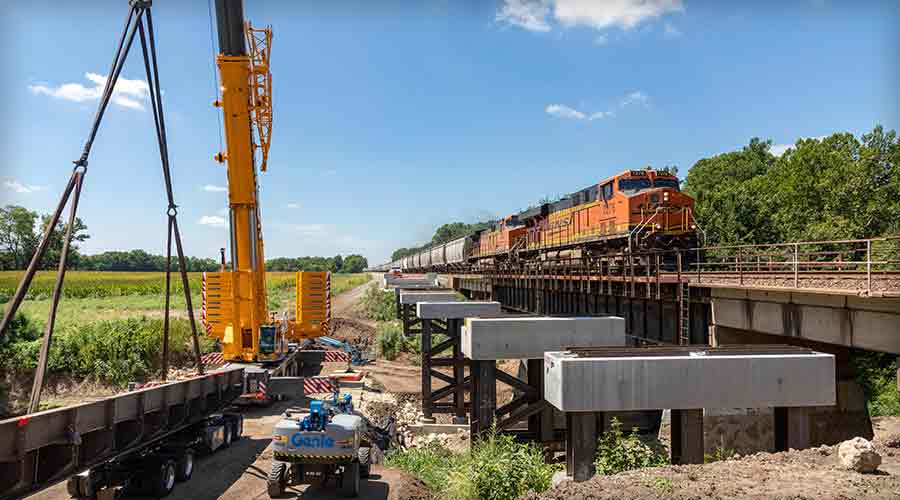 BNSF Railway Co.
There are several locations on the railroad's network that feature up to five main tracks. The point of adding main tracks to certain locations is to drive efficiency, BNSF officials said. Therefore, more double track could be in the offing at some network location at some point.
"Whether these locations are at major junctions, crew change spots, fueling locations or on the Southern Transcon, we continue to look for opportunities to unlock capacity on our network to support customer growth," BNSF officials said.
Currently, crews are adding a third mainline from Needles to Goffs, California. The multiyear project that began in 2022 includes 30 miles of new track, 3 new universal crossovers and 49 new bridges.
"We will be in-service with the whole project next year," BNSF officials said.