A Great Ad Gets People Talking – Last Chance for November Progressive Railroading

Think of how many times an advertisement has piqued your interest. A great ad gets people talking. Your ad in the November issue of Progressive Railroading can be the one that gets everyone talking. Readers will notice you. They'll check out your website. They'll look into your product...and it leads to a purchasing decision.

As the leading media outlet in the rail industry, Progressive Railroading is the best place to get noticed. Not only do more than 25,000 professionals turn to Progressive Railroading magazine every month in order to find out what's going on in the rail industry, but many more also read our websites and eNewsletters every day.

This issue gets bonus distribution at our RailTrends® event, November 17-18 in New York City.
■ Ad space closes on October 11 and materials are due October 18.
Sincerely,

Bridget Quaglia
Regional Sales Manager
Progressive Railroading
P: 610-207-0252
bridget.quaglia@tradepress.com
2016 Media Kit
Progressive Railroading: November 2016 Editorial Summary
Cover Story:


The CSX of Tomorrow
The CSX of today is struggling to boost business since its traffic and financial fortunes are tied so closely to coal — a commodity that remains in a steep production decline. The new "CSX of Tomorrow" corporate strategy is aimed at maximizing long-term business-building opportunities in the intermodal and merchandise sectors. The strategy calls for realigning the network around high-density, higher-volume routes serving those two markets, continuing to improve service performance, and applying technological innovations to enhance efficiency. Progressive Railroading Managing Editor Jeff Stagl traveled to Jacksonville, Fla., to dissect the CSX of Tomorrow strategy with CEO Michael Ward, CFO Frank Lonegro, CMO Fredrik Eliasson and other top officers.
Q&A with 2016 Railroad Innovator Award Winner Claude Mongeau
In May, Progressive Railroading and RailTrends® named former CN President and CEO Claude Mongeau the 2016 recipient of our annual "Railroad Innovator Award," which recognizes an individual's outstanding achievement in the rail industry. In the late 1990s and through the 2000s, Mongeau helped shape and drive the rail-acquisition strategy that extended CN's North American reach. And during his tenure as CEO, he has instilled a focus on supply-chain collaboration, keeping the Class I on the service-improvement track while the railroad remains razor sharp on the operational execution front. Mongeau, who stepped down from his CEO post June 30 due to health issues, will receive the award during RailTrends® 2016.
Passenger Rail:


NY MTA Four Years after Hurricane Sandy
On Oct. 29, 2012, Hurricane Sandy battered the East Coast and New York City, causing $5 billion in damage to the Metropolitan Transportation Authority (MTA) alone. The agency began repairing its railroads and subway within hours of the storm. Four years later, those improvements — as well as efforts to strengthen the system's resiliency against future storms — continue.
MOW:


Surfacing & Tamping Equipment
Tamping and surfacing are integral elements of railroads' maintenance-of-way (MOW) programs. They help roads boost track stability as well as operate more safely and efficiently. What are railroad MOW managers and contractors looking for when it comes to tamping and surfacing equipment? Cost-effective, user-friendly and reliably productive machines that enable them to complete tamping and surfacing projects quickly.
Mechanical:


Wheels, Axles & Bearings Technology
Freight-car and locomotive component suppliers are captive to the cyclical order rollercoaster. They also contend with raw material shortages as they attempt to develop new technology and services. Here, providers of wheels, axle and bearing technology share information on what's new (as well as tried and true) in terms wheel, axle and bearing technology.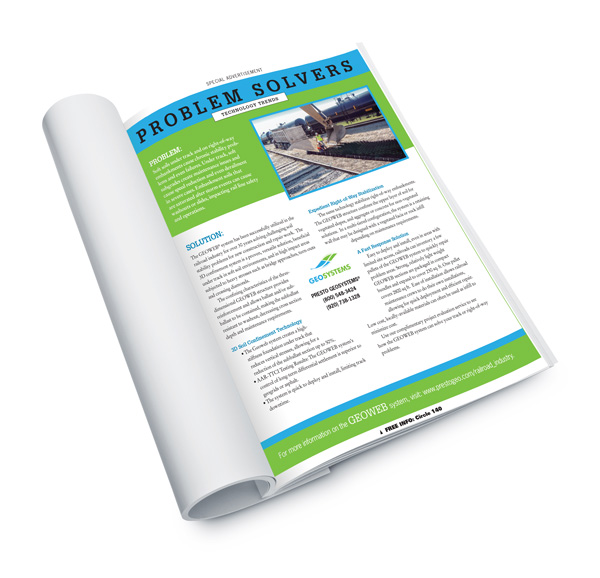 Special Advertising Opportunity:


Communication & Signaling Problem Solvers
Present a customer problem and share your company's experiences in solving it in this special advertising section that puts your words and pictures into our Problem Solvers page format. This page, which can be reprinted to be turned into a direct-mail piece, provides a unique way to strengthen customer loyalty and attract new business.
Bonus Distribution
Progressive Railroading's RailTrends® 2016 event November 17-18 in New York City