Newsletter Sign Up
Stay updated on news, articles and information for the rail industry
Rail News Home
Supplier Spotlight
August 2018
Rail News: Supplier Spotlight
Product update: Material handling equipment 2018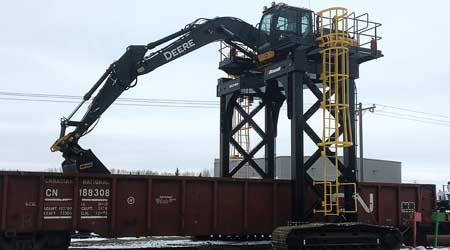 Compiled By Julie Sneider, Senior Associate Editor
Faced with tighter work windows, railroads seek equipment that can handle and distribute materials faster and with greater efficiency. They want machinery that's safe, easy to operate, flexible and affordable, yet provides greater output.
As a result, material-handling equipment suppliers are responding to those demands by designing new models or additional features to help railroads excavate soil, transport and unload rail, ties and ballast, or haul equipment to derailment sites.
Over the past year, several railroads also have sought material-handling equipment that can assist in the cleanup of hurricanes, flooding and other destructive weather situations.
So, what's new in the world of such equipment? To find out, Progressive Railroading recently reached out to a cross-section of material-handling equipment suppliers. Emailed responses from 10 companies follow.
Brandt Road Rail
In late 2017, Brandt debuted its Rail Straddle Carrier, a custom adaptation of John Deere's lineup of excavators that features an overhead platform and top-loading design for rail-car cleanout.
Positioning the excavator above the rail car eliminates operator blind spots and is more efficient than side unloading, which means there is no manual labor required to remove the last 5 percent of product from the car, Brandt officials said. In addition, rail-car damage is significantly reduced.
The Brandt Straddle Carrier platform is mobile and can be optimized for multiple John Deere excavator models, from 130 to 350. The ladder, cage and walkways meet ISO, OH&S, and SAE safety standards, and feature continuous three-point contact for safe operator access. Also, each component has been designed to simplify servicing at all preventative maintenance checkpoints, said company officials.
Available options include a ground-level fueling system, multiple custom cleanout buckets, additional lighting for night operation to improve safety and productivity, and an auto-lube system designed for ease of maintenance and increased component longevity.
Builtrite Manufacturing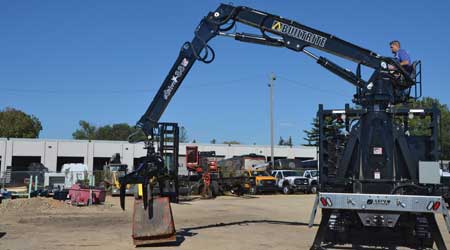 Builtrite supplies its Model 88-TM, a versatile loader built with performance and safety features for the railroad maintenance market. The unit features an A-frame stabilizer design and can be outfitted with fixed or swivel pads.
The hydraulics are run off of an on-demand, variable piston pump system, allowing operators to make smooth, precise movements. Because the unit runs more efficiently, less heat buildup is realized, Builtrite officials said. Boom offerings include a 22-foot, 10-inch straight boom and an optional 4-foot squirt boom extension. The continuous rotation systems feature a 27-inch heavy-duty rotation bearing and have additional hydraulic and electrical passes to run a variety of attachments, magnets or additional lighting. The 3,250 PSI operating pressure is ideal for running grapple saws, they said.
Meanwhile, the Builtrite Model 1010-TM was built with "excellent lift capacity, stability and safety features" to excel in the railroad maintenance market, according to the company.
The Model 1010-TM features an out-and-down stabilizer design for enhanced stability, and also can be outfitted with fixed or swivel pads. On this model, the hydraulics are run off of a triple gear pump system, which allows for simultaneous, multiple functions.
The 1010-TM's boom offerings include a 22-foot 6-inch straight boom with an optional 3-foot squirt boom extension, or a 24-foot main boom with a 3-foot squirt boom. The loader incorporates a fabricated main boom for enhanced strength and lift capacity. Also, the loader can be outfitted with either a 550-degree, non-continuous rotation option or a continuous rotation on a heavy duty, 27-inch rotation bearing, said Builtrite officials.
Custom Truck One Source
Composed of a Freightliner 114SD with a Detroit Diesel engine, a 22-foot heavy duty platform body, rail gear and a material-handling loader, Custom Truck One Source's (CTOS) Spec 755 material handler functions as a versatile and efficient material handler, company officials said.
The 755's platform body has been designed with attention to safety and efficiency. The body has rear and front bulkheads, AR500 steel plate decking, and removable side posts and wooden plank sides. Side access ladders have been bolted to each side of the body to allow personnel safe and easy passage to and from the platform.
Finally, the 755 comes with material tie-down winches and straps to ensure that material remains intact during transport. From the safety of the top-seat control station, the operator can operate the loader via two joystick controllers. The loader's boom can be extended at the operator's discretion. The loader also comes equipped with work lights, access ladders and stabilizers.
The grapple features continuous rotation, allowing the operator more freedom and less calculation when picking and stowing material. Two grapple styles are available: a railroad bypass or a railroad butt style. Both feature heavy-duty tines and magnetic hookup accommodations. Easily removable worn jaws can be swapped out in a timely manner, which minimizes downtime, CTOS officials said.
Georgetown Rail Equipment Co.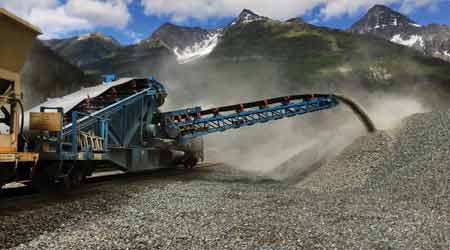 Over the last year, Georgetown Rail Equipment Co.'s (GREX) material handling equipment has been used to address several flooding events. No project was more challenging than last year's Hurricane Harvey recovery, during which large numbers of GREX DumpTrains and SlotMachines were used throughout southeast Texas and western Louisiana, GREX officials said. The ability of the units along with the SPS® self-powered slot made them a solution for delivering the variety of material sizes needed in such severe weather situations, they added.
GREX's newest machine, The DumpTrain for Curves, entered into service about two years ago. The units have been "tremendously popular" with customers, and additional units will soon be added to the workforce to keep up with demand, according to the company. These trains, along with the original DumpTrain, have worked in a variety of applications and conditions.
Later this year, GREX will introduce its newest version of the GateSync/Solaris aggregate delivery solution. The original product utilized a hydraulic-over-electric design to automate the opening and closing of the ballast gates. With more than 2,000 of the cars already in service, customer feedback was applied to further improve the product.
The update features the same unloading capabilities using wired toggles, wireless remotes or a completely automated unloading that uses a pre-dump survey to unload the train. However, the new upgrades on the original solution allow for faster train set-up times and longer train consists. The company has been testing this new functionality in several mainline applications. The solution was designed for pinpoint accuracy in ballast placement, decreased track time and a safer delivery solution for railroad employees, GREX officials said.
Herzog Railroad Services Inc.
Herzog Railroad Services Inc. introduced its CarTopper™ machine in 1975. The machine changed railroad OTM methodology and set Herzog on a path of developing customized equipment to meet the industry's needs, company officials said.
Today, Herzog's CarTopper, Multi-Purpose-Machine (MPM), Automated Conveyor Train (ACT) and GPS ballast trains are used in most North American railroad work programs, they said.
The company's patented equipment is designed and built in-house, and operated by trained maintenance personnel. Herzog's MOW service offerings are designed to meet the needs of today's shrinking work windows and make it safer to perform demanding field tasks.
Herzog's material handling services aim to help clients complete routine or unexpected tasks. The company's most versatile MOW service solution? The MPM, which can improve the speed and efficiency of performing multiple tasks — such as the pickup of OTM, ties, rail ballast and PTC equipment — within a single work window, company officials said.
Herzog's equipment optimizes ballast distribution for varying distances, quantities and locations regardless of environmental conditions. The high-speed, automated GPS trains (SMART & PLUS) provide precision ballast placement over long stretches of right of way. The new ACT is designed for high-volume unloading of multiple material types in a single consist, within curves, which saves track time.
Loram Maintenance of Way Inc.
Loram's Raptor Rail Handling System provides one solution that is more productive and safer than antiquated rail-handling technology, according to Scott Diercks, Loram's director of marketing and business development. While picking up an average of 3,000 feet of trackside rail per hour, the Raptor outperforms traditional rail-handling systems with twice the production ability and the capacity to accommodate larger rail sizes.
Loram's Raptor diminishes the risk of injury by retaining total control of the rail while loading and unloading, reducing the human interaction and providing safe and controlled work areas for cutting and joining, he said.
The lifecycle of rail includes four primary logistical components: transport of rail from steel mill or ship to welding plant, delivery of continuous-welded rail from plant to trackside, pickup of relay rail for reuse or re-welding, and pickup and disposition of scrap rail. The Raptor accommodates specific needs by offering a solution for every process of rail relay as opposed to a system focused solely on rail delivery, said Diercks.
The Raptor's modular design "easily" adapts to a family of machines that provides service in any of these four areas while incorporating design features that anticipate future expected changes of rail size and long rail delivery needs, he added.
Omaha Track Equipment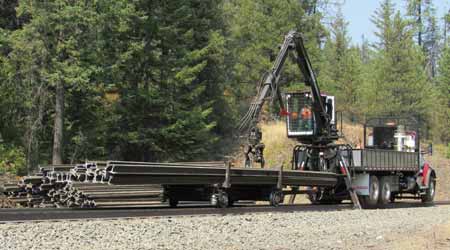 Omaha Track Equipment (OTE) has released its newly designed Custom Heavy-Duty Hi-Rail Carts. Designed to haul rail and ties, the carts are lighter in weight with higher capacity than OTE's previous carts, said OTE Sales Manager Paul Ward.
The carts must be hauled to and from work sites using a material handling truck with a 20-foot (minimum) length bed. The carts are placed on the track with an on-board crane.
Designed to hold up to 100,000 pounds, the carts increase rail-project productivity and efficiency by hauling more product to and from the worksite, according to Ward.
"Omaha Track Equipment is the only manufacturer offering standardized carts for these applications in the railroad industry," he said.
Both carts are equipped with insulated flanged guide wheels and each wheel has integral air actuated brakes. The rail cart has a 12-foot-long detachable pintle tongue extension, allowing for the handling of full "sticks" (39-foot, 6-inch) of rail.
The tie cart has a 4-foot-long detachable pintle tongue extension. The bunks on the rail carts are 6 feet wide by 2 feet high. The tie carts incorporate 8-foot-high fold-down stands on each end of the unit. The rail cart's curb weight is 4,000 pounds, and the tie cart is 5,000 pounds.
"The carts are designed to be light-weight but rugged," Ward said.
Pettibone Traverse Lift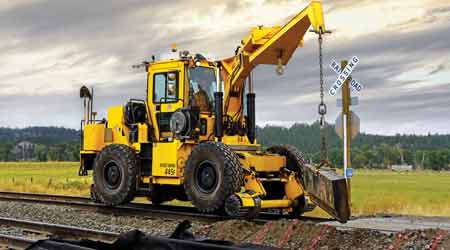 Pettibone has updated its "do-it-all" rail crane, the Speed Swing 445F, company officials said. Designed to be versatile for multiple railroad service applications, the 445F offers precise hydraulic engineering and ample power to lay rails, set ties and perform numerous other tasks, they said.
Powered by a Cummins QSB4.5 Tier 4 diesel engine that offers fuel savings up to 10 percent over the previous model, the Speed Swing 445F features a Dana T20000 3-speed transmission with twist grip electric shift control. The machine has a front load capacity of 10,000 pounds and side load capacity up to 8,000 pounds.
Operators can move the Speed Swing between job sites quickly, traveling at 25 mph on hi-rail and 20 mph with all-terrain rubber tires. The tires — along with four-wheel drive with a rear wheel disconnect — allow for greater maneuverability off the rails to simplify most jobs. The unit's four-wheel outboard dry disc service brakes provide stopping power. Providing 180-degree boom rotation, the 445F is used primarily to thread out old rail and thread in new rail. An optional magnet package is available for cleaning up old plates, spikes and small pieces of rail.
The unit also can tow rail carts, move rail cars and supply air or hydraulics for hand tools.
A ROPS/FOPS tilting cab and tilt engine enclosure provide direct access to service points and machine components. Additionally, an engine block heater keeps the machine working reliably in cold weather conditions.
Plasser American Corp.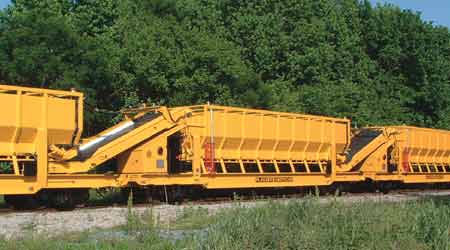 Plasser American Corp. produces conveyor and hopper cars designed to transport ballast, spoils or other material in train formation to and from various work sites. The advantage of the MFS model is its ability to transport, store, load, and unload material as a single unit or with other like units, company officials said. MFS cars are available in various sizes to meet customer needs.
MFS cars can be coupled to ballast undercutter/shoulder cleaners. The waste material is loaded directly from the ballast-cleaning machine. Storage capacity can be increased by coupling multiple MFS cars. When multiple units are coupled, half can be towed away to be unloaded while the ballast-cleaning machine continues working. Additional MFS cars, when loaded with new ballast, can feed the material directly into a ballast-cleaning machine for unloading directly onto the track.
The MFS cars also can be used in conjunction with a Plasser BDS100/200 Ballast Distribution System, ULS3000 Ballast Unloading Station and BLS2000 Ballast Loading System for cost-effective means of ballast management, company officials said.
The floor of the MFS consists of a wide, hydraulically variable speed driven conveyor belt. The front of the unit carries a rotatable, hydraulically driven conveyor for transferring material to another MFS Car, ballast-distributing machine, other railroad hopper cars or unloading the MFS car into highway trucks or onto the railway right-of-way. Each MFS car is individually powered with its own engine, hydraulic supply and electrical system.
Railquip Inc.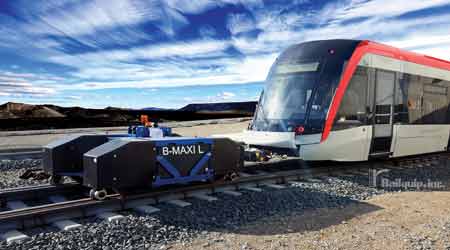 Moving rail vehicles by mechanical means involves a variety of potential hazards, such as pinch points, runaway vehicles, run-over possibilities and crushing opportunities. Railquip Inc. took unsafe conditions into consideration with the design of its B-Maxi battery-powered rail-car mover, according to Director of Sales James Skaggs.
The unit features conveniently placed emergency stop buttons and high-visibility rotating beacons and horn alerts that indicate the unit is in operation. The units feature instantaneous motor braking for controlled stopping, as well as remote-control operation that enables the operator to remain at a safe distance from the coupling area and equipment in motion. A battery-operated design ensures a quiet and emission-free operation, according to Skaggs.
Safety also was a factor in the design of Railquip's portable hydraulic re-railing equipment. The company's re-railing system utilizes a high-strength aluminum alloy to ensure robust-yet-portable equipment. Individual components are designed so that they can be quickly assembled at the derailment site into a safely operating system that "has the brute strength to re-rail even the heaviest locomotive," said Skaggs.
During the re-railing process, the lifting, moving and placing of equipment on track is controlled by the operator at the control desk, where he or she is at a safe distance from the site.
Older methods of re-railing — such as the use of cranes, cribbing, levers and intensive manpower in unsafe and unstable conditions — "have given way to this newer, economical, highly efficient and safer approach to getting back on track," said Skaggs.
Email questions or comments to julie.sneider@tradepress.com
---
Keywords
Browse articles on
material-handling equipment
Brandt Road Rail
Brandt
Builtrite
Custom Truck One Source
Georgetown Rail Equipment Co.
GREX
Herzog Railroad Services
Loram Maintenance of Way Inc.
Omaha Track Equipment
Pettibone Traverse Lift
Plasser American Corp.
Railquip Inc.
Contact Progressive Railroading editorial staff.