Newsletter Sign Up
Stay updated on news, articles and information for the rail industry
Rail Components Catalog
Track Products
Rail Fastener Applicators/Removers
Rail Industry Component:
Racine Railroad Products Inc.: Dual Clip Applicator
Racine Railroad Products Inc.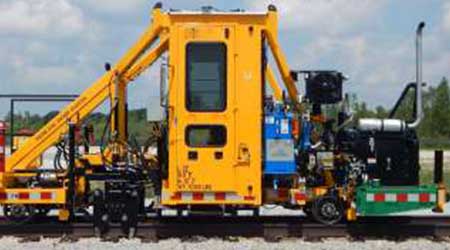 The Racine Dual e-Clip Applicator platform is a fully enclosed cab machine platform to be able to work both railssimultaneously or independently. 
The machine platform can be outfitted with either set of workheads: Dual e-Clip Applicator Workheads – to apply e-clips on concrete, wood or steel tiesExcellent VisibilityThe machine offers excellent operator visibility of the work zone, with the ability to see upcoming ties that need to be worked withoutovershooting them, increasing productivity and reducing wear on the machine travel components. The machine also has excellent unobstructedoperator visibility fore and aft when track traveling.Faster Cycle TimesProgrammable MD3 controlled automation has significantly faster cycle times than previous Racine machines, possibly eliminating onemachine from the tie gang and adding value to the railroad by reducing labor and maintenance costs.ControlsThe machine utilizes two joysticks to control each workhead independently. The MD3 control system can be easily programmed to changefrom one workhead set up to another. It also can be utilized to help troubleshoot machine maintenance issues.
Other Features
Fully cab enclosed with climatic a/c and heat controls for operator comfort. Equipped with a center "H" Frame turntable that sets on the rails to turn the machine around. Excellent accessibility to workhead components to perform routine maintenance. We also offer a variety of engine packages to choose from.
Specifications Dimensions: With e-Clip Apply Workheads - 264"L x 102"W x 123"H, 17,500 lbs.
Travel Speed: 30 MPH
Seating Cap: Three Occupants (One Operator, two passengers)
Cab: Enclosed Heat & A/C, full ergonomic seat with joystick controls