Newsletter Sign Up
Stay updated on news, articles and information for the rail industry
Rail Components Catalog
Track Products
Rail Anchor Applicators
Rail Industry Component:
Racine Railroad Products Inc.: Advanced Anchormatic
Racine Railroad Products Inc.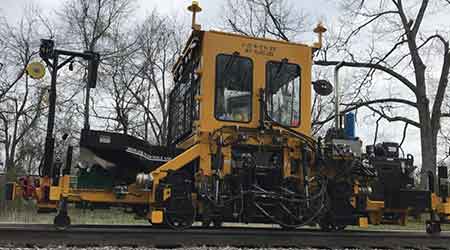 Excellent Visibility
The machine offers excellent operator visibility of the work zone, with the ability to see upcoming ties that need to be worked without overshooting them, increasing productivity and reducing wear on the machine travel components. The machine also has excellent visibility fore and aft when track traveling.
Easy Set-up and Operation—Reliable Service
Using simple adjustments and MD3 control technology ensures easy machine operation. Proven reliable workhead design provides years of trouble free service. Tooling available for all modern day anchor types.
Faster Cycle Times
Programmable MD3 controlled automation has significantly faster cycle times than previous Racine machines, possibly eliminating one machine from the gang and adding value to the railroad by reducing labor and maintenance costs.
Boxing Feature For In-track Welding Operations
"Exclusive" with the Racine Anchormatic is Boxing Lock-out or Selective Boxing. This feature gives you the opportunity to lock-out either side of the boxing feature, leaving one anchor a minimum of 2" away from the tie. No more anchors to knock off and then re-apply. A great labor saver.
Other Features
• Enclosed cab with HVAC system

• Bristle/strip door hopper access keeps conditioned air in and heat and dust out

• Hopper at 3000 anchor (heaped) which is twice the capacity than older Racine models

• Parker MD3 controls have faster/smoother cycles for higher production and less wear

• Crash protection for setter arms that stops cycle if encounters tie for added protection

• Equipped with a center "H" Frame turntable that sets on the rails to turn the machine around.

• Excellent accessibility to workhead components to perform routine maintenance. 
Specifications
Dimensions: 22' L x 8'W x 9' 9"H, 15,400 lbs.

Travel Speed: 30 MPH

Cab: Enclosed Heat & A/C, full ergonomic seat

Engine: Cummings 2.8L Tier IV engine requiring no DEF or Regen needed