Newsletter Sign Up
Stay updated on news, articles and information for the rail industry
Rail Product News
2/27/2017
Nokia: 7705 SAR-Hm wireless router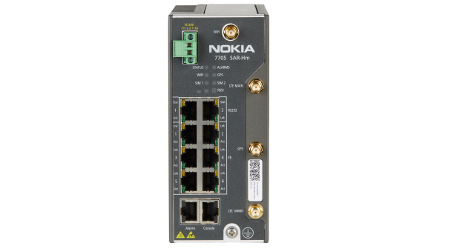 Nokia has introduced the 7705 SAR-Hm, an LTE/3G wireless router aimed at modernizing distribution networks for utilities.

The technology also has applications for other industries that require wireless connectivity of IP/MPLS services for field operations, including transportation, oil and gas, mining, and aviation, according to Nokia.

The newest addition to the Nokia Service Routing portfolio merges IP/MPLS and LTE/3G technologies to provide utilities "state-of-the-art wireless connectivity for grid devices located deep in a highly scalable distribution network," Nokia officials said in a press release.

This allows for new "smart grid" applications, including distribution automation, advanced metering and integration of renewable energy sources. It also lays the groundwork to support an anticipated massive increase in field devices with the Internet of Things (IoT).

Network operators, both public and private, will now have high-capacity connectivity in their power distribution grids and directly into field devices, as well as high levels of reliability, security and scalability for mission-critical applications and services, according to Nokia.

Because the 7705 SAR-Hm distributes intelligence wirelessly over the IP/MPLS transport network, devices in the field will now be able to communicate and make decisions without human intervention, and have greater flexibility, reliability and scale. This is "critical for a more responsive grid today" and supports the expected increase in IoT devices in the future, Nokia officials said.