Newsletter Sign Up
Stay updated on news, articles and information for the rail industry
Rail Product News
12/9/2016
Interrail: A 'one-stop shop'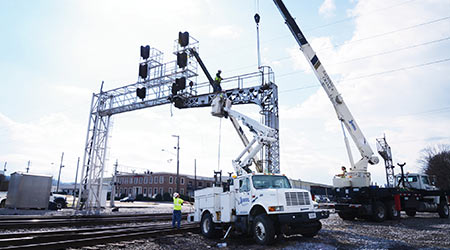 Interrail Inc. (comprised of Interrail Signal, Interrail Engineering, and Interrail Power) began its endeavor into PTC in the fall of 2010. Its goal was to assist its customers and the rail industry in adopting the new technology to meet federally mandated safety requirements.
PTC's advanced system, designed to automatically stop a train before certain accidents occur, perfectly aligned with Interrail's mission of ensuring quality, safety and reliability in all areas of railway train control. Providing the highest quality of service for PTC was a welcomed engagement.
At Interrail Engineering, the PTC group builds on the wayside equipment's program, which is supplied by Interrail's program group. The PTC group then programs the Wayside Interface Unit (WIU) that communicates signal and track information to the equipment on board the locomotive.
The field crew at Interrail Signal provides field construction services and testing on the wayside signals to make them compatible with PTC protocol. Interrail Signal has a crew of 180 men operating seven days a week in an effort to meet the 2020 deadline goal.
By offering railroads complete turn-key solutions through its three companies, Interrail Inc. is truly a "one-stop shop" for everything PTC.