Newsletter Sign Up
Stay updated on news, articles and information for the rail industry
Rail News Home
Passenger Rail
October 2017
Part 1 : Progressive Railroading's Passenger Rail at a Glance 2017: Preface
Part 2 : Progressive Railroading's Passenger Rail at a Glance 2017: Amtrak, California, & Colorado
Part 3 : Progressive Railroading's Passenger Rail at a Glance 2017: District of Columbia, Florida, Georgia, Illinois, & Louisiana
Part 4 : Progressive Railroading's Passenger Rail at a Glance 2017: New Jersey, New York, & Ohio
Part 5 : Progressive Railroading's Passenger Rail at a Glance 2017: Pennsylvania, Texas, & Washington
Rail News: Passenger Rail
Progressive Railroading's Passenger Rail at a Glance 2017: Amtrak, California, & Colorado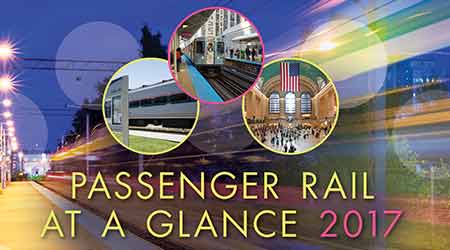 Appropriation: $1.6 billion (requested)
Amtrak is the U.S. intercity passenger railroad.
Service launched: 1971
Rolling stock: 376 Amtrak owned/leased locomotives; 20 Acela trainsets; two Cascades train sets; more than 1,400 passenger rail-cars
Annual ridership: 31.3 million (FY2016)
Requested appropriation: $1.24 billion, national network; $358 million, Northeast Corridor
Stations: 500-plus
Major capital improvement projects underway or scheduled to begin within the year: Amtrak is contracting with Alstom to produce 28 next-generation high-speed trainsets to replace the equipment used to provide Amtrak's premium Acela Express service. The contract is part of a $2.45 billion investment in infrastructure upgrades on the heavily traveled Northeast Corridor (NEC). The investment includes significant station improvements at Washington Union Station and Moynihan Station New York, as well as track capacity and ride quality improvements to the NEC that will benefit the Acela Express riders and other Amtrak and commuter passengers. Amtrak will also modify fleet maintenance facilities to accommodate the new trains. The prototype trainset is expected to be delivered in 2019 with the first trainset expected to enter revenue service in 2021.
CALIFORNIA
Operating budget: $920.6 million
Bay Area Rapid Transit (BART) is a rail system that carries approximately 430,000 passengers on a typical weekday between four counties in the San Francisco Bay area. The system runs on third rail propulsion power of 1,000 volts of DC electricity.
Service launched: 1972
Miles: 112
Rolling stock: 669 rail cars, average age 30 years
Cars/locomotives on order: 775 cars, manufactured by Bombardier Transit, expected delivery 2017-2021
Annual ridership: 126 million
Annual Operating budget: $920.6 million
Annual capital cost: $997.9 million
Stations: 46
Major capital improvement projects underway:
• In November 2016, BART won the support of nearly 70 percent of district voters for Measure RR, which will raise $3.5 billion in bond money to fund capital improvement projects throughout the district. Some of the highlights include $625 million for track replacement, $1.225 billion for rebuilding power lines and $400 million to rebuild the train control systems.
• In addition, BART is set to open two extensions in 2018. In May 2018, BART plans to launch eBART service, which will extend 10 miles from the Pittsburg/Bay Point Station into eastern Contra Costa County. The eBART project will use independently propelled rail cars known as diesel multiple units (DMUs) that will operate on standard gauge rail. These rail cars are a cost-effective way to expand BART's reach.
• BART's expansion into Silicon Valley is also in the final testing phases. Valley Transportation Authority is building a 10-mile extension that includes new stops in Milpitas and the Berryessa District of San Jose. Once construction and testing are complete the extension will be turned over to BART to operate. The extension is expected to be ready for riders in 2018.
Operating budget: $1.6 billion
The Los Angeles County Metropolitan Transportation Authority (Metro) is the public transportation agency for Los Angeles County. It was formed in 1993 out of a merger of the Southern California Rapid Transit District and the Los Angeles County Transportation Commission. It is chartered under state law as a regional transportation planning agency. Metro directly operates bus, light rail, heavy rail and bus rapid-transit services. It provides funding and directs planning for commuter rail and freeway/expressway projects within Los Angeles County. Metro also designed, built and now operates 105 miles of urban rail service.
Service launched: light rail, 1990; heavy rail, 1993
Miles per mode: light rail, 88.1; heavy rail, 17.4
Rolling stock: Light-rail fleet consists of 171 vehicles manufactured by Nippon Sharyo, Siemens and AnsaldoBreda. An additional light-rail fleet consisting of 235 vehicles is being manufactured by Kinkisharyo with deliveries occurring FY16 through FY20. Some vehicles already have been placed into revenue service. There are 104 Breda A650 vehicles providing heavy-rail service for the Red and Purple lines. The first 30 have an average age of 23.3 years with an average of more than 767,000 operating miles per car. The remaining 74 HRVs have an average age of 17.6 years with more than 1.2 million operating miles per car.
Annual ridership: light rail, 65,829,121; heavy rail, 45,629,352
Annual operating cost: $1.6 billion (Metro rail and bus, FY2017)
Total operating capital: $336.7 million (FY2017 budget)*
Stations: light rail, 82; heavy rail, 16
Major capital improvement projects include:
• The Metro Crenshaw/LAX Line will extend from the existing Metro Exposition Line at Crenshaw and Exposition boulevards. The Line will travel 8.5 miles to the Metro Green Line and serve the cities of Los Angeles, Inglewood and El Segundo; and portions of unincorporated Los Angeles County. The extension will serve the Crenshaw District, Inglewood, Westchester and surrounding area with eight stations and include two park-and-rides, roadway and landscaping improvements, as well as the new Southwestern Yard maintenance facility with the capacity to service and store up to 70 light-rail vehicles using the new Crenshaw/LAX Line and existing Green Line. Cost: $2 billion. Design-builder (transit corridor) Walsh-Shea Corridor Constructors. Southwestern Yard maintenance facility: Hensel Phelps/Herzog. Rolling stock: Kinkisharyo International. Duration and status: Design-build notice to proceed issued September 2013. Construction began January 2014. Revenue service is estimated to begin October 2019.
• The Purple Line Extension will provide a high-capacity, high-speed line for commuters to travel to downtown Los Angeles and Westwood in 25 minutes. The extension will be built in three sections and continue from the current station at Wilshire/Western, extending westward about 9 miles along Wilshire Boulevard. The extension will include seven new stations and will be built in three phases. Life-of-project budget is $7.85 billion.
• The Regional Connector will extend from Metro Rail's Little Tokyo/Arts District Station to the 7th Street/Metro Center in downtown Los Angeles, allowing passengers to access the Gold, Blue, Expo, Red and Purple lines. The 1.9-mile addition will serve Little Tokyo, the Arts District, Civic Center, the Historic Core, Broadway, Grand Avenue Bunker Hill, Flower Street and the Financial District. The extension will also provide a one-seat ride for travel across Los Angeles County. Passengers will be able to travel between Azusa and Long Beach and between East Los Angeles and Santa Monica without transferring lines. The Regional Connector will improve access to both local and regional destinations by providing continuous service between these lines, as well as providing connectors to other rail lines at 7th Street/Metro Center, greatly improving the connectivity of the region's transportation network. Life-of-project budget: $1.756 billion. Forecasted opening: 2021.
*Information source: LACMTA website
Operating budget: $244 million
Metrolink is Southern California's regional commuter-rail service. The railroad is a Joint Powers Authority governed by an 11-member board representing the transportation commissions of Los Angeles, Orange, Riverside, San Bernardino and Ventura counties. Metrolink operates seven routes through six counties. Metrolink's passengers travel 441 million miles each year. It is the third largest commuter-rail agency in the United States based on directional route miles and the eighth largest based on annual ridership.
Service launched: 1992
Route Miles: 538
Rolling stock: 51 locomotives, average age 18 years; 258 rail cars, average age 13 years
Cars/locomotives on order: 40 F125 EMD locomotives; expected delivery in 2017-2018
Annual ridership: 11,640,267
Annual operating cost: $243.8 million
Annual capital cost: $359.7 million (FY2017-18 adopted)
Stations: 59
Major capital improvement projects:
• Van Nuys Station platform — This project will convert a single side boarding platform into a center boarding platform that serves both mainline tracks. Improvements include construction of intertrack fencing, pedestrian undercrossing, stairs, ramps and platform, along with fiber optic relocation, and track and signal improvements. Cost is $31 million. Contractor: Kiewit Construction. Construction expected to be complete in spring 2019.
• EMD F125 Tier-4 locomotives — Procure 40 Tier-4 Electro-Motive Diesel F125 locomotives at a cost of $280 million. Contractor is Progress Rail. Final delivery is expected in spring 2019.
• Ticket vending devices — Provide 155 ticket vending devices (TVD) across the Metrolink system. Cost is $30 million; contractor is yet to be determined. Completion is expected in 2020.
• Grade crossing improvements — Construct grade crossing improvements at four locations on the San Gabriel Subdivision. Cost is $8 million. Contractor is Sully-Miller. Estimated completion for two crossings is fall 2017; two other crossings, early 2018.
Operating budget: $963.2 million
The San Francisco Municipal Transportation Agency (MTA) oversees transit, streets and taxis in San Francisco.
Service launched: Light rail, 1860
Miles per mode: Light rail, 71.5 miles
Rolling stock: 151 light-rail vehicles
Cars/locomotives on order: 260 S200 light-rail vehicles on order from Siemens, with expected delivery in fall 2017
Ridership: 130,000 average weekday
Operating budget: $963.2 million (FY2016)
Annual capital cost: NA
Stations: Nine
Major capital improvement projects underway: Central Subway section of the T Third Line. Estimates are that it will carry 35,100 riders per day by 2030. The Central Subway is projected to be completed and ready for revenue service by 2019 at a projected cost of $1.578 billion. Also, the Twin Peaks Tunnel construction, to be determined.
COLORADO
Operating budget: $626 million
RTD provides a mass transportation system for 2.9 million people in the RTD service area. The agency provides light-rail service to Denver and its southern and western suburbs, and a commuter-rail line to Denver International Airport as well as Denver's northern suburbs. It has nine rail lines serving stations along Denver's North, East, Southeast, Southwest and West rail corridors.
Light-rail Service launched: 1994
Track Miles: light rail, 58.5; commuter rail, 29
Rolling stock: 172 light-rail vehicles, 66 commuter-rail vehicles
Annual ridership: light rail, 24.6 million (2016); commuter rail, 4.3 million (2016)
Annual Operating budget: $626.1 million (2017)
Annual capital budget: $1.2 billion (2017)
Stations: 62 light rail; 9 commuter rail
Major capital improvement projects: RTD is developing the G Line light-rail service, referred to as the Gold Line during construction. The agency does not yet have an opening date for the new line, which will extend 11 miles between Union Station and Wheat Ridge, passing through northwest Denver, Adams County and Arvada.
*Information source: rtd-denver.com
previous page
next page
---
Keywords
Browse articles on
Amtrak
Bay Area Rapid Transit
Los Angeles County Metropolitan Transportation Authority
Metrolink
San Francisco MTA
Regional Transportation District Denver
Contact Progressive Railroading editorial staff.