Newsletter Sign Up
Stay updated on news, articles and information for the rail industry
Rail News Home
Maintenance Of Way
2/5/2019
Rail News: Maintenance Of Way
GAO: WMATA needs to improve capital planning, preventive maintenance program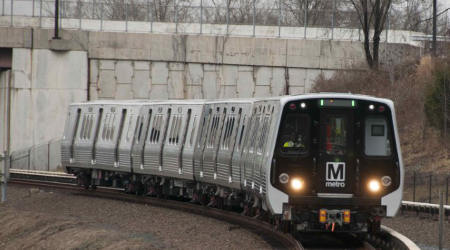 The U.S. Government Accountability Office (GAO) recently issued five recommendations to the Washington Metropolitan Area Transit Authority (WMATA) on ways to strengthen its capital planning and track preventive maintenance program.

The GAO released a report Jan. 31 that examines how WMATA spent its capital funds from fiscal years 2011 through 2017; how its new capital planning process addresses weaknesses that were identified in the prior process; and its progress toward meeting a track preventive maintenance program's goals. In part, the federal agency compared WMATA's capital planning process and track maintenance program with leading industry practices.

U.S. Sens. Mark Warner (D-Va.) and Tim Kaine (D-Va.), and U.S. Reps. Ben Cardin (D-Md.) and Chris Van Hollen (D-Md.) had requested the GAO study because they were concerned about WMATA's capital funding of and processes for performing track maintenance work and replacing capital assets after multiple safety lapses.
GAO found from FY2011 through FY2017, WMATA spent almost $6 billion on a variety of capital assets, with the largest portion on improving its rail and bus fleet. The transit agency had established a framework for quantitatively prioritizing capital needs over a 10-year period.

But WMATA has not established documented policies and procedures for implementing the new process, such as those for selecting specific projects for funding in its annual capital budget, the GAO found.

"Without documented policies and procedures for implementing the new planning process, WMATA's stakeholders do not have reasonable assurance that it's following a sound process for making investment decisions," the GAO report states.

Meanwhile, the transit agency has made significant progress toward its track preventive maintenance program's goals to reduce both track-defect and electrical-fire incidents by 50 percent in FY2019 versus FY2017, according to the report. In FY2018, WMATA met its goal for reducing track defect incidents and reduced electrical fire incidents by 20 percent. However, in designing the program, it did not fully assess risks, the GAO found.

"Without a comprehensive risk assessment, WMATA lacks reasonable assurance that the program is designed to address risks affecting the safety of the rail system or other risks that could hinder the new program's success," the report states.

The GAO recommends that WMATA:
• establish documented policies and procedures for the new capital planning process that include methodologies for ranking and selecting capital projects for funding in the FY2020 capital budget and for future planning cycles;
• create performance measures to be used for assessing capital investments and the capital planning process to determine if they've achieved their planned goals and objectives;
• develop a plan for obtaining complete information regarding asset inventory and physical condition assessments, including assets related to track and structures;
• conduct a comprehensive risk assessment of the track preventive maintenance program that includes both a quantitative and qualitative assessment of relevant program risks; and
• prepare a formal program management plan for the track preventive maintenance program that aligns with the strategic plan, addresses how the program is linked to overall strategic goals and objectives, and includes program milestones and decision points.

The senators and representatives who requested the study issued a joint statement commending the GAO's work as well as WMATA's ongoing efforts to address the recommendations.

"We plan to give this information careful consideration as we move forward to introduce important WMATA legislation in the coming weeks," they said.
Contact Progressive Railroading editorial staff.
More News from 2/5/2019