Newsletter Sign Up
Stay updated on news, articles and information for the rail industry
Rail News Home
MOW
August 2018
Rail News: MOW
Technology roundup: Rail safety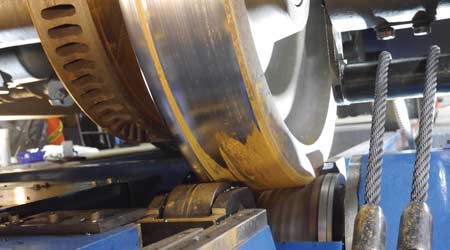 — Compiled by Michael Popke
Between 2015 and 2017, the number of railroad employee-on-duty injuries and deaths dropped 5.5 percent, from 4,435 to 4,189, according to Federal Railroad Administration (FRA) data. The number of rail worker fatalities remained in the low double-digits: 11 in 2015, 14 in 2016 and 12 in 2017. Through April 2018, seven workers had died on the job this year.
Most rail-related deaths and injuries (94 percent) occur at grade crossings or are the result of trespassing, according to FRA data. That's why the administration continues to make public awareness of crossing safety and trespassing consequences a top priority.
Among the FRA's newest tracking tools is GX Dash!, which provides an analysis of crossing (GX) collisions, deaths and injuries over the past 10 years. Aggregated information can be used to determine trends, as well as break down data by state and county, type of vehicle, vehicle position, time of day, the presence or absence of warning devices, and more.
Railroads track those trends, too, and they tap technologies to improve safety. What's new, as well as tried and true, on the safety product and services fronts? For answers, Progressive Railroading last month reached out to suppliers and asked them to highlight their latest offerings. Emailed responses from six companies follow.
Simmons Machine Tool Corp.
Used to maintain freight locomotive and heavy-rail vehicle wheelsets worldwide since 1949, Simmons Machine Tool Corp.'s Stanray® Wheel Truing Machine is a metal-cutting milling machine. It's designed to remove routine wheel wear, flat spots, shelling and other wheel imperfections to bring the wheel back to its optimal wheel profile. Properly managing wheel wear and maintaining the optimal wheel profile decreases derailments, as well as damage to other wheelset and rail vehicle components. It also reduces wear on rail infrastructure.
The Stanray's design offers the additional benefit of keeping maintenance facility personnel safe, company officials said. The machine's underfloor configuration means that wheelsets can stay on the vehicle during the wheel truing process. The position of the operator panel (away from the rail vehicle) provides shop workers a safe distance from the metal cutting process while enabling them to monitor machine operation.
The metal-cutting milling process produces small metal chips that allow for easy containment and disposal, and the machine's automatic cutting cycles result in an optimal wheel profile cut, regardless of the operator's skill level, company officials said.
Miller Ingenuity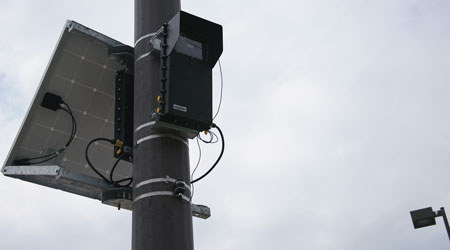 Miller Ingenuity
Miller Ingenuity offers ZoneGuard, an electronic roadway worker protection system designed to provide workers with an extra layer of protection. ZoneGuard comprises four different sensor technologies — LiDAR, radar, infrared camera and accelerometer — and accurately detects oncoming track vehicles entering a work zone, alerting roadway workers via a wearable device with an audible and physical alarm, company officials said.
ZoneGuard's flexibility has been tested in a range of challenging operating environments, including within high-noise urban environments, under high power lines and across multiple tracks, company officials said. It does not require on-board installation to operate, and the system's on-board component is able to integrate with positive train control (PTC) implementation.
The system's cloud-based web portal also provides customers with real-time worker/work zone information, as well as efficiency and safety performance reports to ensure crews are in compliance with federal and customer-specific safety rules. The system can be affixed to permanent structures such as a catenary pole, or transported to each job site using one of the company's compact, lightweight portable units.
Pintsch Tiefenbach U.S. Inc.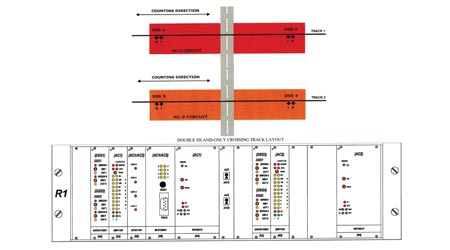 Pintsch Tiefenbach
Pintsch Tiefenbach U.S. Inc. has offered axle-counting technology solutions for nearly two decades. Applications include grade crossing systems, interlocking plants, block signaling applications and yard automation. These fail-safe systems have proven themselves in mainline freight and high-speed passenger operations, company officials said.
In northern climates, road salts and other chemicals cause shunting sensitivity problems in island track circuits, and the result can be false activations and other safety failures throughout the winter months. Pintsch Tiefenbach's "virtual track circuit" technology replaces the island track circuit: The vital, axle-counting system is immune to shunting sensitivity issues, rusty rail, electromagnetic interference and other problems that afflict traditional track circuits, according to the company. It also works when the track and structure are underwater.
The island replacement process works when two double-wheel sensors are installed at the boundaries of the island circuit. These are connected to an electronics package mounted in the relay house, which is then interfaced to the existing crossing system that serves the approach circuits.
Protran Technology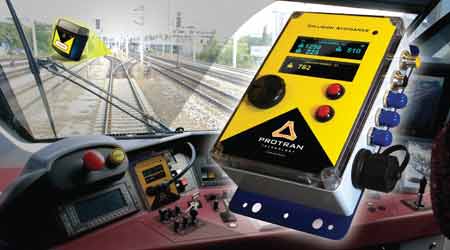 Protran Technology
A secondary warning solution that works within a transit agency's current standard operating procedures, Protran Technology's Protracker system has been protecting roadway workers for almost 10 years, the company says. Protracker consists of a vehicle-mounted device that transmits a warning to a personal alert device (PAD) worn by a railway worker. The PAD alerts the worker of an approaching train or other railway vehicle entering a work zone.
The system activates when the train unit and PAD are within a specified distance. Speed and time thresholds are configured by personnel in a shop environment. The system also can optionally require railway workers to activate a "confirm" button to acknowledge the alert. Once acknowledgement of the approaching rail vehicle is received, a confirmation is sent back to the vehicle's operator, and the transaction is logged in the train-mounted device. The Protracker system meets NTSB R-08-04 and has logged nine years of revenue service with thousands of systems in operation, company officials said.
Alternate configurations of the Protracker system include a portable unit and the new ProAccess solution, which can track workers on rights of way at any given time.
PS Technology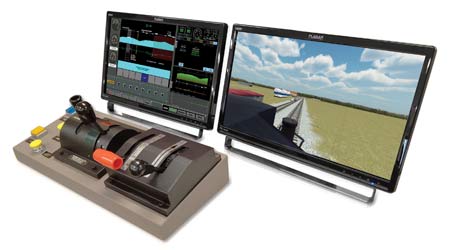 PS Technology
PS Technology offers what it terms as a "whole solution" to training engineers and conductors in PTC environments. It includes training, testing and a virtual environment for demonstrating competence.
"Unlike many simulation tools, this product, called PTC Prime, can be rented on a weekly basis with no obligation to purchase," company officials said.
PTC Prime comes with a scaled control unit, a digital locomotive touch-control screen and a forward-looking "window" screen.
The training uses a self-proctored, blended e-learning approach offered by universities. Material is presented in a self-directed, interactive video environment that does not require direct instructor presentation or monitoring. Testing involves multiple-choice quizzes at various stages. If wrong answers are selected, the system reinforces the correct answer to help students continuously learn the proper knowledge.
In addition to multiple-choice quizzes, practical tests require participants to put what they've learned into practice, including recognition of all warnings and notifications that occur in locomotive cabs in the PTC environment.
Scoring is maintained remotely and can be monitored and downloaded.
"This training has been derived from Class I railroads, but has been prepared specifically for holding companies and short-line railroads for a fraction of the cost of full-blown simulators and training," company officials said.
Training typically takes between six and eight hours to complete.
Railhead Corp.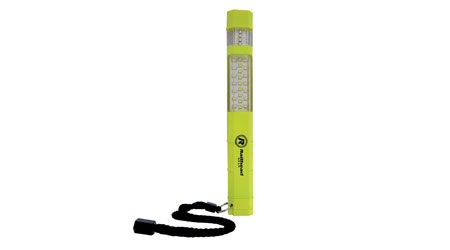 Railhead Corp.
Railhead Corp. provides railroads with a range of safety products, from blue flags to cut-resistant gloves to The Switchman's Stick®.
Designed as a replacement for the traditional trainman lantern, The Switchman's Stick is lighter, brighter and easily fits in a pocket, on an attached lanyard or on work clothes via a carabiner. It's a multifunction tool with a built-in flashlight (100 lumens), a work light (200 lumens), a blue signal light (9 lumens) and a white signal light (63 lumens). Having these multiple functions incorporated into one stick reduces the number of items that a trainman must carry to perform designated duties, as well as makes the process more convenient, company officials said.
It measures 9.84-by-1.18 inches and operates on four AAA batteries. Integrated magnets enable it to be placed in various locations on a locomotive. The function light is available in red, blue and clear.
Michael Popke is a Madison, Wisconsin-based freelance writer. Email comments and questions to prograil@tradepress.com.
---
Keywords
Browse articles on
rail safety
Federal Railroad Administration
Simmons Machine Tool
Miller Ingenuity
Pintsch Tiefenbach
Protran
PS Technology
Railhead
Contact Progressive Railroading editorial staff.