Newsletter Sign Up
Stay updated on news, articles and information for the rail industry
Rail News Home
Federal Legislation & Regulation
5/22/2019
Rail News: Federal Legislation & Regulation
NTSB: Inadequate planning, training led to fatal Amtrak derailment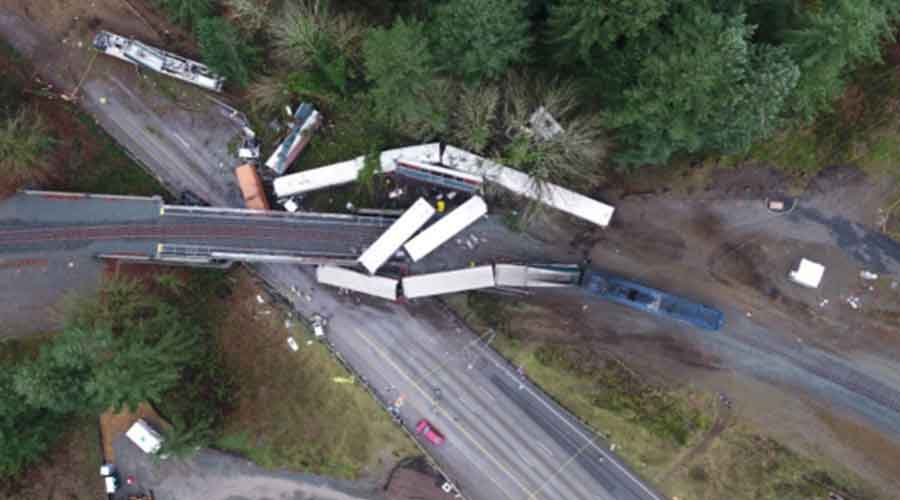 Failure to provide effective mitigation of a hazardous curve and the inadequate training of the locomotive engineer led to the deadly derailment of an Amtrak train near Dupont, Washington, in late 2017, the National Transportation Safety Board (NTSB) announced yesterday.

Three of 77 passengers were killed and 65 others were injured on Dec. 18, 2017, when Amtrak Cascades train 501, on its inaugural run on the Point Defiance Bypass between Seattle and Portland, Oregon, derailed on an overpass as the train entered a 30-mph curve at about 78 mph.

The injured were 57 passengers and crew members onboard the train and eight people on the highway below the overpass.

Sound Transit failed to adequately address the hazard associated with a curve that required the train to slow from 79 mph to 30 mph to safely travel through it. Positive train control (PTC) was not in use for the track at the curve, the NTSB announced during a public meeting held to discuss the accident's cause.

"This is the third fatal overspeed passenger train derailment the NTSB has investigated since 2013," said NTSB Chairman Robert Sumwalt in a press release. "All three have the same thing in common: Each could have been prevented by positive train control."

Although the engineer was somewhat familiar with the route from observational rides and three training runs, the day of the accident had been the first time he operated on that route in revenue service — and on a locomotive on which he had very little experience, the NTSB determined.

Amtrak had equipped the locomotive with an inward-facing image recorder that allowed investigators to reconstruct a narrative of the engineer and conductor's words and actions. The engineer told investigators that he did not see a posted speed reduction sign, and recordings show he took no action to reduce the train's speed before the derailment.

NTSB investigators also found that the trainset did not meet current crashworthiness standards and was permitted to operate only through a "grandfathering agreement" with the Federal Railroad Administration (FRA). The train was structurally vulnerable to high-energy derailments or collisions, the board determined.

Responsibility for the planning, safety and oversight of the Cascades operation involved Amtrak, the Washington State Department of Transportation (WSDOT), the FRA and Sound Transit, board members said.

"Investigators found there was a general sense that none of the participants fully understood the scope of their roles and responsibilities as they pertained to the safe operation of the service, which allowed critical safety areas to be unaddressed," the NTSB press release stated.

The investigation prompted the NTSB to issue 26 safety recommendations to the FRA, WSDOT, Oregon Department of Transportation, Sound Transit and the U.S. Department of Defense. The board also reiterated three recommendations to the FRA.

The board's final report will be available in several weeks. An abstract of the findings, probably cause and safety recommendations is available via this link.



Contact Progressive Railroading editorial staff.
More News from 5/22/2019