Newsletter Sign Up
Stay updated on news, articles and information for the rail industry
Rail News Home
Canadian National Railway - CN
July 2019
Rail News: Canadian National Railway - CN
Rising Stars 2019: Shannon Emberly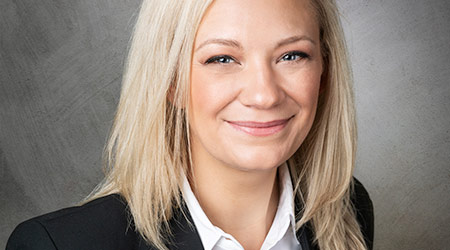 Shannon Emberly, 32
Production manager
CN
Nominator's quote: "Shannon epitomizes CN's core values of working together to deliver safety and responsibility, operational and service excellence, enable supply chain and create value for shareholders and customers. She is a safety champion for the organization and a model employee from whom others learn." — Emilia Marceta, Metrolinx
Why did you go into railroading?
I guess you could say I was born into a railroad family. My father has worked for CN for over 39 years in the supply management department. His pride and love of the company certainly influenced my decision to pursue a career at CN — one that I do not regret. At my father's suggestion, I applied to an open clerical position in CN's transportation department. I haven't looked back since.
Describe your education after high school.
While pursuing a bachelor's degree in business administration at Concordia University, I had a promotion opportunity. Taking the job required me to transfer to Toronto, so I was not able to complete the degree I was pursuing. I continue to learn on the job and outside of work. Recently, I completed a project management program at the University of Toronto.
How are you making a difference in the rail industry?
Integrity and safety are my focuses. When it comes to people and track safety — the most important aspects of our industry — it's critical to do the right thing, which can be uncomfortable or a significant challenge at times. I continuously encourage my team to act with integrity daily so that together we continue to make CN the best railroad on the continent.
What is an interesting fact about you?
I climbed Mount Kilimanjaro in 2018. This challenge taught me fear can be a good thing. Overcoming fear creates a mental toughness that will pay dividends not only when you're trying to climb a mountain, but also in your work and personal life.
What was your very first job?
My first job was a cashier position at a local grocery store in high school.
What is your philosophy toward life and your career?
I learned to keep active and healthy — which not only improved how I felt and lived, but also contributed to success at work. It has really helped me be a better employee and manager. I am less stressed, and a more focused, productive and positive person.
What is your advice to new railroaders who want to advance their careers?
I have learned that focusing on myself outside of work and performance while on the job is key. Find balance and the results will follow. Focusing on being positive and addressing your weaknesses head on is critical. Railroaders are also the "straight to business" type of people. It is important to do what you say you are going to do, and be dependable and reliable for others on your team.
What will be the biggest trend to affect railroading over the next decade?
Autonomous track inspection, advances in rail flaw detection and the use of drones for right-of-way and bridge inspections.
---
Keywords
Browse articles on
Shannon Emberly
CN
Rising Stars
Contact Progressive Railroading editorial staff.