Newsletter Sign Up
Stay updated on news, articles and information for the rail industry
<< Rail News Home: BNSF Railway
3/15/2017
Rail News: BNSF Railway
BNSF agrees to contamination cleanup plan in Spokane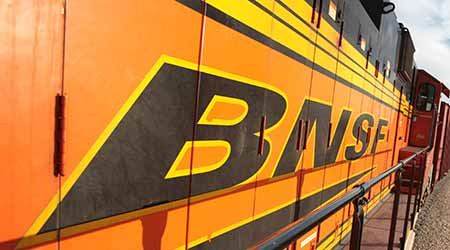 BNSF Railway Co., Husky Energy, the Washington State Department of Ecology and Washington State Department of Transportation (WSDOT) have agreed on a framework for the environmental cleanup of an underground oil contamination area in northeast Spokane that is within the alignment of the North Spokane Corridor freeway project.

The framework sets the basis for WSDOT to continue design and construction of the corridor freeway in a way that aligns the department's legislative funding and construction schedule with the ecology department's obligation to ensure a thorough cleanup of the "Black Tank" contamination site, according to a press release issued by the state, BNSF and Husky Energy.

Also, the framework outlines the right-of-way access provisions to the BNSF property needed to keep the freeway profile within the project's approved footprint, and close to WSDOT's original final environmental impact statement plan.

The framework sets a 20-year restoration timeframe for the site, which will include pilot tests that will allow final cleanup decisions to be based on performance at the site.

All four parties worked together over the past 18 months to develop the agreement. It's a win for all involved, including community members that expressed various concerns such as the impact on neighborhood aesthetics and the need for more expensive bridges and infrastructure maintenance costs, officials said.

"We are focused on moving forward with the remediation of the Black Tank site in partnership with our stakeholders and look forward to continued collaboration," said Allen Stegman, general director of environmental at BNSF.

"Cleaning up the Black Tank site remains our top priority, and we're committed to ensuring a safe groundwater supply for Spokane," said Jim Pendowski, program manager of the ecology department's toxics cleanup program manager. "We're pleased that by working with WSDOT, Husky, and BNSF, we're on the path toward the community-preferred freeway alignment and achieving an effective cleanup."
---
Keywords
Browse articles on
BNSF Railway Co.
Husky Energy
Washington State Department of Ecology
Washington Department of Transportation
Black Tank
North Spokane Corridor freeway
Contact Progressive Railroading editorial staff.