By Grace Renderman, Associate Editor
After the turmoil the world has experienced the past two and a half years, holiday trains will be a welcome sight in many North American communities this year.
As the pandemic raged in 2020, most traditional holiday train events were canceled. While some trains returned in 2021, more are returning to the tracks this year.
Many freight railroads are running freight train events that offer a range of holiday-themed entertainment and charitable giving, from live concerts to on-board tours with Santa to collections of cash, coats, toys and nonperishable food donations.
For example, Canadian Pacific and Kansas City Southern have announced the return of their respective holiday train programs for the first time in three years. The CP Holiday Train comprises two trains with stops in the United States and Canada beginning Nov. 22 and ending Dec. 18, while KCS's Holiday Express will begin running through the states starting Nov. 23 and wrapping up Dec. 18.
CSX's Santa Train will also run this year on Nov. 19 in the same drive-thru format it's used since the pandemic began. Before the pandemic, the Class I had a more traditional format that allowed for in-person visitation and the gathering of crowds.
Despite the absence of the Holiday Express, KCS continued to raise money for its partner The Salvation Army throughout the 2020 and 2021 holiday seasons.
"While the absence of the Holiday Express train the last two years was certainly disappointing, the charitable component of raising funds for The Salvation Army continued during that time to lessen the impact of the train's absence," KCS spokesperson Doniele Carlson said in an email.
In 2020, KCS raised more than $277,000 in support of The Salvation Army to celebrate the 20th anniversary of the modern Holiday Express. The funds went to support 20 communities along the KCS network, Carlson said. The two organizations have worked together since the program's 1997 inception.
CSX has operated the Santa Train since 1943. The program provides clothes, food, toys and school supplies directly to the children and families of rural Appalachia, which is a historically impoverished region of the United States, says Bryan Tucker, the railroad's vice president of corporate communications.
Two years ago, the Class I swapped out the traditional format for a more COVID-friendly one by partnering with Food City, a grocery store chain in the U.S. Southeast, to provide backpacks full of goods to families that would previously gather them at the train stops. Certain stores provide those bags, prepacked by volunteers, for families to pick up for free, he says.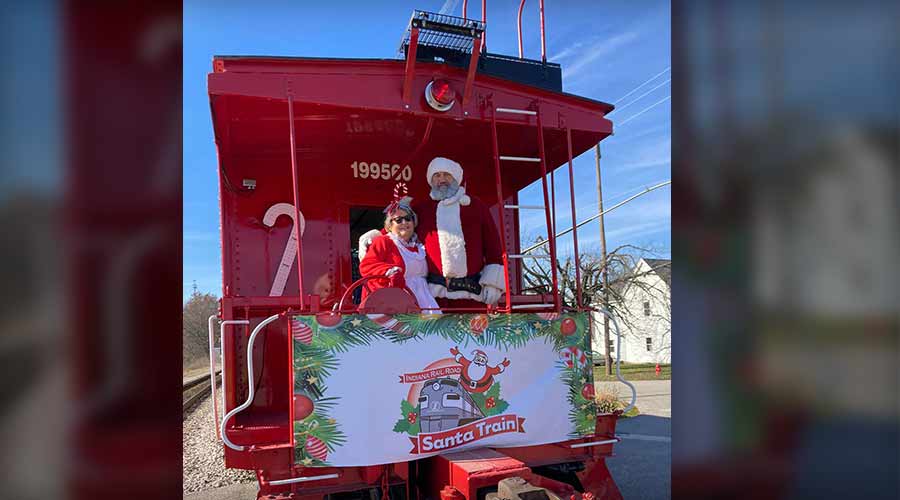 Indiana Rail Road Co.
"You get folks coming from miles around," Tucker says. "The train didn't used to … actually come to a halt at the different stops. They used to throw candy and things off of the back of it and the kids would run out and grab the candy from the middle of the tracks."
Of course, CSX now uses much safer practices by bringing the train to a complete halt at each stop and providing safety professionals to manage crowds. It even color-codes the backpacks according to gender, with age-appropriate options ranging from toddler to teen, Tucker says. CSX gives away about 15 tons in goods every year to thousands of people, he estimates.
"Appalachia has its challenges from an economic standpoint, and there are a lot of folks that need as much Christmas joy as they can possibly get," Tucker says.
Operation Toy Train spreads holiday cheer
Short lines and regionals have holiday trains of their own, too. Operation Toy Train launched in 2009 as the result of a coalition of four U.S. Northeast railroads — Dover and Delaware River Railroad, Dover and Rockaway River Railroad, Middletown & New Jersey Railroad, and New York, Susquehanna & Western Railway. Since the launch, the railroads have worked with the Marine Corps and Toys for Tots to get toys to families in need.
Operation Toy Train typically stops at two-dozen towns in New York and New Jersey across two weekends in December, this year from Dec. 3 to 4 and Dec. 10 to 11. Originally running on just one trainset with a single box car, the organization now operates two trainsets with several box cars each. The staff has also doubled from six to 12 people; during the holiday season, up to 60 people — both staff and volunteers — make Operation Toy Train happen.
"It's so much quantity of toys that our guys actually work in the baggage car in between stops to continue to sort and pack toys," says Rudy Garbely, the operation's director and media coordinator.
Before joining Operation Toy Train, Garbely previously worked for Morristown & Erie Railway, a short line that used to be involved with the operation.
"These guys … sort through thousands and thousands of toys in four days to count them," says Operation Toy Train President Carolyn Hoffman.
The operation was canceled in 2020; in lieu of the traditional toy collection, they collected tens of thousands of online donations. The train returned in 2021, though in a limited fashion, and without the usual crowds.
In the first year of service, Operation Toy Train collected around 5,000 toy donations. But in 2021, the organization collected 33,000 toys — doubling the rate of donations every two years, Hoffman says. The 2021 collection alone accounted for about a quarter of the total recorded toy donations that year in northern New Jersey. Families that applied to receive toys were able to get each child four to six toys, a record for Operation Toy Train.
It was the first time in a long time that Picatinny Arsenal, the U.S. military base that hosts the Toys for Tots program in Dover, was able to fulfill every single request, Hoffman says.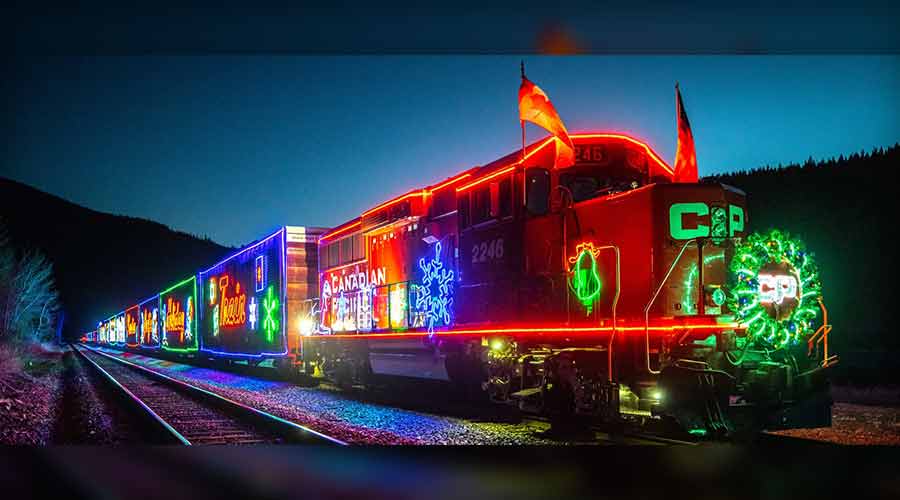 Canadian Pacific
"It's a lot of work, but it's a relief, in some ways, to know that we can get back to doing what we started out doing — which is getting toys to needy families," Hoffman says.
"It's good to see a train go by that isn't just a 100-car freight train," adds Garbely. "For the railroads, it's a great way for them to be able to give back to their communities."
Mr. and Mrs. Claus return
Since 1989, the Indiana Rail Road Co. (INRD) has invited community members aboard its own Santa Train in southern Indiana and Illinois — though those events, too, were canceled in 2020 due to the pandemic. The train did return last year in a socially distanced format. The 2022 version will be closer to the traditional format, but there will be a few pandemic-related modifications, says railroad spokesperson Melissa Chapman.
"We always do it the first weekend in December," Chapman says. "This year, we're going back to a more traditional Santa Train where we invite guests aboard our passenger cars, and they will visit with Santa Mrs. Claus."
Visitors will be encouraged to wear masks and the number of people on board a passenger car will be limited, she adds.
INRD will also donate coats directly to the public this year, as it did prior to 2020. Last year, the railroad donated coats to charitable organizations. Corporate partners help fund community grant outreach programs that provide the funding to buy the coats.
The 2021 Santa Train ran on a skeleton crew, so everyone is looking forward to getting back to a more normal run, Chapman says. Everyone who helps operate the train — this year, it'll run Dec. 2, 3 and 4 — is a volunteer who either works for INRD, is one of its vendors, or is a friend of the railroad.
About 7,000-8,000 people come to see the train each year, according to pre-pandemic averages. About 45 people are required to run it daily, from the train operator to the mechanical department to volunteers dressed up as Christmas characters, Chapman says. The train runs in rural, impoverished areas of Indiana and Illinois.
"We have a lot of people who come with their families who came as children to the Santa Train, and now they're bringing their kids," Chapman says. "It just makes your heart want to burst."