For only $199, you will discover how you can tap into the enormous potential of the russian rail market
Available On-Demand 24/7 for 1 year
Only: $199


The Russian Rail Outlook

Now Available On-Demand!
watch 24/7/365!
Webcast Details:

The Soviet rail system was one of the economic wonders of the world: A rail network of more than 300,000 kilometers, comprising more than 1,300,000 freight cars and 26,000 locomotives. In 1990, the Soviet Railway generated more than 50 percent of the world's rail-based ton-miles and moved fully half of all the rail freight in the World. Russia's RZD system – the largest part of the former Soviet Railways – is a system in transition with almost unlimited opportunities for your business to benefit from its growth and expansion.
Download this webcast for a comprehensive overview of the Russian market and its potential. Learn how the sector is organized and what trends are emerging for freight car operators, locomotive owners and other suppliers to the rail industry. Changing technologies – such as the slow transition to heavy haul and changing axel loads, for example – will also be addressed. You will learn about some of the opportunities presented by the CIS railways and get an introduction to this valuable market.
Learning Objectives:



Understand how the Russian National Railway is organized

Learn about emerging trends for rail operators and suppliers

Find out the opportunities presented by changing technologies
Presented by: John H. Winner

President and CEO, Harral Winner Thompson Sharp Klein
Read Bio

Mr. Winner is a founder and principal of Harral Winner Thompson Sharp Klein, Inc. In more than 30 years in the transportation industry, he has worked with both state and private railways, shippers, suppliers, investors, governments, and financial institutions on policy issues, deregulation, restructuring, privatization, efficiency improvement, and strategy development. Over this period, Mr. Winner has led many projects involving private sector participation in public sector rail activities conducted due diligence studies for development banks and private sector investors in the rail sector worldwide. Mr. Winner was a contributing editor for Progressive Railroading magazine, in which his monthly column, Smart Managing, was published for over ten years. Mr. Winner has a Bachelor of Science degree in Civil Engineering from Carnegie-Mellon University.
John Winner and his firm Harral Winner Thompson Sharp Klein, Inc., have served as industry and financial advisors to the IFC, EBRD,and private investor groups for due diligence work associated with lending toprivate entities in the Russian Federation for railway freight cars andlocomotives. In his role he has developed forecasts for economic growth and the demand for rail transportof various commodities, and his organization has interviewed industry, railway and government officialsin Russia, Ukraine, Georgia, Estonia, Kazakhstan, and Uzbekistan on the paceand structure of railway reforms and evaluated the risks faced by private ownersof railway rolling stock. Investments of over $3-billion in railway freightwagons resulted from these studies.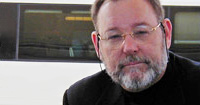 Moderated by: Pat Foran

Editor, Progressive Railroading magazine