» Railroad product of the week home ADVERTISEMENT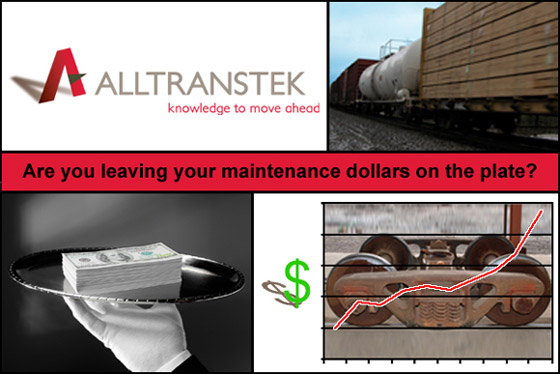 AllTranstek is proud to announce the release of the FleetWatch Repair Audit Environment (RAE) system. FleetWatch RAE is a new module to AllTranstek's suite of railcar fleet management software. RAE is designed to provide private railcar owners greater repair visibility. The application provides private car owners assurance that every penny spent on their railcar running repairs is appropriate and in conformance with the AAR Field and Office Manuals by thoroughly auditing repair data, flagging discrepancies, filing claims, and following through on the resulting CBAs.

AllTranstek's FleetWatch RAE system also detects possible mishandling of the railcar. This system, coupled with AllTranstek's many years of experience, provides railcar owners with a first-line of defense in controlling ever escalating railroad running repair costs.

AllTranstek is North America's leading information-based railcar management, engineering, and technical consulting company. Through the use of knowledgeable employees and cutting-edge software, AllTranstek continually makes railcar fleet ownership more manageable, safe, predictable, and cost-effective. Whether it's fleet planning, maintenance management, railcar inspection, engineering, compliance management (railroad, shipper, and repair shop), or litigation support, AllTranstek provides the Knowledge to Move Ahead.

Contact us at (630) 829-9475 or by e-mail at info@alltranstek.com, or visit us on-line at www.alltranstek.com.