» Railroad product of the week home ADVERTISEMENT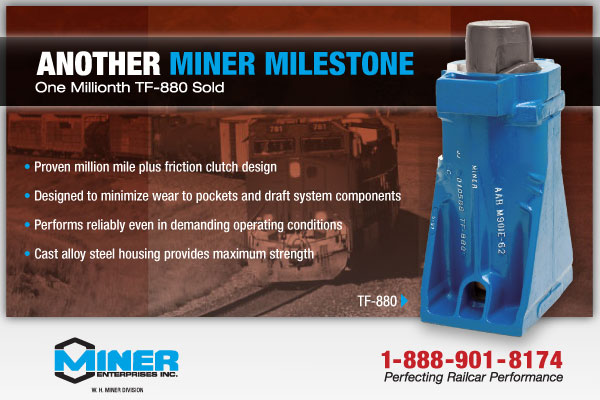 Miner has been in the railcar business for over 119 years. We know what railcar owners need and we build our products to meet those needs.

Our draft gears provide dependable service with very little wear to pockets and draft system components. Our proven million plus mile friction clutch design, combined with durable and resilient spring packages as well as sturdy cast alloy steel housings, provide maximum strength and toughness for any type of railcar.

There is no other draft gear on the market like our TF-880™, which recently achieved another milestone for us- 1,000,000 sold. This popular, all-purpose gear can be used on the widest variety of freight cars. It is the lightest weight high-performance draft gear we offer, utilizing our patented TecsPak® elastomer compression spring package and friction clutch design. The simple, efficient design allows for extra payload capacity and superior reliability.

Other draft gears include the Crown SE™, a high capacity all-steel draft gear with an exclusive double wedge design and the SL-76™, a versatile draft gear that has a natural rubber spring package. Both draft gears provide unsurpassed durability, dependability and superior car protection for over one million miles.

Miner takes immense pride in the design, workmanship and performance of all its draft gears, whose capacity continually increases over time. A double-digit increase in capacity is common, even after one million miles of service. This is a reflection of our commitment to our customers' needs and our reputation for innovation and excellence.

For more information or to order any of our draft gears, click here to contact Miner or call 1-888-822-5334.