» Railroad product of the week home ADVERTISEMENT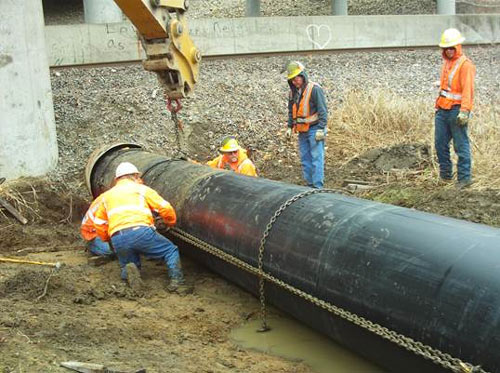 Railroad beds require constant inspection and upkeep. An important part of this activity is the repair, replacement and rehab of aging culverts, many of which were installed decades ago and are past their design life. These corrugated metal culverts are so badly rusted that a danger of surface irregularities, track settlement, tract alignment issues, loss of track time and flooding exists. Concrete culverts have cracked or pulled apart at the joints, creating similar scenarios and jeopardizing track safety. The constant vibration from freight passing overhead also contributes to track deficiencies, since the safety and stability of the track structure is dependent upon properly designed and functioning culverts.

The no-dig high-density polyethylene (HDPE) Snap-Tite® culvert lining pipe system is the solution. It has a unique double snapping closure, which is a patented male/female machining that allows the pipe to be 'snapped' together, piece by piece. The Snap-Tite® pipe joining system, along with a gasket, provides a watertight seal and long-life reliability, meeting ASTM D3212 standard requirements. It is also easy to install, since it typically weighs as little as 10 percent of concrete, ductile iron and clay pipes. There is no special training or specialized equipment required – and most jobs are completed with a backhoe, shovels, a come-a-along and chains. Snap-Tite comes in lengths from two to 50 feet long, and is available in diameters ranging from eight inches to 84 inches. Larger diameters are available on request.
Snap-Tite:
Meets AASHTO Standard M326 for rehabilitating culverts.
Offers flexibility for insertion into misaligned concrete or rusted deteriorated corrugated metal pipe.
Offers a safe method for installers and doesn't require traffic control.
Tough but lightweight, the Snap-Tite&reg joint makes a solid water-tight mechanical connection that can be pushed or pulled.
For more information visit
www.culvert-rehab.com
or call 1-800-CULVERT.