» Railroad product of the week home ADVERTISEMENT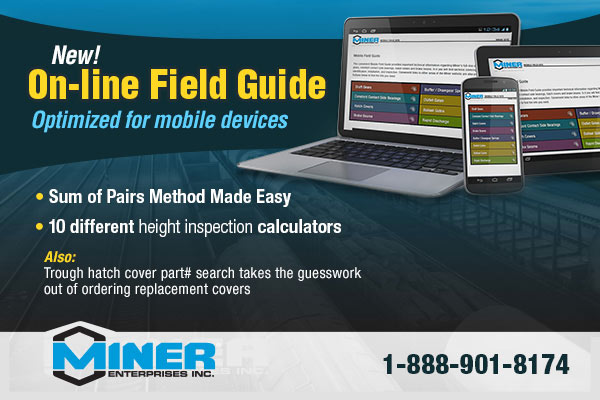 You can now access Miner's Field Guide from your smartphone, tablet, laptop and desktop computer.

Previously, the Field Guide was only available in a printed version and online in a static PDF. Now you can get the information and help you need wherever you are and on whatever devise you're using.

But that's not all.

The new mobile Field Guide works with you to take the guesswork out of adjusting, inspecting and installing railcar components.

The new Guide includes 10 different field and shop setup height check calculators for constant contact side bearings that are based on the Sum of Pairs method outlined in AAR's Rule 62.

The calculators let you know when a railcar needs adjustment, which location and how much adjustment it needs. Automatically.

You can also retrieve the latest product identification, installation and inspection updates no matter where you are.

And there's more.

Need to order replacement hatch covers?

No problem. Use the new Guide to search our trough hatch database. Enter whatever information you have, measure, search and select. It's that simple.

Miner is proud to present the industry with this valuable new tool. The mobile Field Guide reflects the company's commitment to its customers and its reputation for innovation and excellence.

For more information or to order the mobile Field Guide, click here to contact Miner or call 1-888-801-8174.