» Railroad product of the week home ADVERTISEMENT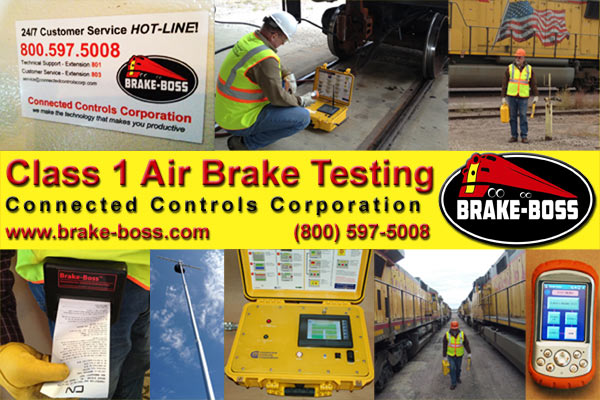 Any size train, any number of cars, the Brake-Boss™ does the work for you. Keep your trains, employees, costs and safety concerns on track. Digital technology allows the Brake-Boss™ to complete a Class 1 air brake test in minutes and is 100% accurate and reliable.
The quickest way to complete a Class 1 air brake test on any train,
Reduce terminal dwell times – improve train turn-around and transit times,
Surprisingly Simple – set up and usage is simple, interactive screens are easy to follow,
Ultra-Portable – light weight and easy to handle, the handheld remote fits in a pocket,
Remarkably rugged – built to military specifications,
Built to last – made to handle the harshest conditions, weatherproof,
Save time – you'll cut hours of tedious compliance and testing labor every week,
No more fines or compliance issues – 100% guaranteed accurate,
Made in America.
Each Brake-Boss™ system is customizable, making it easy to immediately incorporate into your yard. Easy deployment means immediate value as a tool every employee will rely upon. Adding data monitoring solutions like dedicated printers or computer terminals gives you complete results of all your air brake testing at your fingertips. Adding a belt printer allows the air slips to be printed right at the train, dramatically reducing any human error in the testing process.
Discover the Brake-Boss™ advantage in your yard today! You'll never have to worry about your air brake testing program again. Take a look at our web site to find out more about what the Brake-Boss™ can do for you.
Don't delay
; call today to schedule a FREE demonstration of the Brake-Boss™ in your yard!
Call (800) 597-5008, ext. 802
to take advantage of our free demonstration offer.
Connected Controls Corporation
P.O. Box 411
Oconomowoc, WI 53066-0411
USA
(800) 597-5008
toll free
(262) 244-1454 fax
sales@connectedcontrolscorp.com
www.connectedcontrolscorp.com
we make the technology that makes you productive