» Railroad product of the week home ADVERTISEMENT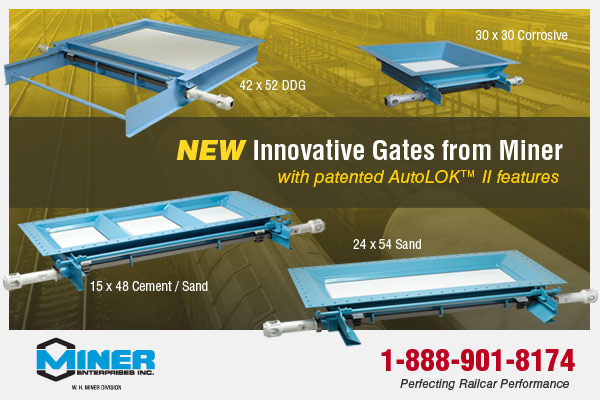 Miner does more than produce reliable gates. Miner invents reliable and durable gates that are better and more effective.

We understand what railcar owners need, and we build it.

For example, among the newest innovations from Miner is the durable 15 x 48 ultralow profile gate. This versatile gate allows cars to switch easily between frac sand and cement service. Other new low-profile gates are designed especially for potash, dried distillers grain and sand.

There's a Miner gate to improve every unloading application. Miner's gates are built to provide reliable, trouble-free unloading of grain, sugar, dry bulk chemicals, sand, cement, powder and other commodities. They are designed to provide years of dependable service.

If we don't already manufacture the gate you need, our engineers can custom design one for you.

Miner gates include advanced AutoLOK™ II features. The gates are easy to open and close — and they stay locked. The load flows freely — without buildup or packing in the corners. Because the design prevents leakage, it's perfect for dry bulk commodity materials.

Miner's AutoLOK II meets all GEAPS and AAR S-233-92 specifications — and is the most widely specified outlet gate in the industry.

Miner is the largest and most experienced gravity gate manufacturer in the world. With more than a century of experience, unrivaled commitment to engineering and state-of-the-art manufacturing, Miner sets the standard for reliability and innovation.

Let us help you determine the best solution for your application.
Click to contact us! or Call 1-888-901-8174.